Rose Pink Gems - GemSelect Newsletter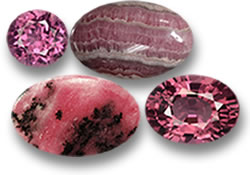 Rhodolite, Rhodochrosite & Rhodonite Gems
We would like to wish you all a very Happy New Year and all the best for 2016. Just when one major holiday is over, a new one is on the way, and one of the biggest days for lovers and couples coming up next month is Valentine's Day. With this in mind, we would like to present something a little different for romantic readers.
Some gemstones are named after the Greek word, "rhodon", meaning "rose", due to their rose pink or red color. These include rhodonite, rhodolite garnet and rhodochrosite. Exactly how rose pink is defined depends on the person, since there are so many pink rose variations. When it comes to the Victorian "old rose" color, which is a brownish or grayish dusty pink, there are a few gem types that fit the bill, though their names do not necessarily indicate this. Rose gems look perfect in rose gold, which enhances warm, pink hues. Rose pink is an unusual and beautiful color with a subtlety that allows it to be worn a little more easily than hot pink or bubblegum pink because it often has gray, violet or peach tones. This means that there is a rose pink to suit all complexions, whether cool or warm-toned. There is even a metallic rose pink that looks good on men.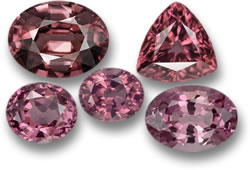 Zircon (top) and Spinel (bottom) Gems
While blue is the most popular color for zircon and white zircon is often used as a diamond substitute, what many people may not know is that zircon in its natural state is more commonly red, orange and some very interesting shades of pink. Pink zircon varies from cool, pale pink to a warm, Marsala reddish color and is more affordable than blue zircon. Pink zircon gems are also available in various shapes and sizes. Zircon has very good hardness, but jewelry should be well cared for to prevent the wearing down of facet edges. Thus, zircon is recommended for pendants, earrings and rings that are for occasional wear.
Rose spinel gems can be slightly violet or grayish-pink. Therefore cooler pink colors can be found in spinel. Like zircon, spinel has great brilliance, which means stunning sparkle in jewelry. Spinel also has excellent hardness and is typically untreated, so it is a very good choice for any jewelry application. In fact, pink spinel gems can be just as beautiful as pink sapphire, but come at more affordable prices. Spinel has been prized for hundreds of years; pink and red spinel was referred to as "Balas ruby" and often mistaken for fine ruby. However, spinel is still not often seen in mainstream jewelry.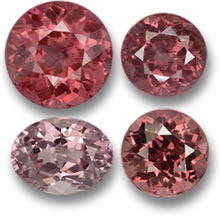 Rose Pink Malaya Garnet Gems
Malaya garnet is arguably the best rose colored gemstone. It has unique colors that are not seen in other gems, from very pale dusty rose to deep Marsala. Malaya garnet is a mix of several garnet varieties, which range from brownish-red to orange. This means that malaya contains both orange and red, giving it unique colors between the two. Interestingly, when malaya garnet was first discovered, it did not attract interest from garnet buyers because it did not fit into any of the accepted garnet categories. Therefore, it was named "malaya", which means "outcast" or "prostitute". However, malaya garnet is now recognized as having value and beauty.
Since raspberry red is the most sought-after color of rhodolite garnet, lighter gems are not so popular, but they are equally as beautiful. Rhodolite varies between purplish-red and very attractive shades of rose pink. Like malaya garnet, rhodolite is a mixed garnet; it is composed of pyrope and almandine. Rhodolite has a high refractive index, which gives it great brilliance. Rhodolite garnet gems are available in a wide variety of shapes and sizes at affordable prices and with good clarity. This, along with its hardness makes rhodolite an excellent jewelry stone. In general, garnet gems are untreated, which is an added attraction.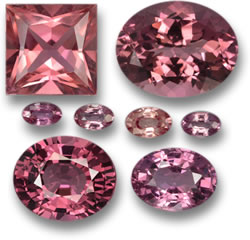 Sapphire, Tourmaline & Rhodolite Garnet
As well as being beautiful, gems that are pink are thought by crystal healers to promote tenderness, love, self-esteem, calmness, healing and contentment. This may be why pink gems are popular with ladies and lovers. Whether you love delicate pink or are more partial to vibrant pink, you are likely to find the perfect gemstone to fit your jewelry requirements. With the increasing popularity of rose gold, we predict that the future for pink gemstones is rosy.
The above are not the only gems that occur in rosy hues. Other pink gems include tourmaline, sapphire, rhodonite, pearls, opal, morganite, kunzite and rose quartz. In fact, the list is even longer than this; with natural gemstones, it is possible to find pink gemstones in almost every hue and shade that a jewelry lover could imagine.
Featured Gems - Huge Hessonite Garnet, Dumortierite Quartz and Iolite Heart
Back to Top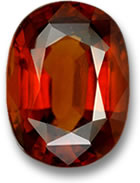 Hessonite Garnet
Garnet is a gem group which has many colors and varieties. The beauty of garnet is its versatility; it has good hardness and is durable enough for any kind of jewelry. Hessonite is a specific garnet variety often called the "cinnamon stone" due to its color which varies from honey-yellow to brownish-red. Hessonite garnet is usually heavily included, so the gemstone on the left is a rare find indeed, considering that it is eye clean and over 22 carats in weight. Garnet is the January birthstone and the zodiac stone for Aquarians. Hessonite garnet is extremely important in traditional Vedic astrology. Garnet is thought of by many as a traveler's stone and is also believed to promote self-confidence, compassion and success in business.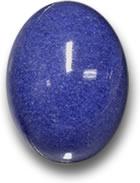 Blue Dumortierite Quartz
Quartz is another gemstone group which includes a wide variety of colored gemstones, including purple amethyst, yellow citrine, pink rose quartz and brown smoky quartz. The beauty of quartz gems is that they are affordable in large sizes and can be used for any type of jewelry. For those looking for a quartz gemstone that it is little out of the ordinary, here is a rare, blue dumortierite quartz cabochon. Dumortierite quartz is special because blue is an extremely rare color in quartz. Dumortierite is a mineral inclusion which causes the blue color in the quartz. Dumortierite quartz is most often blue, but can also be red-brown and often has an uneven color. The color of dumortierite quartz gems has been compared to that of lapis lazuli, though both gems are very different in composition. Dumortierite quartz is thought to stimulate intellectual ability, promote patience and expel fear.
Heart-Shaped Iolite Gem
Heart shapes are always popular for Valentine's Day, and we would like to share with you this 6.75-carat, heart-shaped iolite gem. Iolite is not a very well known jewelry gem, with a beautiful deep-blue to violet color. Iolite has a very special feature in that it can appear as clear as water when viewed from one angle and violet blue from another. For this reason, it was sometimes called "water sapphire". Iolite gets its name from the Greek word, "ios", which means "violet". Iolite is hard and durable enough to be worn in jewelry and iolite gems can often be found in large sizes at more affordable prices than other blue and violet gems such as blue sapphire and tanzanite. Iolite is believed to enhance creativity and aid insomnia.
A new world record price per carat for ruby was set at Christie's Hong Kong last month, when the Crimson Flame Ruby sold for $1.2 million per carat. The 15-carat Burmese ruby achieved $18 million US. In the same lot was an Afghan emerald, which achieved a record price for emeralds from Afghanistan. The exceptionally large and clean emerald of around 10 carats achieved $2.2 million US. Both record-breaking gems are set into white gold rings. In comparison, at Christie's New York, the "Victory Diamond"; a 31.34-carat, D color emerald-cut diamond mounted in a ring sold for $137,492 per carat; $4.3 million in total.
Marriage proposals are often joyous occasions, with beaming ladies receiving beautiful gemstone engagement rings. But recently, in Sichuan Province of China, a lady rejected her man because the diamond was lacking in size. Apparently, she was expecting nothing less than a 1-carat gemstone, but walked away from the proposal speechless when she was presented with a "small" diamond. Some say it's not the size that matters, but it seems that others would disagree.
Every month we answer questions of general interest from our customers. Please feel free to send your questions or suggestions to our support team at help@gemselect.com!
Question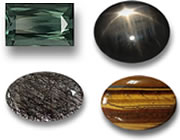 Various Gems for Men
Greetings! I am looking for a gemstone for my boyfriend for Valentine's Day. What would you recommend? Thanks in advance.
Answer
When it comes to untreated gems, one of the best choices is
tourmaline
. Tourmaline gems are available in a whole rainbow of colors, including black and green, and are affordable but extremely attractive. If your man is keen on blue, London blue topaz is a popular
gent's gem
. Other great options are
phenomenal
gemstones such as black star sapphire, star garnet and cat's eye gems, which are recommended for rings because the light can catch them well. Beautiful
cabochons
that are great gems for men's jewelry include sapphire, black rutile quartz, tiger's eye matrix and hawk's eye. These can be used as cufflinks, pendants or any other men's jewelry items.
Question
Hi, I am looking to buy colored gemstones as an investment and wonder what is your recommendation?
Answer
If you are looking to
invest
in colored gems, as a rule of thumb, gems that continue to gain value are the best option. For example, ruby prices are steadily rising, and new
price-per-carat
records are constantly being set and broken. Size is important, since valuable gems get harder to find in large sizes. For instance, it is extremely rare to find a 10-carat blue sapphire nowadays. Other things to consider are treatments; untreated gems are most sought after, but routine heating and oiling are acceptable. Lastly, gems with few sources, such as
tanzanite
and tsavorite garnet will always increase in value.
We always welcome your questions, comments and feedback! For those who are interested in attending some gem and jewelry events, please see the details below.
Event Name
Gem Faire-Hillsboro
Venue
Washington County Fair, Washington, USA
Dates
January 1 - 3, 2016
Event Name
The International Gem & Jewelry Show
Venue
War Memorial Auditorium, Fort Lauderdale, Florida, USA
Dates
January 1 - 3, 2016
Event Name
International Watch & Jewelry Guild Show
Venue
Tropicana Las Vegas, Nevada, USA
Dates
January 4 - 5, 2016
Event Name
Kolkata Jewellery & Gem Fair
Venue
Milan Mela Exhibition Centre, Kolkata, India
Dates
January 9 - 11, 2016
Event Name
TrendSey Winter 2015
Venue
New Munich Trade Fair Centre, Munich, Germany
Dates
January 9 - 11, 2016
Event Name
Malaysia International Jewellery Fair
Venue
Kuala Lumpur Convention Centre, Kuala Lumpur, Malaysia
Dates
January 15 - 18, 2016
Event Name
Jewelers International Showcase
Venue
Miami Beach Convention Center, Miami Beach, Florida, USA
Dates
January 16 - 18, 2016
Event Name
International Jewellery Fair Tokyo
Venue
Tokyo International Exhibition Center (Tokyo Big Sight) 3-11-1 Ariake, Koto-ku, Tokyo, Japan
Dates
January 20 - 23, 2016
Event Name
Bijorhca Paris
Venue
Paris Expo, Porte de Versailles, Paris, France
Dates
January 22 - 25, 2016
Event Name
VicenzaOro Winter/T-Gold
Venue
Vicenza Fairgrounds, Vicenza, Italy
Dates
January 22 - 27, 2016
Event Name
Showcase Ireland
Venue
RDS Ballsbridge, Dublin, Ireland
Dates
January 24 - 27, 2016
Keep up with our new arrivals before they hit the newsletter by joining our thousands of fans and followers on our social networking pages. We love interacting with our customers - you can visit us on Tumblr, LinkedIn, Twitter, Facebook or Pinterest!
To ensure you can receive our emails, please be sure to add help@gemselect.com to your list of safe contacts, or you add us into your email address book! Please feel free to contact us with any questions, comments and queries! We respond to each and every email we receive.
Happy Gem Hunting!
Your friends at GemSelect
First Published: March-07-2016
Last Updated: June-15-2017
© 2005-2021 GemSelect.com all rights reserved.
Reproduction (text or graphics) without the express written consent of GemSelect.com (SETT Company Ltd.) is strictly prohibited.