Love Stones

Love Gems
Every gemstone stone is unique, each one believed to hold a different healing power, type of energy, or presenting a different form of luck. Certain gemstones are thought to be love stones, gems which can help bring love into your life by either encouraging a more loving state of mind, improving current relationships, or luring those we desire into our arms.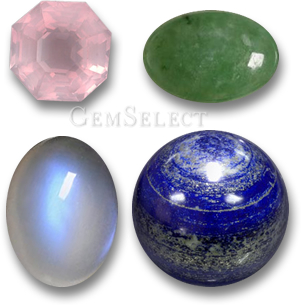 Love Gems - Rose Quartz, Jade, Moonstone & Lapis
As skeptical as some people may be about the mystical powers of gems, the belief that some precious stones can work for the improvement of one's physical or mental health goes back to ancient times. People thus continue to wear certain stones for their extraordinary qualities, and often swear by their influence and impact.
There are several gems that are believed to be good for love, including rose quartz, moonstone, jade and lapis. Different gems are thought to hold different love powers and be better used in different situations. Furthermore, certain gemstones are said to work in tandem, so it's important to understand how to combine certain stones in order to produce the desired effect.
Let's be realistic, no gemstone has the power to mysteriously make someone fall in love with you, the powers and influences of stones are far more subtle and delicate. Some believe that gems emit energy and that choosing the correct gem, or using the appropriate combination of precious stones can help you to channel that energy and develop the right state of mind with which to find love.
Attracting Love with Rose Quartz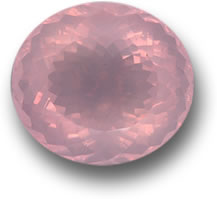 Rose Quartz from GemSelect
Perhaps the most infamous love stone is rose quartz, which is known to be the stone of unconditional love. Its calming energy is thought to help give one a sense of inner peace and love for one's self. Rose quartz also encourages sensitivity and compassion, even helping us to build trust in others, all attributes that are harmonious with the act of falling in love.
Essentially, rose quartz puts you in a state of mind that allows you to receive love. If you are suffering from lost or unrequited love it will help to comfort you; if you have been betrayed in love it will help bring back faith and trust, as well as a sense of self-worth and self-esteem; if you have simply never been in love, it will open up all the possibilities of falling in love.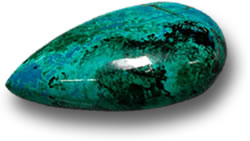 Natural Chrysocolla Cabochon
Wearing rose quartz jewelry is said to attract love, or help you to love yourself, whereas using a rose quartz egg is said to help existing love grow, as well as encourage fertility. People often use a rose quartz sphere, placed in a certain location where they want to invite love.
Combining rose quartz with other love stones can bring further meanings; rose quartz with chrysocolla is used to calm a volatile or rocky relationship, whilst rose quartz with watermelon tourmaline is used for overcoming nerves or fear related to love.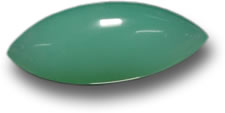 Apple Green Chrysoprase
Combining rose quartz with chrysoprase is believed to be useful in overcoming jealousy. There are other combinations each with a more specific goal. How you choose to combine stones is up to your personal preference; whether they are placed together and carried around with you, or set in a decorative bowl, or simply held during meditation.
Stoking the Flames of Passion with Moonstone
Moonstone is another gem that is thought to be powerful with regard to love and passion. The name itself is somewhat romantic; in ancient times it was believed that it drew moonlight, some cultures even thought it was created from solidified moonbeams.
Whereas rose quartz is the gem of love, moonstone is most definitely the gem of passion, with powers that are thought to cause fervor and create sexual energy, often stoking arousal and provoking feelings of eroticism. It's also believed that moonstone can help lovers to predict the fortune of their relationship, indicating good or bad times ahead, and some even used it to promote fertility.

Moonstone Selection from GemSelect
Moonstone is believed to be best used in stoking the flames of passion in the bedroom. Combined with other stones, moonstone can be used to intensify physical relationships. Combining moonstone with sunstone is thought to increase sexual energy and amplify attraction. Combined with rhodonite, moonstone is said to help bury old feelings and memories of past affairs, further increasing the passion in current relationships. With rhodochrosite, moonstone will encourage creativity and eroticism, promoting a sense of adventure and spontaneity between you and your love.
Some Other Gems with Powers of Love
Lapis lazuli is a blue gemstone that is considered to be very spiritual. Wearing lapis is thought to help overcome shyness and timidity, bringing inner harmony and increasing your spiritual levels, whilst helping to win over the affection of others. It is also thought to enhance fidelity within marriage.

Kunzite, Lapis, Rhodonite and Sapphire
Rhodonite is a stone of self love. Also known as a "rescue stone", rhodonite is believed to ease away love scars and bring on forgiveness in others. Rhodonite increases confidence and self loving after emotionally painful events, helping to promote love towards others.
Sapphire is the stone often used as a pledge of love, and sometimes known as the gem of new love. Sapphire is believed to encourage trust and commitment and is often used when loved ones are apart for long periods of time, gifted as a sign of commitment. Sapphire helps to create mental clarity, and also assists in finding new love, helping to build that initial bond and harmony.
Keep up with our new arrivals before they hit the newsletter by joining our thousands of fans and followers on our social networking pages. We love interacting with our customers - you can visit us on Tumblr, LinkedIn, Twitter, Facebook or Pinterest!
To ensure you can receive our emails, please be sure to add help@gemselect.com to your list of safe contacts, or you add us into your email address book! Please feel free to contact us with any questions, comments and queries! We respond to each and every email we receive.
Happy Gem Hunting!
Your friends at GemSelect