GemSelect November 2013 Newsletter
In the gemstone industry, the terminology used to describe gemstone cuts can be very confusing. We're often asked 'What is a cabochon', 'What is a plain-cut' and 'Are they the same or is there a difference?'.
In order to answer to these questions, one must understand the three basic cutting methods: The facet cut, the plain cut and the mixed cut.
Facet Cut Gemstones
The 'facet cut' style is easily identified by the presence of numerous flat planes on the surface of the gemstone. The planes will typically be angled and cut into several rows. These smooth 'planes' are referred to as 'facets'. Â This cutting style is typically reserved for transparent materials, but on occasion, translucent and opaque stones may also be faceted. Facets maximize brilliance and fire by enhancing the stone's ability to reflect light.


Plain Cut Gemstones
A 'plain-cut' gemstone is any gemstone that is not faceted - lacking any interruption whatsoever to its smooth surface. Typically, this cutting style is applied to translucent and opaque materials. Plain-cut gemstones can be shaped into anything imaginable, from freeform slabs and tablets to traditional round, oval and cushion shapes. Plain-cut gemstones can also include fancy shapes like triangles (trillion), hearts and spheres. Plain-cut stones often feature undulating surfaces, while others may be concave, domed or completely flat. The plain cut enhances color, pattern and luster, rather than maximizing fire and brilliance. In many cases, the plain cut is used to best exhibit asterism (the star effect) and chatoyancy (the cat's eye effect).


Mixed Cut Gemstones
'Mixed-cut' gemstones are, well, self-explanatory - they're cut with the combined features of a 'faceted' and 'plain-cut' gemstone. Most mixed-cut stones exhibit facets on the upper half of the stone, while the lower half is cut with a smooth or rounded surface, such as the 'rose cut' (one of the most popular styles of mixed cut). The rose cut is often used on black gemstones like black spinel or melanite. Another popular mixed cut is the 'buff top', which is basically the opposite of a rose cut. Buff-top gemstones feature a smooth (typically domed) upper half and a faceted bottom half. The strategically-placed facets allow light to reflect from the pavilion in very interesting ways. This style of cutting is typically reserved for transparent materials.


A 'cabochon' is defined as any gemstone with a flat back (or bottom) and a domed top. The steepness of the dome can range from low to high, and terms like 'low-dome' and 'high-dome' are often used to describe the convex surface. Traditionally, cabochons were almost always cut into ovular shapes, but nowadays, they can be finished with any shape.
It is important to note that the shape does not determine, nor does it define, whether or not a stone is a 'cabochon'.
Plain Cut Vs. Cabochon Cut - What's the Difference?
Back to Top
Based on the three defined gemstone cutting styles, we can conclude that the 'cabochon cut' is simply a subcategory of a primary method of gem cutting, and through the process of elimination, it's best described as a type of 'plain cut'. Â So, in summary - All cabochons can be described as a style of plain cut, but not the other way around.
You can read more about gemstone shapes and cuts in our March 2013 newsletter.
November has two official birthstones, both of which are fantastic gems, exhibiting exceptional fire, brilliance and color. Best of all, both of November's birthstones are extremely durable and perfectly suitable for everyday-wear!
Topaz:
Topaz is available in a variety of colors, including colorless, brown, blue, purple and pink. However, it is generally only the yellow and golden-colored varieties that are considered to be November birthstones. These include the extremely rare and valuable topaz, known as 'imperial topaz'. Imperial topaz is one of the most highly desirable of all colored stones. Its rich golden color is typically unenhanced, though some materials may be heated (not a common practice) to improve color or clarity. It was once believed that the golden color of imperial topaz was a gift from Ra, the Egyptian sun god.

Citrine:
Citrine is a stunning variety of transparent quartz, ranging in color from light-yellow to dark brownish-orange. Nowadays, natural citrine has become increasingly rare, and as a result, many of the citrine gems available today are actually 'heated amethyst'. If ever in doubt, we suggest requesting certification to ensure authenticity. Ametrine is a rare bicolor combination of amethyst and citrine in a single stone. It can be worn as a birthstone for both February (amethyst) and November!
What is Jyotish? - The Art of Vedic Healing & Ayurveda
Back to Top
Jyotish is an Asian discipline, incorporating the beliefs of mineralogy, planetary science and gemology into one. It is also known as Vedic astrology, which is an ancient Hindu system of beliefs. The traditional system of jyotish astronomy is one of the most widely practiced astrological arts. Jyotish awareness is so incredibly vast that a non-profit organization known as the Planetary Gemologists Association (PGA) has been assigned to ensure its proper regulation. Hindu astrology utilizes the Vedic calendar broken down into 9 different karmic influences (Grahas).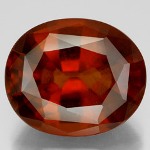 The 'jyotish gemstone list' is comparable to what Westerners would refer to as the modern birthstone list, but when it comes to jyotish gems, the standards are far stricter than with Western astrology. Jyotish gems must be completely natural, unenhanced and exceptionally clean (except ruby and emerald). Jyotish stones must possess excellent cuts, colors and clarity, and most importantly, they must possess a sweet, 'sattivic' feeling. Jyotish gemstones must also be very large, often weighing more than 5 carats.
The following table details the 9 jyotish gems and their corresponding beliefs. In addition, you can also find the secondary (more affordable) jyotish gem listed below. If you're interested in knowing your jyotish planetary association, you should consult with a reputable and certified planetary gemologist.
| | | | | | | |
| --- | --- | --- | --- | --- | --- | --- |
| Planet | Metal | Finger | Primary Gemstone | Alternative (Uparatna) Gemstones | Positive Influences | Protective Influences |
| Sun | Yellow gold | Ring | Ruby | Red spinel or rhodolite and red tourmaline | Promotes nobility, dignity and power. You will be more confident. | Protects from low self-esteem and rebellious intuition. |
| Moon | Silver | Ring | Natural pearl | Cultured pearl and South Sea pearl | Promotes sensitivity, stability and health. You will be more respected and wealthier. | Protects from over-reaction, depression, over-sensitivity and stress. |
| Jupiter | Yellow gold | Index | Yellow sapphire (pukhraj) | Yellow topaz or heliodor (golden beryl) and citrine | Promotes spiritualism and optimism. You will be more respected as a teacher of men. | Protects from greed, selfishness and egotism. |
| Mars | Yellow gold | Ring | Red coral | Carnelian | Promotes originality and insightfulness. You will be wealthier and very fortunate. | Protects from mental illness, addiction and suicidal thoughts. |
| Rahu | White gold | Middle | Hessonite (gomed) | Spessartite or orange zircon | Promotes rationality and dexterity. You will be more highly-respected. | Protects from low concentration and deceptive behavior. |
| Mercury | Yellow gold | Pinkie | Emerald | Green tourmaline or peridot, chrysoberyl and jade | Promotes attractiveness, grace and elegance. You will possess more positive qualities. | Protect from vanity, loss of libido and rapid-aging. |
| Venus | Yellow gold | Middle | Diamond | White sapphire or danburite and white zircon | Promotes spiritualism, intuition and subtleness. You will be wealthier. | Protects from eccentricity, emotional issues and compulsive gambling. |
| Saturn | White or yellow gold | Middle | Blue sapphire | Amethyst or iolite | Promotes discipline, responsibility, and humility. You will be more affectionate. | Protects from depression, anxiety, epilepsy and stupidity. |
| Ketu | White gold | Middle | Chrysoberyl cat's eye | Opal or cat's eye tourmaline | Promotes optimism, courage and compassion. You will be more popular. | Protects from anger, irritability and impatience. |
| | | | |
| --- | --- | --- | --- |
| Event Name | Location | Venue | Dates |
| Gem Faire | Santa Rosa, California, USA | Sonoma County Fairgrounds | November 1 - 3 |
| Bead Renaissance Show | Kansas City, Kansas, USA | Overland Park International Trade Center | November 1 - 3 |
| International Gem and Jewelry Show | Seattle, Washington, USA | Seattle Center | November 1 - 3 |
| International Gem and Jewelry Show | West Marlborough, Massachusetts, USA | Royal Plaza Trade Center | November 8 - 10 2013 |
| International Gem and Jewelry Show | Cleveland, Ohio, USA | La Villa Conference Center | November 8 - 10, 2013 |
| China International Gold, Jewellery & Gem Fair | Shanghai, China | World Expo Exhibition | November 8 - 11, 2013 |
| International Gem and Jewelry Show | Columbus, Ohio, USA | Veteran's Memorial | November 15 - 17 |
| International Gem and Jewelry Show | Denver, Colorado, USA | Denver Mart | November 15 - 17 |
| International Gem and Jewelry Show | National Harbor, Maryland, USA | Gaylord National Convention Center | November 22 - 24 |
| International Gem and Jewelry Show | San Mateo, California, USA | San Mateo County Event Center | November 29th to December 1st, 2013 |
| International Gem and Jewelry Show | Scottsdale, Arizona, USA | WestWorld of Scottsdale | November 29th to December 1st, 2013 |
Every month we answer questions of general interest from our customers. Please feel free to send us your questions or suggestions to our support team at help@gemselect.com!
Q:
I recently purchased a smoky quartz gem from another gemstone dealer, but I suspect it may have been irradiated. Is there any way to detect irradiation treatment without advanced testing?


A:
Although most smoky quartz is natural and untreated, many may have been irradiated to obtain their color. Advanced testing is required to confirm irradiation with confidence - however, there are a few indicators which you can look for when buying smoky quartz. The easiest visual method is observance of color. If the color appears too dark (near-black), it has likely been irradiated.


Also, natural quartz matrix tends to exhibit white or opaque inclusions, and if irradiated, these spots do not darken. Thus, if your stones exhibit areas that appear to be smoky and some that are not, there's a good chance they've been enhanced. Lastly, origin can be a considerable factor. Smoky quartz from the USA, particularly Arkansas, is often irradiated. Though natural deposits do occur in areas of the USA, they are considerably rare. Thus, most of the smoky quartz stones offered in USA-based trade shows have probably been irradiated.

Q:
My opal was nearly transparent when I received it, but today, it's almost opaque! Some of the color play is still visible, but not as much before. What caused this? Is there any chance this is temporary and it will change back? How can I avoid it?


A:
Many opal varieties available today are various forms of 'hydrophane opal', especially certain types of Mexican and Ethiopian opal. Within minutes, hydrophane opal can go from transparent to opaque and back to transparent again. If your opal has turned opaque and lost some of its color play, you may be able to restore it by 'rehydrating' it. You can try placing the opal in a sealed plastic bag with a moisture source, or for quicker results, you can place it directly into some water.



Note: This is not recommended for all opals and should only be done at your own discretion.
We hope you found our topics interesting. Please feel free to send us your questions, comments or feedback! Also, since the holiday countdown has begun, remember to begin shopping early this year and don't forget to expect 'unexpected' surprises, such as returns or exchanges. - If you're having a hard time finding a particular gem, maybe we can help! Just send us the gemstone details by email and we'll be happy to help whenever possible!
To ensure you can receive our emails, please be sure to add help@gemselect.com to your list of safe contacts, or you add us into your email address book! Please feel free to contact us with any questions, comments and queries! We literally respond to each and every email we receive.

Happy gem hunting,
Your friends at GemSelect