GemSelect Newsletter - All about Gemstone Cuts and Shapes
All about Gemstone Cuts and Shapes
The difference between gemstones cuts and shapes is often too confusing, even for those involved in the industry. This is because the terminology used in the trade is frequently used interchangeably, resulting in definitions that inadvertently transcend one another, making two seemingly apparent subjects blur together as one. Many of our customers often inquire about "which is which?" and "what is what?" and as simple as it sounds, clearly explaining the difference can sometimes be a near impossible task.
The shape refers to exactly that - the face-up outline form of any given gemstone. Shapes can be round, oval, square, marquise, baguette, cushion, heart and etc. That's it - full stop - period - end of sentence.
You get the idea, but the reason that this basic concept is often misunderstood and confused with the cut of a gemstone is because in many cases, terminology used to describe gemstones can define both the shape and cut of a gemstone. For example, many gemstones are described as being cushion, trilliant or princess 'cut', and since these cutting style terms are specific to certain shapes and/or proportions, it is acceptable to use the term to describe its shape as well; but this is only acceptable when the shape is limited to the cutting style.
Although the cut of a gemstone can often define the shape, the shape itself cannot define the cut. You see, a princess-cut gemstone is defined and limited to the shape and cutting style. It is almost square in proportion and always faceted (or cut) with a brilliant style, making it very unique.
Brilliant-Cut Style
So what's a brilliant-style cut you ask? Well, depending on the shape, most brilliant-cut gemstones are faceted in a vertical direction from the crown to the pavilion. The main pavilion facets are typically cut wider at the culet and as they near the girdle, they get progressively narrower. Girdle pavilion facets are cut to fill in the gaps between the main facets and the girdle, and are typically triangular in shape.
Brilliant-style facets are typically rhomboidal or triangular, and are arranged in a radial or circular pattern. The crown consists of one row of main facets that are rhomboidal, while star and girdle facets fill in the gaps - these are also typically triangular in shape. The brilliant cutting style is used with the intention to maximize the brilliance or fire in a stone, hence it is known as the "brilliant" cut.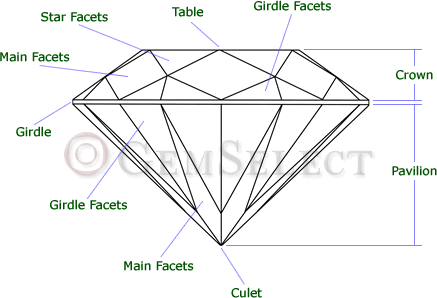 American "Round Brilliant Cut" Diagram
Taking this into account, in order for a square shaped gemstone to be categorized correctly as a princess cut, it must be faceted in brilliant style. This can be all too confusing because in addition to brilliant-style cutting, there are many other cutting styles available, which explains why so many stones are described as "square-cut" rather than "princess".
Most diamonds are cut using the brilliant cutting style, which is why many colored gems are referred to as "diamond cut".
Compare with a "Square-Cut Facet" (Step-Cut):
Diagram of a - (Square) "Princess-Cut" Gemstone
Sometimes, gems may be described as being diamond-cut. Diamond-cut stones can include many different shapes, including round, oval and other popular fancy shapes. The description of "diamond-cut" typically refers to a gemstone that was faceted with a brilliant cutting style, is symmetrical in regard to arrangement of facets and cut to specific proportions, dependent on the shape of the stone.
Very small gemstones (diamonds and colored stones), also referred to as melee stones, are often cut using "simplified versions" of the brilliant cut, usually by cutting the gem with fewer facets. This is because a full faceted version on such a small stone would result in a cloudy, milky or even fuzzy finished stone, simply because small stones do not have the same levels of light dispersion as larger specimens.
In addition to brilliant-style cuts, you can also find square-shaped cabochons, step cuts or modified variations of these styles. The same goes for round stones, oval stones, baguette stones and etc. There are so many different shapes and so many different cutting styles circulating and evolving, that often, there is more than one "correct" way to describe a gemstone cut or shape.
In the past, the term "trilliant-cut" could only be used to describe "brilliant-cut", triangular gemstones (hence the name "tri"-"lliant"), but nowadays, the term can be used to describe any triangular gemstone including step cuts, cabochons and even plain cuts.
Cutting styles and shapes have evolved greatly. Thus, a single stone can be described as being round facet, round brilliant, round diamond-cut or round cut; although some terms may be more descriptive than others, none of these are considered wrong. In the colored gem industry, one reason why descriptive terms are used so loosely is because there is no universally recognized official terminology for all of the fancy styles and modified cuts that have grown in popularity. So, although cutting modifications have evolved and a greater variety of styles have become available, the descriptive terminology has yet to keep up with the evolution of colored gemstone cutting.
Perhaps someday, the world of colored gemstones will become more "officialized" like the diamond industry, but until then, don't be surprised to see varied descriptions when shopping around.
However, if ever you do have any questions about our gemstones and their shape or cut, don't hesitate to contact us! We'd be more than happy to help clarify details. We want to ensure that know exactly what you're buying when you're shopping with us at GemSelect!
Gemfields introduces their newest brand ambassador - gorgeous American actress, Mila Kunis. Mila Kunis' latest works include Hollywood blockbusters "Ted", "Family Guy", "Max Payne", "Black Swan" and "Forgetting Sarah Marshall", to name but a few. For those unfamiliar with the Gemfields brand, they are the owners of the famous Zambian "Kagem" Emerald Mine. Marketing plans for Gemfields and Kunis include various print ads in leading magazines like Vogue, W and Vanity Fair.
According to Gemworld International, trends have always shown that over decades, prices and gemstone value are consistently appreciating, but the market today is showing a new pattern. In some cases, prices are shifting overnight, especially for some gem types in high demand. However, they noted that once the supply is reestablished and mining becomes more productive for these gem types, prices should begin to stabilize and some prices may even drop. So, our advice is to seek alternatives in the meantime; if unheated blue sapphire prices are much too high, look into other blue gems such as kyanite, tanzanite, zircon, spinel or iolite.
This month, GemSelect is pleased to showcase one of our rare and unusual gemstones, which happens to be an exquisite gemstone carving: A 168.60 carat iguana carved from mahogany obsidian.

Mahogany Obsidian Iguana Carving
There are many different varieties of obsidian, each with their own distinctive appearance. An interesting fact is that obsidian is actually naturally occurring volcanic glass formed during the slow cooling process of lava. This unique carving is made of mahogany obsidian mined from Mexico. One can only imagine the talent needed to carve such an amazing piece.
Obsidian is believed to be a grounding stone and so it is said to provide strength for those when they need it most and give new life to those who have discovered their true purpose in life. It is thought by healers to alleviate pain and improve overall circulation, improving one's quality of life.
Every month we answer questions of general interest from our customers. Please feel free to send your questions or suggestions to our support team at help@gemselect.com!
Question
I am trying to purchase 2 of the same gem items, but I cannot change the quantity. Can you help me?
Answer
Actually, the way our website is designed, you can only purchase one of any single item listed. The pictures we use are of the actual gemstone you will receive. As you know gemstones are as unique as snowflakes and no two gems are alike. For this reason, we do not allow the use of stock images on our website with quantity options, because we want our customers to see exactly what they will receive. For those looking for matching sets or matching lots, we do have dedicated pages, but we can also personally assist and try our best to find matching stones for any of our single selections by request; just send us an email and we'll be more than happy to help.
Question
I would like to have more items per page. I like to compare the look, costs and variety of items without having to go back and forth on different pages.
Answer
Well, the good news is that some new updates will be coming to our website soon! In the meantime, we have made a small adjustment until we can do what we really want to do without limitation. So, as a temporary fix and in reply to your feedback, we have updated our pages to show up to 21 results per page, rather than 15 items as before. We hope this helps, but if anything, it should prove that all comments and feedback are considered helpful and we welcome all of your ideas and suggestions.
Keep up with our new arrivals before they hit the newsletter by joining our thousands of fans and followers on our social networking pages. We love interacting with our customers - you can visit us on Tumblr, LinkedIn, Twitter, Facebook or Pinterest!
To ensure you can receive our emails, please be sure to add help@gemselect.com to your list of safe contacts, or you add us into your email address book! Please feel free to contact us with any questions, comments and queries! We respond to each and every email we receive.
Happy Gem Hunting!
Your friends at GemSelect