Shop By
You Selected (229): Animal Carvings
Clear All
ID: 353467

1

pcs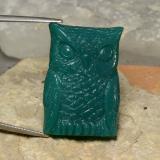 39.61 ct Agate
29.5 x 20.7 mm
$
73.67
Item in Stock
Animal Carvings
Buy gems by shape
. Carved natural gemstone animals make beautiful ornaments or gifts. We have various gem types available with many different animals to choose from. Our gemstone animal carvings are various sizes and can form part of a great collection or make interesting conversation pieces. Choose from lapis lazuli, howlite and jasper elephants, quartz fish, opal and prehnite turtles, garnet and ruby birds, and many more.
Carved gemstone
animals are a cute and fun way to collect natural gemstone materials. Great skill is put into each hand-carved item so that it may be enjoyed for many years. Some of the smaller carvings can be worn in
animal motif jewelry
too. Gemstone carvings have been done for thousands of years by cultures all around the world, from Europe to China.