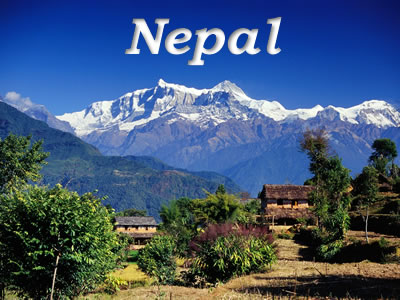 April 2011
In our newsletter this month:
• Kyanite from Nepal
• Rare and Unusual Gems
• Customer Questions
Kyanite from Nepal
Some rare and wonderful gemstones have been found in the region of the world's highest mountains, from the Himalayas to the Hindu Kush. The most famous include the legendary blue sapphires from Kashmir and the balas rubies (spinels) of Badakshan in Afghanistan.
Though the Kashmir sapphires and the Badakshan spinels have long been exhausted, the region has vast mineral reserves. Last month we wrote about the very fine emeralds discovered in Afghanistan. Another recent discovery is kyanite from Nepal, which is now widely regarded as the finest kyanite in the world.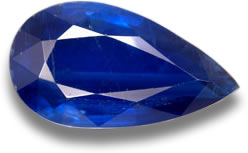 Kyanite is composed of aluminum silicate; the same as andalusite and sillimanite. However, kyanite has a different crystal structure (triclinic) and thus exhibits different physical properties. One of the unusual properties of kyanite is that it has a variable hardness - it is fairly soft when cut parallel to the long axis of the crystal, with a hardness of only 4 to 4.5 on the Mohs scale. But it has a hardness of about 6.5 when cut perpendicular to the long axis. Kyanite has a vitreous to pearly luster.
The interest in kyanite as a gemstone arises from the fact that the best specimens shows a sapphire-like blue. This color is rarely found and most kyanite displays a watery blue with a color that is typically not consistent throughout the crystal and can be blotchy or in streaks.
However, recent finds of very high quality kyanite in Nepal are changing perceptions of this gem. Where the kyanite from Cambodia and Burma only rarely delivers on the promise of a sapphire-like blue, the Nepalese material sometimes comes surprisingly close to the velvet blue of the best Ceylon and Madagascar sapphires.
Miners in Nepal discovered high quality kyanite in 1995. Kyanite is known to occur in the Dolakha, Rasuwa, Dhadhing and Jajarkot areas. According to the Nepalese mining department, four small-scale kyanite mines are currently in operation in Daha and Suneri in Jajarkot, and Barah in Aachham District. Production is very limited and will probably remain so.
We have just acquired a significant parcel of Nepalese kyanite, with more than 300 pieces in stock. There are some very fine round stones, many of which bear a striking resemblance to sapphire, as well as an outstanding pear-shaped stone weighing over 10 carats.
Rare and Unusual Gems
Each month we feature a rare and unusual gem from our inventory. This month we feature an exceptional blue zircon from Cambodia.

Zircon is important in the gemstone world because of its very high refractive index, which approaches that of diamond. Zircon combines remarkable brilliance with impressive dispersion (also called 'fire'), the tendency to split white light into the spectral colors. Cambodia is famous for producing zircon that can be heat-treated to an electric blue. Our home of Chanthaburi is very close to the Cambodian border and most of the Cambodian zircon is brought here to be cut and polished. This 6.46 carat blue zircon is an example of the finest Cambodian material, combining impressive size and excellent clarity with a pure blue color.
Customer Questions
Every month we answer questions of general interest from our customers. Please feel free to send your questions to help@gemselect.com.
| | |
| --- | --- |
| Q: | I was looking at the videos of your tourmaline gems and noticed that some gems turned a darker colour when rotated. Why is that? If I buy one of these stones will they look this dark? KD, Canada |
| A: | Tourmaline is a gemstone that exhibits strong dichroism. That is, it often displays two different colors when viewed from different directions. Tourmaline usually displays a darker color on the C-axis, the long axis of the crystal. Darker tourmaline colors are usually cut with the table facet parallel to the C-axis to lighten the color, while lighter colors are cut with the table perpendicular to the C-axis to produce the most saturated color. The important thing in evaluating color and tone in tourmaline is to examine the stone face up, since that's how the gem will look when set in jewelry. |
| Q: | Do you sell a gem called zultanite? You sell an amazing variety of gems, but I don't see this one listed on your website. PF, USA |
| A: | Zultanite is a trade name sometimes used for the mineral known to gemologists as diaspore. We follow the gemological naming convention and you'll find this gem listed as color-change diaspore in our gem list. It's quite an interesting gemstone, with reasonably good hardness and brilliance as well as a subtle color change. For more information see our article on diaspore. |
A final note - If you send us email, please be assured that we answer all our email very promptly, 6 days a week. But we sometimes have problems with spam filters on the receiving end, so please adjust the settings on your mail client so you can receive mail from help@gemselect.com.

Happy gem hunting,

Your friends at GemSelect


First Published: April-01-2011
Last Updated: October-21-2014
© 2005-2017 GemSelect.com all rights reserved.
Reproduction (text or graphics) without the express written consent of GemSelect.com (SETT Company Ltd.) is strictly prohibited.