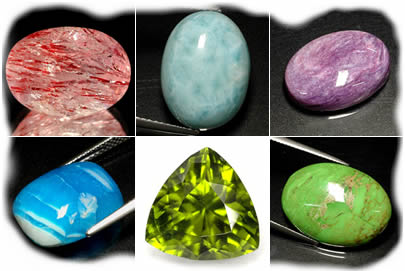 April 2009
In our newsletter this month:
• Gems for Collectors
• Rare and Unusual Gems
• Customer Questions
Many of our customers are gemstone collectors, so we get numerous requests for rare and unusual stones. Finding these gems is far from easy, even given our location in Thailand and the extensive contacts we've established over the years. But some months we get lucky and have opportunities to buy some unusual stones. Last month, for example, we found interesting specimens of 15 different gemstone varieties that we've never stocked before.
When we started our online business 5 years ago we carried about 40 different kinds of gemstones. At the time we thought that was an impressively wide range. But now we have 119 different varieties in stock. We continue to search out the rare and unusual.
Among the unusual varieties we found recently is idocrase, a brilliant olive green gem from the mineral vesuvianite. Idocrase is not only rare, but transparent specimens that can be faceted count as very rare indeed. Most gem-quality idocrase is opaque with an appearance similar to jade. Recently some very fine transparent specimens have come from Tanzania and Kenya, and we were lucky enough to buy a small amount.
Another rare green gem is tashmarine diopside, a bright green form of diopside from Tajikistan. Many people are familiar with the chrome diopside from Russia, a saturated green that is so deep that it can only be cut in small sizes without becoming overly dark. The much brighter tashmarine diopside can be faceted in larger sizes.
We've had a number of requests for larimar, an unusual green-blue variety of pectolite found only in one location in the Dominican Republic. Due to limited supply, it is very hard to find outside of the Caribbean region. Fortunately, we've found a small lot of excellent pieces.
Among our recent acquisitions are some unusual cabochons. These include violet charoite, a recent discovery from Siberia with a distinctive swirling pattern; gaspeite, an apple green nickel carbonate from the USA; hemimorphite, a rare zinc silicate from the Congo that occurs in a vivid blue with white banding; hematite, one of the few gems with a metallic luster, and one of the densest materials in the gemstone world; and lepidolite, a lilac-gray or rose-colored lithium-bearing mineral of the mica group from Mexico.
You'll find other interesting new stones in our stock this month, most in very limited quantities. Look for our new stock in melanite, nuummite, sodalite, sugilite, strawberry quartz and peanut wood.
Rare and Unusual Gems
Each month we feature a rare and unusual gem from our inventory. This month we feature an extremely rare 20 carat blue sapphire from the Diego Suarez Mine in Northern Madagascar.

There are rare gems and then there are very rare gems. High quality sapphires in very large sizes are very rare indeed. This 20.83 ct. blue sapphire from Madgascar displays superb color saturation and brilliance with outstanding clarity.
Customer Questions
Every month we answer questions of general interest from our customers. Please feel free to send your questions to help@gemselect.com.
| | |
| --- | --- |
| Q: | Thank you for your article on Madagascar in your recent newsletter. How is the latest news affecting the gemstone supply? PC, UK. |
| A: | The situation in Madagascar has unfortunately gone from bad to worse. The elected government of President Marc Ravalomanana was deposed in a coup led by the opposition leader, Andry Rajoelina, with the support of some factions in the military. Latest reports are that supporters of Ravalomanana have taken to the streets en masse to protest the coup and the country is in a state of paralysis. The gemstone trade has come to a complete halt. Everyone in the gemstone trade is watching the situation closely, but there is no end in sight to the political turmoil at the moment. |
| Q: | How are trillion cut gems measured? Do trillions come in calibrated sizes? Thank you for your help, NK, USA. |
| A: | There are some manufacturers making standard settings for trillions, but they are not common. Trillions can be cut in different proportions, but the most typical proportions are those of an equilateral triangle. Trillions are measured across the widest points, so the standard settings would be 5 x 5 mm, 6 x 6 mm, and so on. |
A final note - If you send us email, please be assured that we answer all our email very promptly, 6 days a week. But we sometimes have problems with spam filters on the receiving end, so please adjust the settings on your mail client so you can receive mail from help@gemselect.com.

Happy gem hunting,

Your friends at GemSelect
First Published: April-01-2009
Last Updated: October-21-2014
© 2005-2017 GemSelect.com all rights reserved.
Reproduction (text or graphics) without the express written consent of GemSelect.com (SETT Company Ltd.) is strictly prohibited.