GemSelect Newsletter - April 2008
In our newsletter this month: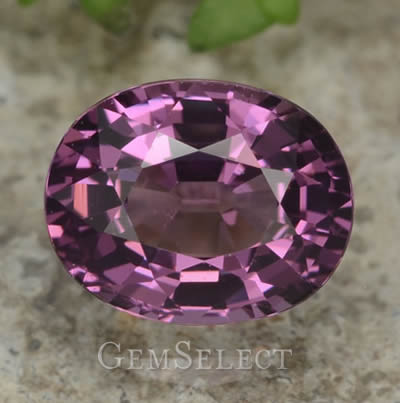 Pink Spinel from Tanzania
The distinction between precious and semi-precious stones is no longer used in the gem trade. That's because there are a number of fine and rare gems which may well be the equal of sapphire, ruby and emerald. Spinel, we think, is a good example.

Spinel from Tanzania
At one time spinel was most famous for being mistaken for other gems, especially ruby and sapphire. The most famous case is The Black Prince's Ruby in the Imperial State Crown of the United Kingdom. It turned out to be a spinel, not a ruby. But since this gem had been owned by British Royalty for over 600 years, it hasn't been renamed the Black Prince's Spinel. Undoubtedly it will be called a ruby forever.
Spinel is finally beginning to get the respect it deserves. The spinel from Burma has always been highly regarded by gem dealers, but the supply has never been sufficient to make spinel marketable in jewelry stores. In the last year or so we've seen some fine African spinel coming on the market and this new supply may enable spinel to reach a larger market.

Top Pink Spinel from Tanzania
Spinel has been highly regarded by dealers for its excellent hardness (8 on the Mohs scale) and very good dispersion or fire. It is also one of the few singly refractive gems (along with diamond and garnet), which gives its color a special purity and intensity. Also, unlike ruby and sapphire, spinel is always untreated. That's a pretty impressive resume for any gemstone.
However, the main source for high quality spinel has been Burma, and that has made spinel very hard to find for most buyers. We are fortunate to be located in the main trading center for Burmese gems, so we get to see a lot of the Burmese supply. But even here in Thailand it can be difficult to find good Burmese spinel, especially red spinel in sizes weighing over 1 carat.

Natural Blue and Violet Spinel from Tanzania
For red spinel, Burma is still the main source. But with regard to other colors, the spinel from Tanzania is very impressive. We have been seeing excellent pink spinel gems, ranging from violet pink to red pink. The blues are superb, with the colors ranging from violet or gray-blue to a sapphire-like blue and greenish-blue. Most of the Tanzanian spinel has very good clarity, and we have been able to buy quite a few pieces with VVS or IF clarity. We have also found a number of pieces in larger sizes, with good availability, and the occasional piece weighing 5 to 7 carats. Prices of spinel are still very attractive, especially if you compare the prices to untreated sapphire and ruby. If the spinel supply increases to the point where the jewelry industry can begin to promote it, you can expect prices to increase substantially.
We add hundreds of new gems to our inventory every day and we upload new content each week, in the form of articles and reference material.
Recently we've added new articles on topics ranging from gemstone investing to gemstone collecting. If you're interested in gemstone history, see our recent piece on the history of briolettes. For buying advice, you might like to read our new articles on best value gemstones and buying gems at wholesale prices.
Each month we focus on one of the lesser known gemstones. This month's featured stone is rhodolite garnet.

Natural Rhodolite Garnet Gemstones at GemSelect
Rhodolite garnet is the name applied to a mixture of pyrope and almandite garnet. Rhodolite tends to be lighter in color than most other kinds of red garnet. It can be easily confused with ruby because of the similarity in color. The mixture of red and violet in rhodolite is highly desirable and purple or purple-red is the most sought after color.
Deposits are found in Brazil, India, Sri Lanka, Tanzania, Thailand and the USA (North Carolina).
For more information see our rhodolite garnet information page.
Every month we answer questions of general interest from our customers. Please feel free to send your questions or suggestions to our support team at help@gemselect.com!
Question
I was looking at the clarity grades for your gems and noticed most of them were graded VVS, VS and SI but some weren't graded with those letters at all. Why is that? RK, Canada
Answer
The clarity grades of IF, VVS, VS, SI and I1 apply to transparent gemstones, where the interior of the stone is visible. If a gem is translucent or opaque, you can't see inclusions. So these gems are simply graded as translucent or opaque. You will typically see this grading for cabochons and even for some faceted gems such as fire opal or black tourmaline.
Question
How often do you add new gems to your website? Do you do it once a week? What day should I look to see the new gems? Thanks! DSK, USA
Answer
We add new gems to our website every day except Sunday (we try not to work on Sunday). New gems can be found on our
new arrivals
page, which will you show you all the gems we've added in the last 5 days.
Keep up with our new arrivals before they hit the newsletter by joining our thousands of fans and followers on our social networking pages. We love interacting with our customers - you can visit us on Tumblr, LinkedIn, Twitter, Facebook or Pinterest!
To ensure you can receive our emails, please be sure to add help@gemselect.com to your list of safe contacts, or you add us into your email address book! Please feel free to contact us with any questions, comments and queries! We respond to each and every email we receive.
Happy Gem Hunting!
Your friends at GemSelect