Black Gemstone Jewelry en Vogue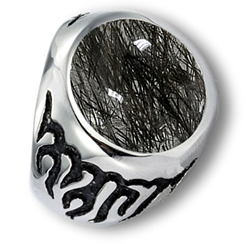 Black Rutilated Quartz Ring
When most people think of colored gemstones, black is usually the last color to spring to mind because most tend to naturally associate bright and vivid colors, such as bright cornflower-blue, striking emerald-green or juicy raspberry-red with jewels. It's understandable and easy to forget the existence of neutral colored gems like white, gray, brown or black, even despite of the fact that many of the most remarkable gemstones occur in such basic colors. Most average consumers would struggle to name but a few black gemstone varieties, while some jewelry professionals may even have a hard time rattling off ten or more. Many may wonder why there is a lack of black gemstones on the market, and the answer is rather simple. Without the presence of consumer demand, miners simply disregard many of the black materials in their search for brighter or otherwise more valuable colors.
There was, however, a short time during the Victorian era when black gemstones were favored. In fact, they were so sought after that the suppliers could hardly meet the demand. So why was the desire for black gems so strong at that time? For many years, it became customary to wear black gemstones and jewelry during this time because of the heavy commercialization of morbid mourning jewelry. Shortly after the loss of Prince Albert, the widowed Queen Victoria wore black jewelry to honor and mourn the loss of her husband, and because of this historical post-mortem period, the introduction of mourning jewelry ignited a spark which increased the demand for black gemstone jewelry.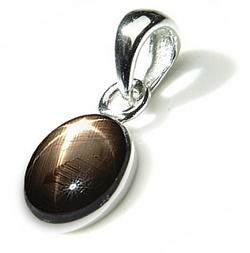 Black Star Sapphire Silver Pendant
As jewelers took advantage of the new market demand, miners began to take notice of black gemstone materials and started cashing in on the tremendous trend for black. Unfortunately, the fashion for black gemstones and mourning jewelry did not last long. The ceremonial production and wearing of mourning jewelry reached its peak in the late 1800s, and shortly after the turn of the century, the tradition met its ill-fated demise. As the demand for black gemstones and jewelry dwindled, so did their heavy commercialization.
The market demand reached its low until approximately one hundred years later, when all of a sudden, various cultural movements resulted in the momentary revival of black fashion and jewelry. The renewed interest in black gemstones and jewelry spiked right around the time that England's post-punk goth scene began to emerge. As the gothic trend and lifestyle grew by the years, black gemstones began to command more of the market share. During the time goth rocked its way into the early 1980s, a new age of 'indy-rock' was also brought to the streets of UK; just as non-conformist, but not quite as dark as the goth scene. The one thing they all shared in common, other than their rebellious attitudes, was a passion for fashion, and like AC/DC, they were "back in black".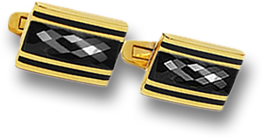 Black Spinel and Gold Cufflinks
Meanwhile, on the other side of the world, there was also a large demand for black gemstones. The 1980s brought about the era of 'emo' in young America. Described best as a subculture spin-off of England's 'goth-rock' blended with 'indy', the emo lifestyle paved its way into the limelight. As the style of British music and influence saw its way into the hearts of another new genre, the youthful Americans also took a strong liking to the gothic and indy-rock scenes. As black leather boots were pumped out by the factories, gem mines were simultaneously feeding the markets with black gemstones. Owing to the multicultural lifestyles of rebellious youths across the world, gemstones like onyx and black agate were now garnering the attention of miners.
As a result of the influx of demand, the world was reintroduced to more and more black gemstone varieties by jewelry-makers and designers. Some of the most popular of these were black agate, black onyx, black jasper, black rutilated quartz, black obsidian, black tourmaline, black spinel, black opal, black garnet, black star sapphire, black star diopside, black cat's eye scapolite, black pearl and of course, black diamond. Although black fashion and jewelry has had its ups and downs, for the most part, it has remained timeless. And though the most recent surge in demand for black is owed to rebellious youth and dark fashion, the jewelry industry continued to cater to many other lifestyles too. From gem-encrusted black leather chokers, to elegant onyx cuff-links or intricately designed fine black Tahitian pearl necklaces, the range of black gemstone jewelry is as infinite as the imagination. Though most black gemstones may not be available in your everyday jewelry store, with a little effort, you can find just about anything.
Erstausgabe: August-25-2015
Zuletzt geändert: November-07-2018
© 2005-2021 GemSelect.com alle Rechte vorbehalten.
Nachdruck (Text oder Grafik) ohne die ausdrückliche, schriftliche Zustimmung von GemSelect.com (SETT Company Ltd) ist streng verboten.