GemSelect October 2014 Newsletter - A Feast of Gems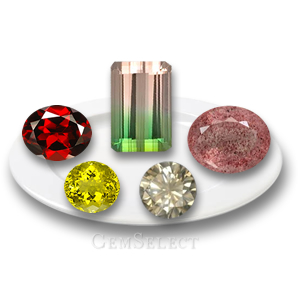 Platter of Jewels
Gems on the Menu

Star Lemon Quartz
The theme for HRD Antwerp's 2015 International Diamond Jewellery Competition is "A la Carte, A Culinary Journey". For this competition, entrants are required to create a feast of delicious gemstone jewelry. In honor of HRD Antwerp's 2015 awards, we at GemSelect would like to offer you a menu of jeweled treats. There are a wide variety of gemstones that are named after culinary delicacies or vice versa, so for this month's newsletter, we would like to address this fun topic and serve up our gems on a platter. Naming food after jewels suggests opulence and luxury, whereas giving gemstones edible terminology tends to suggest a certain hue or appearance. To find out more, read on, but we warn you, this newsletter may make you hungry!
Oval Ruby Gemstone
There are several references to pomegranate in the world of gemstones. In Thai, "tub tim Siam" or "Siamese pomegranate" refers to rubies. You can see why when you look at the deep-red glistening seed pods of the pomegranate. In the West, the name garnet comes from the Medieval Latin word, "granatum", which is an adjective meaning "dark-red". It is thought that this adjective could have been extracted from the word "pomegranate", due to the color of the seed coats or shape of the seeds. The pyrope garnet appears similar to pomegranate seed coats, especially the Bohemian pyrope garnet from the north-eastern part of the former Kingdom of Bohemia. These are small stones in a wonderful color. In Europe they were frequently used for jewelry in Victorian times. Traditional pyrope garnet jewelry from the Bohemian mines of Central Europe typically features small, closely-set stones that appear like ripe, glistening pomegranate seeds. These vintage styles showcase pyrope garnet's glossy deep-red hue.
Another red jewel parallel is barberry, which is an ingredient of a Persian dish known as "jeweled rice". This Iranian dish also has pistachios to represent emeralds and almonds for pearls. This feast fit for a king is usually served at weddings. In China, "eight jeweled rice" or "eight treasure rice" is also served at special occasions such as Chinese New Year. This is a sweet dish, where the jewels are fruit that are believed to have medicinal benefit. Other Chinese jeweled foods include green "jade noodles", named after the green colored gemstone that is so precious to the Chinese. This makes these green tea colored noodles sound much more enticing and is a great way to persuade people to eat their greens.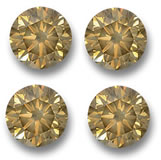 Champagne Diamonds
Some gemstones are made to sound more enticing because of their color being named after "champagne", "cognac" or "whiskey". These hues sound much more palatable and attractive than "brown" or "brownish-yellow" and these terms can also help us to imagine these colors more exactly. After all, we all know the color of a glass of whiskey or champagne. The best known champagne or cognac gemstones are diamonds. These yellowish or brownish diamonds used to be considered undesirable, but they are now being appreciated by many for their beautiful natural colors, remarkable hardness, exceptionally high refractive index and wonderful dispersion (also known as 'fire'). Apart from diamonds, golden yellow sapphires are known in Thailand as "Mekong whiskey" sapphires. Such sapphires are a rich golden yellow that provide an excellent substitute for "Canary" yellow diamond. Due to their excellent hardness and brilliance, these yellow sapphires are suitable for any type of jewelry, including engagement rings.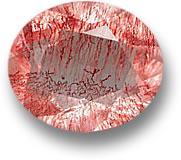 Strawberry Quartz
While red gems resemble berries or pomegranate, some other gemstones look like quite unlikely fruit. For example, watermelon tourmaline is so named because in cross-section, it resembles a slice of watermelon, complete with the green rind on the outside, followed by light-pink or white, and then a deep-pink centre. Watermelon tourmaline is even sometimes sold in slices, to show off its attractive and unique tri-colors. Some types of quartz are named after fruit too. For example, lemon quartz and citrine (named after the French word, "citron", meaning lemon), which are both yellow. Citrine tends to be a richer golden yellow with orange tones, whereas lemon quartz is usually a lighter, purer yellow with green tones. A rarer type of quartz is known as strawberry quartz. This is quartz that contains natural red iron oxide inclusions. It is also sometimes referred to as "red fire" quartz and can have very fine iron oxide inclusions that give it a more uniform red color, or larger inclusions that appear like needles or flakes of red. Buyers of strawberry quartz should beware of synthetic gems, which may have the strawberry color, but not the iron oxide inclusions. There are also several synthetic quartz gems on the market, with names such as "kiwi quartz" and "cherry quartz", which sound enticing, but are usually nothing more than colored glass.
To sum up, it seems that naming food after gemstones serves to make Asian and Middle Eastern dishes look or sound more enticing or luxurious. In the case of red gems, the beautiful vivid color of the gemstones is compared with the wondrous colors found in nature. When it comes to gemstones that are named after drinks or fruit, this conjures images of particular hues and helps to makes the gemstones sound more attractive and marketable. When buying quartz, one should be beware of picking a false fruit.
Featured Gems - Azurite Druzy, Citrine Geode and Uvarovite Garnet Druzy
Back to Top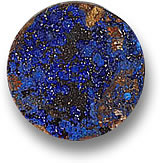 Azurite Druzy
We have been lucky enough to find some azurite druzy recently. Azurite is a vivid blue form of copper carbonate that gets its name from the same Persian word, "lazhward", which is the name of a place famed for lapis lazuli, another deep-blue stone. This Persian word gave rise to the word "azure", after which azurite was named. Azurite is usually sold as polished gemstone cabochons, tumbled stones or beads that have a vitreous luster, so this druzy form presents an interesting alternative. With its striking color, azurite druzy is perfect for tribal-style jewelry. When teamed with yellow precious metal, the dramatic contrasting colors are pleasing to the eye. When set in more muted silver, the azurite makes its own statement. When setting azurite, it should not be exposed to heat, which can reduce the intensity of its color.
Citrine Geode Gemstone
Another of our latest finds has been citrine geode gems. These are citrine crystals that are attached to a matrix (also known as the "host rock"). Amethyst and agate geodes are more commonly seen than citrine geodes. When found, geodes appear like stone nodules which can be small or very large. Once cut in half, an inner cave of crystals is revealed. For use as jewelry gemstones, geodes must be either very small nodules that are sold as halves, or pieces of larger ones sold as crystal plates. Citrine gets its name from the French word for lemon, "citron", which refers to its yellow color. Citrine is a member of the quartz family that tends to exhibit a rich yellow, golden or orange hue. Citrine is a type of macrocrystalline quartz, which means that its crystals are large enough to be discerned by the naked eye. With its sunny color, citrine is seen as a crystal that emits positive vibes.
Uvarovite Druzy
We have also recently acquired some uvarovite druzy (also spelled "drusy", "druze" or "druse"). Druzy is a coating of fine crystals on the surface of a matrix (host rock). The fine deep-green crystals in this case are those of the rare uvarovite garnet that occurs in a striking emerald-green color. This vivid hue has led uvarovite to be sometimes mistaken for emerald, indeed, like emerald, uvarovite is colored by chromium. Uvarovite gets its unusual name from Russian literary scholar and statesman, Count Sergey Semeonovich Uvarov, who had a penchant for rare minerals. Care must be taken when setting or wearing such gemstones, since the crystals can be crushed or dislodged. When used in jewelry, uvarovite druzy gems make remarkably eye-catching pendants or earrings, either with the use of muted silver, or bold yellow precious metal.
An enormous 232 carat rough white diamond has been unearthed from Petra Diamonds' Cullinan mine. Details regarding the price and quality have not yet been released. The Cullinan Mine has produced some superlative diamonds over the years, most notably the Cullinan, which gave the mine its name and was found in 1905. The Cullinan was cut into nine large gemstones. The main gem cut from the Cullinan is known as the Great Star of Africa and was set into the British Royal Sceptre.
The Natural History Museum in Los Angeles (LA NHM) is displaying a rare 12-carat vivid blue diamond, known as the Blue Moon, until 6th January 2015, in the Gem Vault. The Blue Moon is another natural wonder that was unearthed from the Cullinan Mine. The phenomenal gem was discovered in January 2014 as a 29.63 rough stone, which was bought by Cora International for $26 million and then faceted into a cushion shape over a period of six months.
An enormous 600 ton deposit of jade has recently been found in North-East China. The giant deposit was discovered while miners were digging in a cave. It is not yet clear as to the variety of jade, but it has been deemed priceless. Jade has a special significance in Chinese culture, so this find is very exciting indeed.
Runway fashion trends for Fall/Winter 2014-2015 have been revealed at London, New York, Milan and Paris fashion weeks. Dolce and Gabbana paraded large eye-catching necklaces made from colored pear-shaped and oval gemstones. Balenciaga presented dramatic crystal chokers, and Givenchy flaunted large, colored crystal collars. Etro showed off tribal-style collars adorned with colorful cabochons. Vivienne Westwood uncovered tribal-meets-Victorian style colored bead necklaces. Gucci displayed pretty pink crystal bracelets to complement pink fur. Christian Dior cuffs were large with blocks of colored inlay and cabochons. Rings from Nina Ricci were darkly colored and varying textures, all in bold square shapes and worn on every finger. Long, cascading earrings with delicate white gemstones were worn by Oscar de la Renta's models. The overall impression was a colorful profusion of jewelry with a style for every preference and a source of inspiration for designers.
Every month we answer questions of general interest from our customers. Please feel free to send your questions or suggestions to our support team at help@gemselect.com!
Question
Hi, I have been looking for some rare gems such as rainbow pyrite and rhodonite, but there are no results when I search on your website. Do you think you will get any soon?
Answer
We are sorry for the lack of results. We buy what is available at the time, and although we try to acquire rare gems and different sizes to keep a full inventory, some are difficult to source. However, we are pleased to have recently acquired some rainbow pyrite gems and other rare stones. If you would like to peruse some of our recent acquisitions, you can visit our
new arrivals
page. This will save you from searching through so many pages. You can further filter the results by gem type, cut, color and so on, to help you find what you're looking for. Also, as a rule of thumb, if a gem type is listed on the left hand menu of the homepage, this means that we have some in stock and available for purchase.
Question
Hello GemSelect, I recently bought a color change gem, but I can't see any color change. Can you advise me on how best to see the color change?
Answer
To see a color change, a
color change gem
should be viewed under various types of lighting, such as fluorescent light, incandescent light, natural daylight and even candlelight. Please note that natural daylight will be different depending on the time of day. Incandescent light is the traditional style light bulb that produces light with a wire filament that glows when heated by an electric current. Please be aware that light bulbs can differ depending on whether they are warm light or daylight, and also the wattage will have an effect. Some color change gems have a dramatic change of two very different colors, and others show a small change, such as a different tint. It is important to see the gem in different lights before buying it, so that you can get an idea of how much color change to expect.
We always welcome your questions, comments and feedback! For those who are interested in attending some gem and jewelry events, please see the details below.
Event Name
Junwex Moscow 2014
Venue
All-Russian Exhibition Centre, GAO WC, Estate 119, Mir Prospect, Moscow, Russia
Dates
October 1 - 5, 2014
Event Name
International Jewellery Fair Tokyo Autumn
Venue
Sunshine City Convention Centre, First Three No. 1 Chome, Toshima-ku, Tokyo Higashiikebukuro, Tokyo, Japan
Dates
October 1 - 3, 2014
Event Name
Watches & Jewellery Fair
Venue
Incheba Exhibition and Conference Center, Prague, Czech Republic
Dates
October 2 - 4, 2014
Event Name
Gem & Lapidary Wholesalers Show - Detroit
Venue
Embassy Suites Detroit, 19525 Victor Pkwy, Livonia, Detroit, MI, USA
Dates
October 3 - 5, 2014
Venue
Messe Idar-Oberstein, John F Kennedy Str 9, Idar-Oberstein, Germany
Dates
October 3 - 6, 2014
Event Name
York Rock, Gem & Bead Autumn Show
Venue
York Racecourse, Knavesmire Rd, York, UK
Dates
October 4 - 5, 2014
Event Name
Shanghai World Jewelry Expo
Venue
Shanghai World Expo Exhibition & Convention Center, 1099 Guozhan Rd, Pudong New Area, Shanghai, China
Dates
October 9 - 12, 2014
Event Name
37th MidEast Watch & Jewellery Show 2014
Venue
Expo Centre Sharjah, United Arab Emirates
Dates
October 14 - 18, 2014
Event Name
39th Istanbul International Jewelry, Watch & Equipment Fair
Venue
Istanbul Expo Center (CNR EXPO), Fuar Merkezi 34149, Yesilkoy, Istanbul, Turkey
Dates
October 16 - 19, 2014
Event Name
5th Tokyo Fashion Jewellery Expo Autumn
Venue
Tokyo Big Sight, 3-11-1 Ariake, Koto-ku, Tokyo, Japan
Dates
October 20 - 22, 2014
Event Name
Gemworld Munich
Venue
New Munich Trade Fair Centre, East Entrance, Messegelnde, Munich, Germany
Dates
October 24 - 26, 2014
Keep up with our new arrivals before they hit the newsletter by joining our thousands of fans and followers on our social networking pages. We love interacting with our customers - you can visit us on Tumblr, LinkedIn, Twitter, Facebook or Pinterest!
To ensure you can receive our emails, please be sure to add help@gemselect.com to your list of safe contacts, or you add us into your email address book! Please feel free to contact us with any questions, comments and queries! We respond to each and every email we receive.
Happy Gem Hunting!
Your friends at GemSelect
First Published: September-22-2014
Last Updated: December-13-2017
© 2005-2021 GemSelect.com all rights reserved.
Reproduction (text or graphics) without the express written consent of GemSelect.com (SETT Company Ltd.) is strictly prohibited.