Shop By
Click for Details
1 pc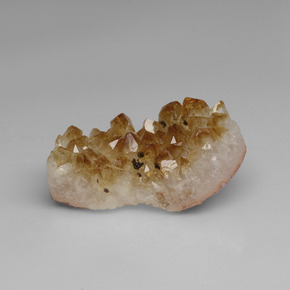 57.68 ct Citrine Geode
35.5 x 18.8 mm
Item in Stock
Citrine Geode
Citrine geodes are rock cavities or vugs with internal crystal formations in colors ranging from pale yellow to deep orange and ranging from transparent to translucent. Citrine geodes can be small nodules cut in half or pieces of larger geodes sold as crystal clusters. Value per carat in citrine, unlike many gems, doesn't rise exponentially with weight as it is readily available in large sizes; but depends almost entirely on color. Named from the French word for lemon,"citron", many citrine gems have a juicy lemon color. Citrine includes yellow to gold to orange-brown shades of transparent quartz. Although the darker, orange colors of citrine, sometimes called Madeira citrine after the color of the wine, has generally been the most valued color, in modern times, many people prefer the bright lemony shades which mix better with pastel colors.
Certified Customer Reviews
Overall Rating -> 9

simple, clear, well organized site
Posted By Lleb in December, 2018
Overall Rating -> 10

Good quality goods
Posted By None in December, 2018
Overall Rating -> 10

Great selection and very easy to navigate. Loads of fun to shop!
Posted By PinkDalek in December, 2018
Overall Rating -> 10

I just looked up black opals expecting an outrageous price. Then I see this website and I get so excited. Mom's gonna love it!! And It's not costing me an arm and a leg!!
Posted By Katie in December, 2018
Overall Rating -> 8

I love shopping for jewels and love thinking of what could be made from them. I love buying the birth stones of those dearest to me.
Posted By Lorenzo in December, 2018
Overall Rating -> 10

I love the easiness of your website, I have learned so much about stones I have never even heard of before. I starting a business around a stones shape I can only find on your website! Thank you! I will continue to shop here :)
Posted By Anna in December, 2018
Gemstone Information
Popular Gemstones