Buy Citrine Geode Gems
Click for Details
1 pc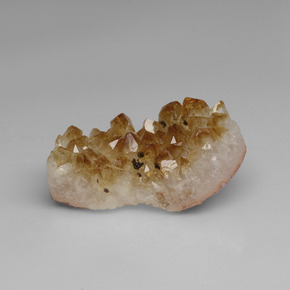 Fancy Yellow Citrine Geode
57.7ct
35.5 x 18.8 mm
Item in Stock
Citrine Geode
Citrine geodes are rock cavities or vugs with internal crystal formations in colors ranging from pale yellow to deep orange and ranging from transparent to translucent. Citrine geodes can be small nodules cut in half or pieces of larger geodes sold as crystal clusters. Value per carat in citrine, unlike many gems, doesn't rise exponentially with weight as it is readily available in large sizes; but depends almost entirely on color. Named from the French word for lemon,"citron", many citrine gems have a juicy lemon color. Citrine includes yellow to gold to orange-brown shades of transparent quartz. Although the darker, orange colors of citrine, sometimes called Madeira citrine after the color of the wine, has generally been the most valued color, in modern times, many people prefer the bright lemony shades which mix better with pastel colors.
Certified Customer Reviews
Overall Rating -> 10

In my 20's I imported gemstones. I decided to try it again, for gifts. I found GemSelect; studied their website; talked with them and decided to make a purchase.
Posted By Rob in February, 2019
Overall Rating -> 8

i haven't received my purchase yet so i don't have a full opinion.
Posted By Tjk in February, 2019
Overall Rating -> 10

I would recommend GEMSELECT based upon the variety of gems. Gems that i didn't expect to even be apart of the selection and it gave me more options. Options in which played a key role in finding the right gem. Its always good to have options especially when trying to formulate a good piece of art work that has uniqueness. Which ultimately captures costumers eye appeal.
Posted By Left.Right.Center in February, 2019
Overall Rating -> 10

I found a beautiful rose quartz stone in the right size for the right price.
Posted By Calico9999 in February, 2019
Overall Rating -> 10

Gemselect is o.k the prices are pretty good, but the shipping prices really suck, one time I order from them and order got lost or never came, but they were good about fixing the problem and rectifying the situation, the stones and good, and the ones that come in the mail, look just as pictured on the website, or all it's not bad and its were I go to get my stones.
Posted By Spinach in February, 2019
Overall Rating -> 10

Perfect experience. Pictures were accurate, selection was easy to maneuver. Product arrived as ordered.
Posted By Jess in February, 2019
Gemstone Information
Popular Gemstones