GemSelect Newsletter - Three Countries, Their Carnivals and Colored Gems
In this month's newsletter we would like to look at a few of the most colorful festivals in the world, the countries in which they are celebrated and the gemstones produced in those countries.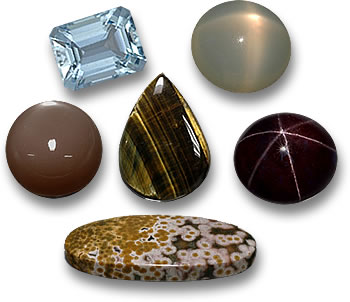 Indian Gemstones
We at GemSelect have a passion for color, so one of our favorite colorful festivals of the world is Holi, which is held in India in February or March. Holi is also known as "the Festival of Colors" and is an ancient Hindu festival which celebrates good triumphing over evil. During Holi, people throw colored powers or water into the air and cover each other in all the colors of the rainbow. The colors are rich and bright and are said to represent the coming of spring. The dyes used to be made from flowers and other natural products. One of the wonderful aspects of Holi is that it loosens social restrictions and brings people together. Holi is now celebrated in areas all around the world.
India is responsible for some of the most amazing colored gemstones in the world. Some of the earliest diamond mines were the Golconda mines of India. The diamonds produced there were treasured for their quality and clarity. One of the most famous of these is the Koh-I-Noor Diamond, which was set into a platinum crown for Queen Elizabeth, the Queen Mother of Britain. In addition to diamonds, India has produced aquamarine, sapphire, ruby, amethyst, moonstone, jasper, spinel, alexandrite, iolite, sunstone and garnet.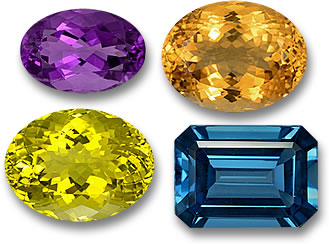 Brazilian Gems
One of the best known and largest colorful festivals of the world is the Rio de Janeiro Carnival in Brazil, which is held before the beginning of Lent each year. During the Rio Carnival, the streets are filled with around 2 million people per day. The Carnival is a parade of colorful decorated floats and Samba dancers from Samba schools in Rio. The Samba schools compete for points to score a high place in the carnival leagues and win a prestigious place in the Champion's Parade. Many schools prepare for the parade for a whole year and the top schools gain the most funding from sponsors.
Brazil's color is not limited to the carnival. Brazil has produced some of the largest aquamarine, topaz and quartz gemstones to date. For example, the "El-Dorado Topaz" is not only the largest faceted topaz, but is also the largest faceted gemstone in the world. It is an emerald-cut 31,000-carat yellow topaz from Minas Gerais, Brazil. The El-Dorado Topaz is exhibited in the Smithsonian Institution, USA. Also displayed in the Smithsonian is the Dom Pedro Aquamarine, which is the largest faceted aquamarine in the world, also from Minas Gerais. Paraiba is another state in Brazil that is known for gemstones, namely, Paraiba tourmaline. The largest faceted Paraiba tourmaline is believed to be the 191.87-carat oval gem set into the "Paraiba Star of the Ocean Jewels Necklace" by Kaufmann de Suisse.
Sydney Gay and Lesbian Mardi Gras (SGLMG for short) is Australia's most colorful festival of the year. It is a celebration of creativity and diversity, and features a number of art and entertainment events, including a parade, which can be seen on the first Saturday of March. The Mardi Gras has been held since 1978 and has an event to suit everyone, from comedy to dance classes. The organizers embrace all members of the community and tourists, and the Mardi Gras offers a good way of getting to know Sydney, since some events include day trips and cruises.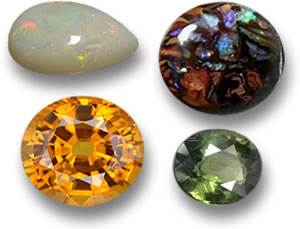 Australian Gems
When it comes to gemstones, Australia is best known for producing opal and diamond, though sapphires and other gems are also mined in Australia. Some of the most remarkable opals in the world were mined in Australia. For example, the heaviest opal ever found, the Andamooka Desert Flame, was unearthed from Andamooka in South Australia. The Royal One and the Aurora Australis, from Lightning Ridge, New South Wales, are considered to be the most valuable black opals in the world. With regard to diamonds, the Argyle Mine owned by Rio Tinto has produced some record-breaking colored diamonds. In November 2014, an Argyle red diamond ring by Moussaieff achieved over $2 million per carat at Christie's Hong Kong.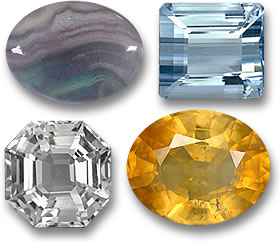 Gemstones of Ireland
Finally, a festival that brings people together all around the world in March is St Patrick's Day, which will be on March 17th this year. St Patrick's Day celebrates the introduction of Christianity to Ireland by St Patrick, and also Irish culture in general, since St Patrick is the patron saint of Ireland. Irish culture is celebrated with the color green which comes from the symbol of the shamrock, a young clover with three leaves that was used by St Patrick to represent the Holy Trinity. The shamrock was made the national symbol of Ireland. On St Patrick's Day, some Irish people have a tradition of "drowning the shamrock", whereby a shamrock that had been worn during the day was placed into the last glass of drink until the drink was finished and then the shamrock was taken from the glass and thrown over the left shoulder. Nowadays St Patrick's Day is celebrated all over the world with the color green. In some places green beer is served and in many cities, green lights are shone on famous monuments. For example, Sydney Opera House, Australia and The Great Pyramid and Sphinx of Giza, Egypt, are lit with green lights, and the Chicago River is dyed green.
Ireland is known as the "Emerald Isle". However, this refers to its verdant landscape rather than gemstones. Ireland is not known as a source for emeralds, but its relative, aquamarine (also a variety of beryl), has been discovered in Ireland. Other gemstones that have been found in Ireland are ruby, sapphire, natural light-blue topaz, fluorite and quartz.
These fascinating festivals offer a kaleidoscope of color, diverse cultures and partying people. If you are not keen on crowds or dislike adventurous travel to far-flung places, wherever you are in the world, you can enjoy a private festival of color with colored gems.
Featured Gems - Australian Opal, Idocrase and Blue Zircon
Back to Top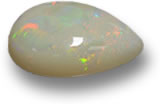 Pear-shaped Australian Opal
Australia is known for its opal, in fact, opal is the national gemstone of Australia. This precious opal has the distinctive spectral play of color that opal is known for. The play of color is caused by the interference, diffraction and refraction of light in small particles of silica gel. Since opal is composed of up to thirty percent water, it needs to be properly cared for in order to maintain its beauty. Therefore, these somewhat delicate gemstones are best suited for necklace pendants or earrings. Opal is believed by some to promote positive emotions.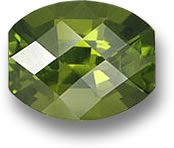 Green Barrel-Cut Idocrase
Idocrase is a rare gemstone that was first discovered at Mount Vesuvius, a volcano in the Gulf of Naples, Italy, which has caused it to be known as vesuvianite. Idocrase is also found in other places, such as China, Norway, the USA and Sweden. This barrel-shaped checkerboard cut idocrase is quite interesting and unique. Idocrase gems are typically untreated and are durable enough for most jewelry designs due to a lack of cleavage. However, idocrase should be kept away from chemicals such as cleaning fluid, perfume and hairspray. This gem has great clarity, a vitreous luster and a nice olive-green color, perfect for St Patrick's Day!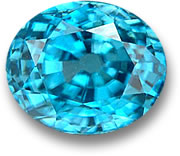 Blue Zircon Gemstone
Zircon is a natural gemstone material that is not very well-known and is often mistakenly confused with the lab-created synthetic material, cubic zirconia (CZ). Zircon occurs in a wide range of colors, but the most popular color is blue. As can be seen in the photo on the right, zircon gemstones show remarkable brilliance and can sometimes appear fuzzy or show facet doubling. This is the result of a remarkably high birefringence (the difference between the two refractive indices of doubly refractive materials). Zircon is durable but brittle, so should be worn occasionally, or in jewelry with protective settings to prevent wear and tear. White zircon makes a good and affordable diamond substitute.
Items from the late Lauren Bacall's jewelry collection will be auctioned by Bonhams New York on March 31 and April 1. The legendary actress's jewelry includes unique designs by Chanel, Cartier, Tiffany and Jean Schlumberger.
People may go gaga for heart-shaped gems after the announcement of Lady Gaga's engagement to actor Taylor Kinney on February 16th. The ring designed by Lorraine Schwartz has a heart-shaped diamond of approximately 6 carats and pavé diamonds on the band, with "T heart S" (Lady Gaga's real name is Stefani) in pavé diamonds on the back.
Every month we answer questions of general interest from our customers. Please feel free to send your questions or suggestions to our support team at help@gemselect.com!
Question
Hi, I would really like some smoky topaz, but notice that you don't have any available, when do you expect to get some?
Answer
We have received enquiries about
smoky topaz
from several customers and we are sorry to say that no such gemstone exists. However, there is a gem called "
smoky quartz
", which is often sold under the name "smoky topaz" because, although it is attractive, it is less valuable than topaz. If anyone offers "smoky topaz", they should be avoided!
Question
Dear GemSelect, I ordered a gemstone and received tracking information, but when I look online, it only says "pre-shipment info sent" and there has been no update for 4 days now. Did you really send my shipment?
Answer
Yes, please rest assured that if you received tracking information, your order has been
shipped
. "Pre-shipment info sent" means that we scanned your tracking details electronically. However, the tracking information will not be updated until it reaches the US and is scanned in by the post office there. Since the order is coming from Thailand, please bear in mind that it may take a few days for it to enter the US.
We always welcome your questions, comments and feedback! For those who are interested in attending some gem and jewelry events, please see the details below.
Event Name
Asia's Fashion Jewellery & Accessories Fair
Venue
AsiaWorld Expo, Lantau, Hong Kong, SAR
Event Name
Hong Kong International Jewellery Show
Venue
Hong Kong Convention & Exhibition Centre, Hong Kong, SAR
Event Name
Best Adornments of Russia
Venue
All-Russian Exhibition Centre VVC, Moscow, Russia
Venue
Exhibition Centre, Messe Basel, Switzerland
Dates
March 19 - 26, 2015
Event Name
12th International Baltic Jewellery Show "Amber Trip"
Venue
Radisson Blu Hotel Lietuva, Vilnius, Lithuania
Dates
March 18 - 21, 2015
Event Name
Chennai Jewellery & Gem Fair
Venue
Chennai Trade Centre, Chennai, India
Dates
March 20 - 22, 2015
Event Name
LA Antique Jewelry & Watch Show
Venue
Hyatt Regency, LA, CA, USA
Dates
March 21 - 23, 2015
Event Name
The Whole Bead Show
Venue
Metropolitan Pavilion, New York, NY, USA
Dates
March 21 - 23, 2015
Event Name
Europe Jewellery & Gem Fair
Venue
Messe Freiburg, Europlatz 1, 79108 Freiburg, Germany
Dates
March 22 - 25, 2015
Event Name
Quebec Gift Show
Venue
Place Bonaventure, Montreal, Canada
Event Name
22nd International Fair of Amber, Jewellery & Gemstones
Venue
AmberExpo Convention & Exhibition Centre, Gdansk, Poland
Dates
March 25 - 28, 2015
Keep up with our new arrivals before they hit the newsletter by joining our thousands of fans and followers on our social networking pages. We love interacting with our customers - you can visit us on Tumblr, LinkedIn, Twitter, Facebook or Pinterest!
To ensure you can receive our emails, please be sure to add help@gemselect.com to your list of safe contacts, or you add us into your email address book! Please feel free to contact us with any questions, comments and queries! We respond to each and every email we receive.
Happy Gem Hunting!
Your friends at GemSelect