GemSelect April 2015 Newsletter - Wonderful Water
| | |
| --- | --- |
| | Thailand's Songkran Water Festival |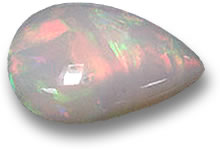 Multicolored Opal Pear Cabochon
Water is arguably the most important chemical compound in the world. It covers approximately 70% of the Earth's surface, makes our planet habitable and gives life to all organisms. Our bodies are composed of approximately 70% water. Without it, we simply cannot survive.
Water is a part of the rock cycle, and thus has a role in the formation of minerals and gemstones. Opals are unique gemstones that contain as much as 30% water.
There is also a fun side to water, for example, water sports and activities are immensely enjoyable, however, these may not be as much fun as water fights. Our home in Thailand has a nationwide water fight that lasts 3-5 days during mid-April. This is known as the Songkran Festival.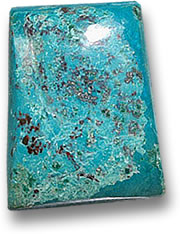 Multicolor Blue Azurite Cabochon
Water near the surface of the Earth can cause the formation of gemstones by evaporation or cooling. Gemstones that can form in this manner include silica-based crystals such as amethyst, agate and opal. Examples of copper-rich gemstones that form in this way are malachite, azurite and turquoise.
Hydrothermal gemstone deposits form as water moves through the Earth and then comes into contact with magma to make hydrothermal fluid. These appear like "veins" as the minerals fill fissures. If this fluid cools under the right circumstances, it forms crystals. An example of a hydrothermal deposit can be seen in Muzo emeralds from Colombia. Rock crystal quartz, tourmaline and fluorite are other examples of gems that can form in this way.
Primary gemstone deposits are usually mined simply by digging a hole and then removing the gemstone from the host rock. Secondary gemstone deposits are materials that have been moved away from the source, and are sometimes carried by water. Some gems, such as sapphire and ruby are found in alluvial deposits, where they have been transported by rivers, sometimes hundreds of miles. Gems that are carried by rivers are often rounded, due to being tumbled around with the gravel. They are often denser than other alluvial material, so they can be mined from concentrated deposits.
Some gemstone deposits that lie under the sea are broken up by stormy weather and transported to the shore, where they are found by lucky beachcombers. This is often the case with Baltic amber. Some other organic gems, such as pearls, are found in water because the creatures that produce them are freshwater or marine dwellers.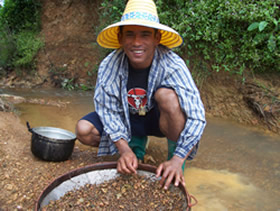 Thai Ruby and Sapphire Gem Hunter
Water is also used in some gemstone mining, where earth is excavated and then sieved. This is true for alluvial deposits, where the gems are found in the soil. Such deposits may be mined from shafts or open pits. Once the gem-bearing soil is excavated, it is washed and sieved to retrieve the gemstones. This is the way in which Thai sapphires and rubies are typically mined.
Sometimes, these jewels can be sieved or panned for in rivers and streams, generally during the rainy season when the gems have been washed downriver with gravel. This is done with a shallow tin pan that is swished around to wash the mud off the stones. Then the gravel is picked through by hand to recover any gemstones that will stand out against the dull-colored gravel (see, image above). For the lucky few, large gems can be found in this simple way, in a similar way that gold has been panned for hundreds of years.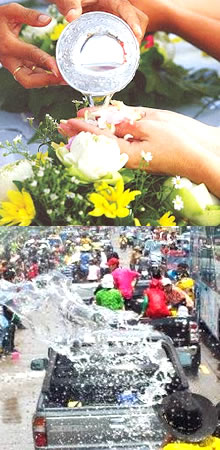 Songkran Festival Old and New
April is an important month in our gem trading home, Thailand. It is the time of the traditional Thai New Year known as Songkran. Some may have heard of this festival when Thai people throw buckets of water over each other for fun. However, there is a little more to this festival than merely a water fight.
Songkran is the traditional Thai New Year and during this time Thai people usually pour flower-scented water over the hands of elders, monks and Buddha images. This is thought to bring luck and may be related to cleansing and renewal, as if the bad luck of the year before is being washed away. Songkran is in mid-April, which is the hottest time of the year, so water provides welcome relief.
Years ago, Songkran was a rather sedate affair, but nowadays, the Thais attack each other with powerful water guns, hoses, buckets of water, ice and pretty much any other watery thing or vessel available, whilst drinking and reveling in the streets. Modern Songkran is less about cleansing and more about dousing and dancing. If you plan to visit Thailand during the Songkran Festival we advise you to not plan on traveling during the festival days, since many roads grind to a halt for the party. Also, be sure to put your phone in a waterproof case!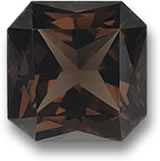 Asscher-Cut Smoky Quartz Gem
Cocoa colored gemstones are becoming more popular now, since cognac and champagne diamonds have raised interest. However, naturally brown gemstones are quite rare. One gemstone that has a wonderful chocolate color is smoky quartz, which ranges from gray to black and although it has quite a rare brown color, it is inexpensive. The stone on the right has an Asscher cut, which seems to be undergoing a revival at the moment. We have a variety of gems in the Asscher cut, such as lemon quartz, apatite, white quartz and rose quartz. Quartz is perfect for any jewelry design due to its good hardness level and durability.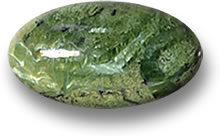 Oval Serpentine Cabochon
Serpentine gets its name from its snake-like color. It is an interesting gemstone that can exhibit some chatoyant areas, which appear lighter or darker than the body color depending on the viewing angle. Serpentine can be transparent and uniform, but some of the most attractive serpentine gems are the opaque ones with unique patterns and varying tones, like the one on the left. Since serpentine is not a very hard gemstone, it is best suited for necklace pendants, earrings and brooches. As with smoky quartz, the color of serpentine makes it suitable for both men and women's jewelry use. Serpentine is available in various cabochon shapes and sizes, with both high and low domes, and as transparent or opaque gems.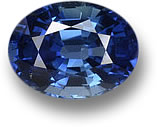 Natural Blue Sapphire Gemstone
Sapphires remain one of the most popular colored gemstones and are one of the "precious four" gems, the others of which are diamonds, rubies and emeralds. Blue sapphires are the best-known in the world, particularly those from Ceylon. However, the lesser-known Madagascan sapphires can rival the best Ceylon sapphires in both color and clarity. We have recently acquired some stunning unheated Madagascan sapphires that exhibit a beautiful blue color and great clarity. If you are thinking of investing in sapphires, be sure to take a look at our pre-certified unheated Madagascan sapphires.
This month will see the much anticipated launch of the Apple Watch, a high-tech piece of functional jewelry that will allow the wearer to feel closer to technology while wearing it. Sapphire crystal screens are used for the displays, which are both protective and functional, since sapphire has good transparency and a high Mohs hardness level. The luxury "Editions" of the Apple watch feature stylish custom 18kt gold alloys. The "Omni" version takes this even further with rows of diamond gemstones set in 24kt gold, 18kt pink gold and 950 platinum.
The oldest jewelry in the world is now thought to be a 130,000-year-old Neanderthal set of white-tailed eagle talons discovered in Croatia. It is believed that the talons were polished and strung together to form a necklace or bracelet. Previously, the oldest jewelry in the world was believed to be Nassarius shell beads found in South Africa. Bone, shells and stone were used to make jewelry before the Bronze Age.
| | | | |
| --- | --- | --- | --- |
| Event Name | Location | Venue | Dates |
| 38th MidEast Watch & Jewellery Show | UAE | Expo Centre Sharjah, Sharjah, UAE | March 31 - April 4, 2015 |
| Jewellery & Gem Fair Europe | Germany | Messe Freiburg, Germany | April 1 - 4, 2015 |
| JOYA | Mexico | Expo Guadalajara, Jalisco, Mexico | April 14 - 16, 2015 |
| Gem Faire | USA | Scottish Rite Event Center, San Diego, CA, USA | April 17 - 19, 2015 |
| Malaysia International Jewellery Festival 2015 | Malaysia | Kuala Lumpur Convention Centre, Kuala Lumpur, Malaysia | April 17 - 20, 2015 |
| China International Gold, Jewellery & Gem Fair | China | Shenzen Convention & Exhibition Center (SZCEC), China | April 20 - 22, 2015 |
| 13th Gold & Jewellery Exhibition 2015 | Kuwait | Kuwait International Fairgrounds, Mishref, Kuwait | April 20 - 25, 2015 |
| 2015 American Gem Society International Conclave | USA | Marriott, New Orleans, USA | April 22 - 25, 2015 |
| Vicenzaoro Dubai | UAE | Dubai World Trade Centre, Sheikh Saeed Halls 1- 3 and Trade Centre Arena, Dubai, UAE | April 23 - 26, 2015 |
| Colorado Mineral & Fossil Show | USA | Ramada Plaza Hotel, Denver, CO, USA | April 24 - 26, 2015 |
| International Watch & Jewelry Guild Show | USA | Marriott NY, Brooklyn Bridge, NY, USA | April 27 - 28, 2015 |
Every month we answer questions of general interest from our customers. Please feel free to send your questions or suggestions to our support team at help@gemselect.com!
| | |
| --- | --- |
| Q: | I am looking for a 12-carat blue sapphire, but I cannot find anything on your website, can you help me? |
| A: | Natural blue sapphires and rubies of such sizes are incredibly rare and extremely valuable. To put this into perspective, the blue sapphire worn by Princess Kate, wife of Prince William is a 12-carat sapphire, and a 22.66-carat blue sapphire sold for over $3 million in 2007. If you require a stone of this size, we would recommend looking at an alternative, such as tanzanite, which is available in larger sizes. |
| Q: | I requested express shipping, but my shipment was sent by standard registered mail, was there some mistake? |
| A: | Unfortunately, express shipping is not available to us in some countries. Therefore, we change the shipping method to standard registered mail and then refund the difference in cost. Standard registered mail is very reliable, can be tracked and can take as little as one week to arrive in some countries. |
We hope you found our topics interesting. Please feel free to send us your questions, comments or feedback!
Also, if you haven't already, be sure to join us on any one of our social networking pages. We love interacting with our customers. you can visit us on Tumblr, LinkedIn, Twitter, Facebook or Pinterest!
To ensure you can receive our emails, please be sure to add help@gemselect.com to your list of safe contacts, or you add us into your email address book! Please feel free to contact us with any questions, comments and queries! We respond to each and every email we receive.
Happy gem hunting!
Your friends at GemSelect
First Published: March-30-2015
Last Updated: March-08-2016
© 2005-2017 GemSelect.com all rights reserved.
Reproduction (text or graphics) without the express written consent of GemSelect.com (SETT Company Ltd.) is strictly prohibited.