Click for Details
1 pc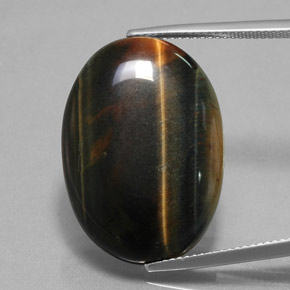 Oval Multicolor Hawk's Eye
23.4ct
26 x 18.2 mm
Item in Stock
Click for Details
1 pc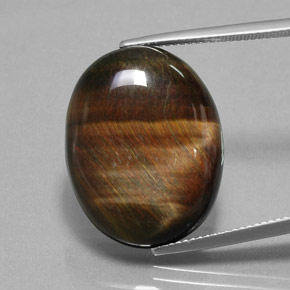 Oval Multicolor Hawk's Eye
24.7ct
23.2 x 18.2 mm
Item in Stock
Hawk's Eye
Hawk's eye
is a blue-gray to blue-green fibrous variety of opaque quartz formed when quartz replaces the mineral crocidolite. Like tiger's eye, hawk's eye exhibits chatoyant stripes and a silky luster. When cut en cabochon, the surface of hawk's eye shows chatoyancy reminiscent of the eye of a cat. Pietersite, another popular blue-gray gemstone, is made up mainly of hawk's eye and tiger's eye. The most important sources for hawk's eye include South America, India, Namibia, Australia, Burma (Myanmar) and the United States.
Certified Customer Reviews
Overall Rating -> 10

I have purchased, many times & have always been pleased!
Posted By Jim in November, 2019
Overall Rating -> 9

GemSelect has a wide selection of gems with photos of the actual gem that you will be purchasing, not some stock photo. Once a purchase is made, you can print out a certificate of authenticity. You know you are getting the real thing. The pricing is competitive. Their website also has useful information about gems.The website is easy to use. I have made multiple purchases with GemSelect, and I will be back again!
Posted By GeneticBlend in November, 2019
Overall Rating -> 10

The shipping was fast. The gems I ordered look great and the price was good.
Posted By Jayman in November, 2019
Overall Rating -> 10

My experiences with Gemselect have always been quite satisfactory. The items are accurately photographed, a detailed description and provenance provided and the compare feature helps customers select the best gem for their needs. I have often recommended this source and will continue to do so.
Posted By GemGirl in November, 2019
Overall Rating -> 10

I ordered several specific items from Gemselect. Items are always packaged very carefully to protect the content. Gemselect always encloses a card of authenticity which documents the entire stone, its size, clarity, etc. All of the items are as they were described. I would highly recommend them to anyone who's in the market for a gem.
Posted By Ron in November, 2019
Overall Rating -> 9

I frequently check the GemSelect website for a variety of gems. I've been very satisfied with the selection and quality of the top rated gems. All of the purchases I've made have turned out beautiful pieces of jewelry.
Posted By Steve in November, 2019
Gemstone Information
Popular Gemstones