GemSelect Newsletter - Halloween Themed Gems
Jack-O'-Lantern Gems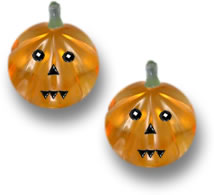 Citrine Jack-O'-Lantern Gems
Halloween is a popular fall festival, which is celebrated at the end of October each year and the "Jack-O'-Lantern" is a ubiquitous Halloween decoration. Halloween-themed jewelry can be made using golden orange gemstones, such as sapphires, spessartite garnets or citrine. The stones on the left are carved citrine gems. Alternatively, pavé-set spheres or gemstone beads, such as carnelian would make good gemstone Jack-O'-Lanterns. "Jack-O'-Lanterns" are pumpkins that are hollowed out and carved with a light inside. These bright orange fruit lanterns were not always fashioned out of pumpkins, but used to be made from turnips, beets, swedes or potatoes. When the European pilgrims traveled to the USA, they discovered pumpkins to be ideal for making the Halloween decorations, and now the rest of the world has followed suit.
Jack-'O-Lanterns come from Ireland, the origin of a legend of "Stingy Jack" which tells of a trickster called Jack who convinced the devil to turn into a coin so that he could buy a drink, and then trapped him with a crucifix. After promising not to take Jack's soul for a certain time, the devil is freed. When Jack meets the devil many years later, Jack begs for an apple before being dragged to hell. The devil obligingly climbs a tree to pick an apple for Jack, who tricks him once again by carving crucifixes around the tree. Satan is thus thwarted once again, so when Jack dies, he is denied access to both heaven and hell. Therefore, Jack is doomed to roam the netherworld in search of victims to lure into hell, with only an ember from hell inside a carved turnip to light his way. According to the story, Irish folk carved scary faces into turnips and other vegetables, lit them with embers and placed them outside their doors to discourage the ghost of Stingy Jack and other spirits that roam the earth at Halloween, when the veil between the spirit world and us is said to be at its thinnest.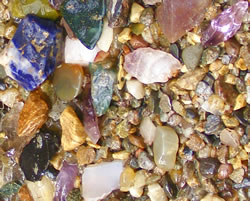 Finding Gemstone Materials
Making Jack-'O-Lanterns is an art that can be practiced by anyone, young or old. The pumpkins for sale nowadays are much easier to carve than those of yesteryear. If only these were available many years ago when as a child, the author would be given an enormous swede for carving at Halloween. For those who have not encountered a swede, it is one of the hardest root vegetables known to man. For safety, a spoon would be the tool of choice given to young children. Perhaps hours of amusement and a quiet house was the aim. Modern pumpkins have been specially cultivated for easy carving. Some pumpkin farms are tourist attractions which offer all manner of family fun and activities. A few farms in the USA combine pumpkins with gem mining for families to get an opportunity to feel the excitement of prospecting and learn a little about gemstones. This is a great idea for any budding gemologist.
Orange Jade Bangle
Though swedes make for challenging carving, they are incredibly soft compared to gemstones, which are expertly carved and faceted. A fun idea for fall is to create Halloween-inspired jewelry. This can be done by carving gems into spooky shapes. One of the finest examples of this is the work of Shinji Nakaba, a Japanese jeweler who carves skulls out of pearls. The tiny "wearable sculptures" are intricately detailed and appear very realistic. They can be worn as rings, pendants, brooches or earrings.
Other fall-themed jewelry includes pumpkin colored jade; a yellow to orange colored jade which is commonly carved into decorative objects, including vegetables. It is sometimes referred to as "amber jade". Though emerald green is the most valuable color for jade, it occurs in practically every color of the rainbow, from white to black. Jade is particularly important in China and pumpkins are a symbol of good health, prosperity and abundance in Chinese culture, perhaps this is because of their golden color and rotund shape. Pumpkins are traditionally eaten along with moon cakes during the Mid-Autumn Festival in China.
Halle Berry Wearing the Pumpkin Diamond on her Pinky Finger During her Oscars Acceptance Speech
The most valuable pumpkin-themed piece of jewelry must be the pumpkin diamond; one of the largest natural orange diamonds in the world. This 5.54-carat fancy vivid orange diamond achieved a price-per-carat record at a Sotheby's New York auction in 1997. The Pumpkin Diamond sold for $1.3 million or $238,718 per carat. This record was surpassed by another fancy vivid orange diamond weighing 4.19 carats, which was auctioned for $2.9 million or $705,587 per carat. This means that the current value of the Pumpkin Diamond has increased. The Pumpkin Diamond was unearthed in the Central African Republic. It was purchased in 1997 by diamond dealer, William Goldberg and cut into a cushion shape before being sold to Harry Winston and flanked by two white diamonds in a platinum ring. The ring had a moment of fame when it was worn on the pinky finger of actress, Halle Berry to the Oscars in 2002, where she received an Oscar for her role in the movie, "Monster's Ball". The Pumpkin Diamond was then exhibited by the Smithsonian National Museum of Natural History in Washington DC along with six other rare diamonds. For three months in the summer of 2003, members of the public were able to gaze upon the seven precious jewels.
Whatever you do this Halloween, we at GemSelect would like to wish you a very happy one. Whether you create a Jack-O'-Lantern or a piece of jewelry for Halloween, it should get you into the swing of things and also keep the spirit of Stingy Jack at bay.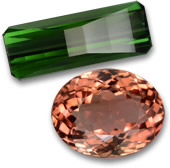 Tourmaline for October
One of the official birthstones for October is tourmaline (the other is opal). Those who are fortunate enough to have tourmaline as their birthstone have an unbelievable amount of choice with this colorful gemstone. Tourmaline can be found in almost every color, size, shape and cutting style imaginable. Some tourmaline gems even show two or more colors in a single stone. A rising star, tourmaline has soared in popularity over the past few years and is now being seen on red carpets and in jewelry stores more than ever before. If you or your loved one has a birthday in October, tourmaline is the perfect treat that is ideal for eye-catching cocktail rings and almost any other jewelry application.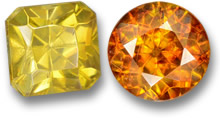 Sphalerite Gemstones
Sphalerite is a gem type that not many people have heard of. It is known for having in incredibly high dispersion; higher than that of diamond. This means that sphalerite emits amazing flashes of color. Combined with this "fire" is sphalerite's high refractive index, giving it wonderful brilliance. As if this is not enough, sphalerite gems may also have an adamantine (diamond-like) luster, which make them sparkle even more. Sphalerite is not one of the hardest gemstones, so it is best used for necklace pendants, earrings or occasional-wear rings.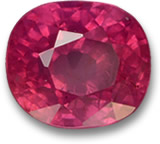 Unheated 1-Carat Ruby
We have been lucky enough to recently find some untreated 1-carat rubies. Unheated rubies are becoming harder and harder to source with global prices rising each year, yet rubies remain the quintessential red gemstone. Rubies are referred to as the "king of gems" and have been said to impart power, passion and prosperity to their wearers, so much so that Burmese rubies were not only the king of gems, but also the gems of kings. The excellent hardness of ruby makes it suitable for any jewelry use and the fluorescence of ruby makes it appear to glow in daylight, mesmerizing many.
Jane Fonda's opal engagement ring from first husband, Ted Turner achieved over $19,000 in an auction of her private belongings. The yellow gold, 0.55-ct black opal ring with white diamond side stones was only expected to sell for up to $4,000. In the same auction, her suite of Georgian amethyst jewelry reached almost $18,000. This shows how important provenance is when it comes to price.
One of the largest-known faceted blue topaz gems will soon be on public display in the Natural History Museum of London, England. The Ostro Stone is named after the family that has owned it for several decades. The 9.381-carat gemstone is on permanent loan from Maurice Ostro OBE, whose father, Max Ostro found the stone in Minas Gerais, Brazil several decades ago. The Ostro Stone will be on public display from 19th October.
A jadeite bangle is set to top the auction at Sotheby's, Hong Kong this month. The "grade A" emerald-green jadeite bangle described as "highly important" is expected to achieve up to 9 million USD, surpassing the expectations for "The Pride of Kashmir'; a very rare 20.22-carat, royal blue Kashmir sapphire set into a diamond and platinum ring by Harry Winston. The beautiful ring is expected to sell for up to 5.8 million USD. The importance of jade in Chinese culture and rarity of this translucent green jadeite bangle is reflected in the expected price.
Every month we answer questions of general interest from our customers. Please feel free to send your questions or suggestions to our support team at help@gemselect.com!
Question
Hi, I have some inquiries about your stones, but it seems difficult to get through to a human by phone. What's the best way to contact GemSelect?
Answer
We are always happy to interact with our customers and answer any inquiries, but our location in Thailand can make it difficult to
contact us
by phone in some countries with a big time difference. We try to return all calls, but do not like to disturb our customers late at night unless it is a matter of extreme urgency. If you are in the U.S. it is best to try either very early in the morning or late at night. However, we are always reachable by
email
and will reply to each and every email we receive. If you do not receive a response, please check your email spam settings or add us to your list of safe contacts.
Question
I was wondering why my ring fits my left hand, but is too small for my right?
Answer
It could be that you are left-handed. Not many people are aware of this, but the fingers on the hand that you use to write with are generally around half a
size
larger than the other hand. Often times, when an engagement ring no longer fits the right hand, it can be moved to the left.
We always welcome your questions, comments and feedback! For those who are interested in attending some gem and jewelry events, please see the details below.
Venue
Messe GmbH, John-F-Kennedy-Str.9, D-55743, Idar-Oberstein, Germany
Dates
30 September - 3 October, 2016
Venue
Ramada Inn Mall of America Hotel & Convention Center, MN, USA
Dates
October 2 - 3, 2016
Event Name
International Jewellery Tokyo
Venue
Sunshine City Convention Center, 3-1 Higashi-Ikebukuro, Toshima-ku, Tokyo, Japan
Dates
October 5 - 7, 2016
Event Name
Singapore Jewellery & Gem Fair
Venue
Marina Bay Sands, 10 Bayfront Avenue, Singapore
Dates
October 6 - 9, 2016
Event Name
India International Gem & Jewellery Exhibition
Venue
Chennai Trade Centre, Mount Poonamalle High Road, CTC Complex, Nandambakkam, Chennai, Tamil Nadu, 600089, India
Dates
October 7 - 9, 2016
Event Name
Istanbul Jewelry Show
Venue
Istanbul Fair Center (CNR Expo), Fuar Merkezi, Yesilkoy, 34149 Istanbul, Turkey
Dates
October 13 - 16, 2016
Event Name
Jewelers International Showcase
Venue
Miami Beach Convention Center, Booth L7, 1901 Convention Center Drive, Miami Beach, FL, USA
Dates
October 14 - 17, 2016
Event Name
Taiwan Jewellery & Gem Fair
Venue
Taipei World Trade Center, Hall 1, Songlian Road, Xinyi District, Taipei City, Taiwan
Dates
October 21 - 23, 2016
Event Name
New Orleans Christmas Beads & Jewelry Show
Venue
Pontchartrain Center, 4545 Williams Boulevard, Kennerm LA, 70065
Dates
October 28 - 31, 2016
Event Name
International Watch & Jewelry Guild Show
Venue
Marriott NY Brooklyn Bridge, 333 Adams Street, Brooklyn, NY, USA
Dates
October 31 - November 1, 2016
Keep up with our new arrivals before they hit the newsletter by joining our thousands of fans and followers on our social networking pages. We love interacting with our customers - you can visit us on Tumblr, LinkedIn, Twitter, Facebook or Pinterest!
To ensure you can receive our emails, please be sure to add help@gemselect.com to your list of safe contacts, or you add us into your email address book! Please feel free to contact us with any questions, comments and queries! We respond to each and every email we receive.
Happy Gem Hunting!
Your friends at GemSelect