Nine Gems Jewelry: Navaratna
Navaratna Nine Gems Pendant
According to ancient Vedic texts and Hindu astrology (also known as jyotish) there are nine sacred gemstones which are believed to correspond with planetary activity and possess properties that benefit the wearer. These are known as "Navaratna", which is a Sanskrit word meaning "nine gems". These gems are diamond, pearl, red coral, orange hessonite garnet, blue sapphire, chrysoberyl cat's eye, yellow sapphire, emerald and ruby. While the origin of Navaratna is not entirely clear, the sacred nine gems are considered auspicious in many Asian countries and by Hindus, Sikhs, Buddhists and Jains.
Some countries may differ slightly in their interpretation and use of the navaratna. For example, ruby may be replaced by red spinel and red coral may be replaced by carnelian. Also, the placing of the gems may alter slightly along with the application and beliefs attached to the stones. In traditional Hindu architecture (Vastu Shastra), the nine auspicious gems are placed under the cornerstone and threshold of a new building and also in the summit, particularly in temples. In Thailand, the Ancient and Auspicious Order of the Nine Gems is a royal decoration that is awarded to members of the Thai Royal Family and exceptionally meritorious high ranking officials. It is thought that wearers of such jewelry will enjoy well-being. The decoration consists of a pendant, a sash (worn by men), a ribbon (worn by ladies), a star and a ring. The diamond is placed at the center of the circle of gems in the pendant. A beautiful and intricate Royal Thai jewel known as the Nine Gems Belt has a detachable brooch with what appears to be a yellow sapphire at the center.
Jewelry that incorporates the nine gems may have the nine gems set into three rows of three, a circular design or various other creative designs. Navaratna jewelry may be fashioned for either ladies or men and can take the form of earrings, necklace pendants, brooches, rings or even belt buckles, with white or yellow precious metal. Navaratna jewelry may be in the traditional Indian style or more modern, and may use faceted gemstones or gemstone cabochons. Natural, untreated gemstones with the best clarity are preferred, since it is thought that they absorb and transmit energy better and thus are more beneficial. Traditional Indian navaratna jewelry has the gems in a circular design, clockwise from the top beginning with diamond, and the ruby in the center. It is thought that the ruby represents the sun, so this is why it is placed at the center. When set into a necklace or bracelet, the ruby is usually placed at the center. According to some, the blue sapphire should point toward the body.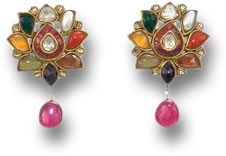 Navaratna Nine Gems Gold Earrings
Some Indian brides wear one or two pieces of navaratna jewelry because it is considered to be auspicious. Therefore, one carefully chosen navaratna piece, such as a ring, a pair of earrings, a bangle or a pendant may constitute one part of several bridal jewelry items to ensure that the special day goes smoothly and the marriage gets off to the best start.
The nine sacred gems are thought to not only protect the wearer from negative forces, but are also believed to promote positive qualities. These good and bad aspects may refer to mental attitude, power, popularity, intelligence, health, wealth or external influences. Just as a healthy and balanced lifestyle can help to make life good, navaratna jewelry is said to ensure health, wealth and happiness. If you enjoy wearing or designing colored gemstone jewelry, navratna gems are a way of balancing planetary activity with the wearer and joining fortune and protection with beauty and fashion. For those who are interested in medicinal gemstones or crystal healing jewelry, it is worth looking into navaratna gems and jewelry. The nine gems are considered to be a way of providing protection and bringing luck to their wearer in one beautiful and colorful piece.