GemSelect Newsletter - Gems for Fall 2015
Colored Gems for Changing Seasons and Neutral Colored Gems
The end of summer is upon those of us who live in the Northern Hemisphere and now it is time for us to bring out the fall fashions. Colors for fall tend to be more subdued, earthy and neutral than summer brights and whites. Therefore, this month, we would like to present some gems that are perfect autumnal accompaniments to fall fashions.
Rutile Quartz, Moonstone, Andesine Labradorite, Fossil Coral & Smoky Quartz
Gemstones are generally prized for their vivid colors, rather than neutral shades. Nevertheless, it is possible to find gems that have neutral, earthy colors. These include cognac and champagne diamonds, which are valued for their luster and brilliance. More affordable gems are available in similar colors, such as Mali garnet, zircon, sapphire and citrine, which can be found in brownish-yellow shades. The most affordable brown gem is probably smoky quartz and another interesting neutral colored gem is andesine labradorite, which can be champagne, honey orange or deep red. Andesine labradorite can have a faint attractive metallic schiller, which is known in the trade as labradorescence.
Andalusite Gems
Andalusite is a perfect autumnal gemstone which due to its pronounced pleochroism, displays a combination of different colors when viewed from different angles. Therefore, a single andalusite gemstone may appear yellow, greenish, brown and reddish, or a blend of these, depending on the light. Since andalusite is rarely found in large sizes, it well-suited for accent stones or cluster designs. Demantoid garnet is also usually only available in small sizes, and is a brilliant gem with a perfect earthy yellowish- to olive green and an attractive adamantine luster. A deeper colored green to brown gemstone can be found in the form of kornerupine, a lesser-known collector's gem. Another rare gem, sphene, has some beautiful yellowish-orange and greenish-yellow colors. Some green sapphires also have an olive-green hue. In fact, the best all-round gem for earthy greens and oranges is probably sapphire. Sapphire gemstone lots sometimes have different colored gems in a single lot, including greens, oranges and yellows. These sets are perfect for multicolored jewelry designs.
Some cabochons that are available in neutral or earthy hues include tiger's eye, seraphinite, obsidian, especially silver and golden sheen obsidian, serpentine and moonstone, which has beautiful peach to mocha colors. With regard to chatoyant gemstones, star and cat's eye gems that are available in neutral colors include star moonstone, cat's eye scapolite and chrysoberyl cat's eye. When it comes to drilled gemstones and gemstone beads, pearl is an organic gemstone that is available in beautiful golden colors.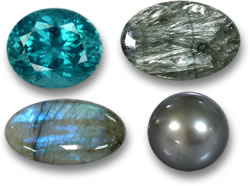 Apatite, Seraphinite, Labradorite & Pearl
There are relatively few gemstones available in teal colors. Apatite is not a very well-known gem type and is not a gem seen in mainstream jewelry, but some apatite gems have a unique teal color that is worth noting. Since the colors of apatite vary, it can be difficult to find matching pairs in the exact same shade, with some gems being bluer and some greener. It is easier to find matched London blue topaz, since the colors tend to be more uniform. Also, London blue topaz is more affordable in larger sizes. Lastly, blue zircon can have a teal-like hue in darker colors, sometimes exhibiting greenish pleochroism when viewed at certain angles. Blue zircon is the most popular zircon color and the advantage with zircon is its extremely high refractive index, which gives it great fire and brilliance, similar to that of diamond. Blue diamond gems can also have a teal color, but are usually only available in small sizes. Spinel gems often have a grayish color and are durable, untreated and affordable gems. These are often grayish-violet, grayish-blue or grayish-pink.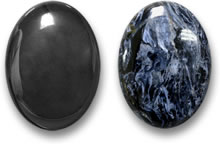 Hematite & Pietersite Cabochons
There is little choice when it comes to gray faceted gemstones, since gray is not a popular color for jewelry. There are many more black than gray faceted gems. However, when it comes to cabochons, there are some wonderful stones. With regard to gun-metal gray, the most suitable gemstone is hematite. This is an opaque gemstone with a metallic luster. Hematite is available in cabochons of several shapes. Other gray cabochon gems are pietersite, which has a gray to midnight blue body color and a silky luster, with chaotic chatoyancy in other colors, showing as light-blue, golden or orange swirls or streaks. Labradorite has a lighter gray body color with a beautiful iridescence, known in the trade as labradorescence. This lights up the surface of the gray gem with a metallic blue-green, and sometimes other colors too. Another gray cabochon is seraphinite, which tends to be greenish-gray with beautiful feathery, silver chatoyant fibers.
Possibly the most admired gray gemstone is pearl, which is available in many shades of gray, from pale to dark, bluish- or greenish-gray South Sea pearls. When buying pearls, smooth, blemish-free, symmetrical gemstones with sharp, bright reflections are the most highly-prized. Misshapen "baroque" pearls offer a more unique look than the standard spherical pearls.
Andesine Labradorite, Zircon, Rose Quartz, Moonstone & Citrine
Although it is fall, we do not necessarily need to fade into the background. Pretty colors can brighten up a dull autumn day and pink and orange are perfect for adding a little color. At the top of the range, imperial topaz is the perfect peach to orange gemstone, but a more affordable alternative is citrine, which is available in large, affordable sizes. As for smaller gems, sapphires and spessartite garnet have beautiful orange hues. Spessartite oranges range from mandarin orange to burnt orange-brown colors. For more subtle orange hues, moonstone and andesine labradorite are ideal. Some fire opals are also a mellow, rather than fiery color.
When it comes to pinks, kunzite and morganite are great choices for pale pink. Both of these are available in large sizes. Pink sapphires can be either pale or vivid pink, and range from violet to reddish- or orangey-pink, but tend to be on the smaller side. Zircon gems are available in delicate pink, rose and deeper Marsala wine colors. Spinel and tourmaline are great choices for those who prefer completely untreated gemstones. Pink spinel ranges from violet-pink to reddish-pink, and tourmaline is pale-pink to bright-pink. The garnet family also offers a great deal of untreated options in colors from pale rose-pink (malaya garnet) to reddish-pink or violet-pink (rhodolite garnet).
Pearl is an organic gemstone that can be pale, silvery-pink or warm, peachy-pink. Another pink pearl is the conch pearl. However, conch pearls are incredibly rare, making them difficult to find and extremely costly. Pink opal could be a more affordable alternative to pink pearl. These are typically cut en cabochon, giving them a similar appearance to pink pearl when set, but without the "flamed" pattern of conch pearl.
New Arrivals - Tanzanite, Rainbow Scapolite & Color Change Fluorite
Back to Top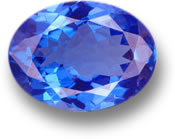 Oval Tanzanite Gem
When it comes to bright blue gems, not many can compare with tanzanite. This stunning blue gem has a vivid blue color and pleochroism that makes it appear blue to violet depending on the angle from which it is viewed and the orientation of the cut. While blue sapphire has long been a favorite blue gem, tanzanite is also impressive, with a good level of hardness and a vitreous luster. Furthermore, since tanzanite is mined from only one place in the world (Northern Tanzania), tanzanite prices are likely to steadily increase, which means that tanzanite is a good investment gem. The best tanzanite gems have an intense blue color. Tanzanite looks equally stunning in white or yellow precious metal, by itself or accented with white gemstones. For those born during the month of December, tanzanite is one of the official birthstones.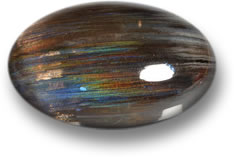 Rainbow Scapolite Cabochon under Focused Light
One of our new and exciting finds is rainbow scapolite. This is a trade name for a rare variety of scapolite which contains iridescent inclusions. These inclusions appear brownish under daylight, but when focused light (such as a flashlight) is shone upon these gems, the colors come to life and it is clear why this gem is traded as "rainbow scapolite". Rainbow scapolite has a colorless to grayish body color and gems are available both faceted and as cabochons of various shapes and sizes. Rainbow scapolite is ideal for making unique jewelry for both women and men. If you are looking for something different, it may be worth considering this interesting gem for new jewelry designs.
Color Change Fluorite Gem under Different Lighting
Color change fluorite is another new and interesting gemstone variety that we have recently been fortunate enough to acquire. Fluorite is referred to as "the most colorful mineral in the world" because of the many colors that it occurs in. Since fluorite is relatively soft at 4 on the Mohs scale, it tends to be more popular with collectors than jewelry designers. However, if used in protective settings and as pendants and earrings, color change fluorite can make extremely attractive jewelry. Color change fluorite is typically blue under daylight and then purple or violet under incandescent light. The change in color can be slight or more pronounced depending on the gem. In order to show the color change of these gems, we take photos in daylight and incandescent light. To view color change fluorite, the gem should be first examined in daylight or fluorescent light, which has more blue wavelengths. To see the color change, incandescent light should be used, such as candlelight or light bulbs that produce light with a heated wire filament. Incandescent light has more orange, red and yellow wavelengths. Color change gems have two approximately equal-sized transmission windows which absorb different light frequencies. Thus, when one type of light is used, one color is transmitted, and when the light frequency is changed, a different color is transmitted. A purple color change is the result of both red and blue being transmitted.
A new vein of "Blue John" fluorite has been discovered in the UK, approximately 150 years since the last discovery. The rare form of fluorite is only found in Derbyshire, England, and was also known as Derbyshire spar. Blue John fluorite is prized for its blue to purple and white to yellow bands and swirls, and was extremely popular in the 1800s, when it was fashioned into decorative bowls. The new discovery has been named the Ridley Vein, since it was found by Gary Ridley when he was trying out a stone chainsaw.
One of the finest opals ever unearthed will be on display for the first time in the Australian city of Adelaide at the end of September. The multicolored precious opal gem called the Virgin Rainbow was found in an old mineshaft in Coober Pedy in 2003 by John Dunstan. It is believed to be worth around $1 million. The exhibition at the South Australian Museum will showcase the 72.65-carat Australian opal as part of a centenary celebration of opal mining in Australia.
Every month we answer questions of general interest from our customers. Please feel free to send your questions or suggestions to our support team at help@gemselect.com!
Question
Greetings! I like making my own jewelry out of drilled gems and beads, but find that the choice in my local area is fairly limited. Do you have drilled gems or do you know how I could try drilling my own?
Answer
Yes, we offer a good selection of ready
drilled gems
. Also, many local jewelers offer the service for very affordable fees, along with engraving. However, if you are willing to try something new, drilling your own gems may be a lot easier than you think (please be sure to start by practicing on garden rocks). Please check out our blog on
how to drill gemstones
, it could open up many new possibilities for your jewelry designs.
Question
Hi GemSelect, I am looking for an affordable alternative to black diamond and black sapphire, can you give me any suggestions?
Answer
Yes, we are happy to suggest some other
black gemstones
for you. Black is not always a popular colored gemstone hue, but there are some good options, such as
black spinel
,
black tourmaline
, onyx, obsidian, black garnet and star diopside. If you are looking for large faceted gems, black tourmaline is a good choice. We have a recently published article on
black gemstone jewelry
which may also be of some help.
We always welcome your questions, comments and feedback! For those who are interested in attending some gem and jewelry events, please see the details below.
Event Name
Bijorhca Paris
Venue
Paris Expo Porte de Versailles, Paris, France
Dates
September 4 - 7, 2015
Event Name
Autumn Fair International
Venue
National Exhibition Centre, Birmingham, UK
Dates
September 6 - 9, 2015
Event Name
International Jewellery London
Venue
Olympia London, London, UK
Dates
September 6 - 8, 2015
Event Name
International Watch & Jewelry Guild Show
Venue
Tropicana, Las Vegas, NV, USA
Dates
September 7 - 8, 2015
Event Name
Bisutex/ Joya Madrid
Venue
Juan Carlos I Exhibition Centre, Madrid, Spain
Dates
September 9 -13, 2015
Venue
Holiday Inn Palo Verde/Holidome, Tucson, AZ, USA
Dates
September 10 - 13, 2015
Event Name
New Orleans Fall Gem, Jewelry & Bead Show
Venue
Pontchartrain Center, Kenner, LA, USA
Dates
September 11 - 13, 2015
Event Name
Asia's Fashion Jewellery & Accessories Fair
Venue
AsiaWorld Expo, Hong Kong
Dates
September 16 - 20, 2015
Keep up with our new arrivals before they hit the newsletter by joining our thousands of fans and followers on our social networking pages. We love interacting with our customers - you can visit us on Tumblr, LinkedIn, Twitter, Facebook or Pinterest!
To ensure you can receive our emails, please be sure to add help@gemselect.com to your list of safe contacts, or you add us into your email address book! Please feel free to contact us with any questions, comments and queries! We respond to each and every email we receive.
Happy Gem Hunting!
Your friends at GemSelect
First Published: September-07-2015
Last Updated: June-19-2017
© 2005-2021 GemSelect.com all rights reserved.
Reproduction (text or graphics) without the express written consent of GemSelect.com (SETT Company Ltd.) is strictly prohibited.