GemSelect Newsletter - Eternal Gemstones
Jade of the Dead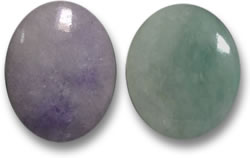 Jadeite Jade Gemstones
Cultures around the world have festivals and rituals that pay respect to the dead and remember the dear departed. November is the month in which Mexico holds the "Day of the Dead" or "El Dia de los Muertos". The festival celebrates the lives of the dead; thus, we would like to explore the role of gemstones in funeral rites. Nowadays, our valued possessions tend to be passed on to those younger than us. However, in ancient times, the dead were sometimes buried with certain amulets that were believed to protect the deceased and assist their journey into the next world. One material that has featured in such burial rituals is jade.
The Chinese have revered jade for thousands of years and used it for both life and death. Many years ago in China, jade was placed into the mouths, upon the eyelids or into the hands of the deceased. It was thought that the jade would help prevent decomposition of the corpse, keep away evil spirits and also help the spirit to be renewed in the afterlife. The most important members of the Han Dynasty were interred in jade burial suits made of polished and drilled pieces of jade, sewn together with copper, silver or gold thread. Gold thread was reserved for the select few. One of the most important examples of such finery was discovered in 1968 in Hebei Province. It was worn by Prince Liu Sheng, son of Emperor Jing Di and comprised 2498 pieces of jade. The gold wire that held it together weighed 2 and a half pounds in total. The head of the prince rested upon a gilt bronze headrest with jade inlay. In his hand was a jade crescent and around him were other jade ornaments; altogether there were 78 jade objects in the tomb.
Interestingly, the ancient Mesoamericans also used jade in their funerary rites, particularly the Olmec people; a pre-Columbian culture of Mexico and Central America. It is thought that green nephrite held a special significance in the Olmec culture due to its color, which was associated with the natural world, renewal and rejuvenation. Jade burial masks were used by the Olmec elite to ensure that their identity would be preserved and recognized.

Obsidian Cabochon Gemstones
The Mayans made funerary mosaic masks of jade in a similar fashion and the most famous is the death mask of Pacal, the Mayan King of Palenque. The tomb of Pacal was discovered in 1952 under the floor of a stone pyramid. The king's remains were dressed in the jade mask, jade jewelry and a beaded skirt. The mask is made of around 200 pieces of green jade with eyes made from conch shell and obsidian. The Mixtecs made turquoise mosaic masks, which were likely used for funerals as well as other purposes. Like the Chinese tombs, those of Mesoamericans contained ornaments and other objects. New Zealand Maoris also used jade; they buried "hei-tiki" (amulets made from nephrite jade) with important family members.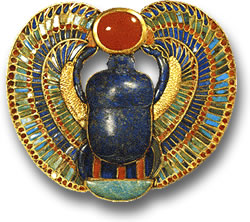 Ancient Egyptian Scarab Amulet with Lapis Lazuli, Carnelian and Other Gemstones
The funerary practices of the ancient Egyptians are well-documented and detail lavish death masks placed over the mummies of pharaohs. The most famous tomb was that of King Tutankhamun, whose mummified corpse was placed in a solid gold coffin with lapis lazuli, carnelian and other beautiful materials. As well as a gold death mask and crown, he wore a lot of amulets, including rings, pendants and bracelets; over 100 items in all. The tomb contained more jewelry, ornaments and other sumptuous items for use in the afterlife; so many that Howard Carter took 10 years to inspect and list each one. A symbol of renewal used in ancient Egyptian amulets was the scarab, which was associated with the sun-god. A pectoral featuring a scarab in silica glass was found in King Tut's tomb. Ancient Egyptians would also place an amulet made from a red gemstone around the neck of the deceased so that they would be protected by Isis; a goddess associated with death and mourning.
Ancient burial practices have been and will always remain a source of wonder for us. The gemstones and jewelry found in these sites provide inspiration for many modern jewelry designs. Moreover, these elaborate historical artifacts have taught us not only about how people before us died, but also about how they lived. The grand tombs of the ancient elite filled with sumptuous artifacts make modern funerals look like very simple affairs. While some of our contemporaries may be buried with worldly possessions, most of us prefer to leave our most precious gemstones and jewelry for loved ones to enjoy and remember us by.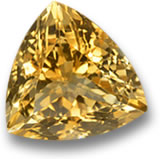 Citrine Trillion Gemstone
One of the birthstones for November is citrine (along with imperial topaz) and we have recently added a great deal of wonderful citrine gemstones to our extensive inventory, including the citrine trillion on the left. Being a quartz gemstone, citrine has great hardness and durability. The beauty of citrine is that it can be used for almost any jewelry design, from stackable citrine rings to impressive cocktail rings and oversized necklace pendants. Citrine has a stunning golden color that really glows when set in yellow gold. Often referred to as the "merchant's stone", citrine is popular with those in business, since it is thought to attract abundance.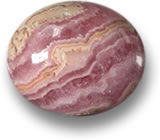 Rhodochrosite Cabochon
Those who like pink cabochons will love rhodochrosite, which ranges from deep raspberry to pale pink with unique striped patterns and multicolors. Rhodochrosite's body color makes it an important love gemstone, as well as a gem that is associated with compassion, personal strength and self-confidence. Rhodochrosite has a similar hardness to malachite and perfect cleavage, which makes it more suitable for earrings and necklace pendants than rings. Most rhodochrosite gemstones are cut en cabochon or drilled for use as beads.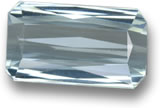 Scissor-Cut Aquamarine
Aquamarine is a pale blue to green gemstone that is a close cousin to emerald and morganite, along with the other members of the beryl family. Some of our recent aquamarine acquisitions feature scissor cuts rather than the more traditional step cuts. This means that they have triangular facets shaped like opposing blades. Scissor-cut gemstones have a special sparkle due to their extra light reflection. If you are looking for sparkle, a scissor-cut aquamarine may be perfect for you. Aquamarine is also the birthstone for those born in March.
After a meeting with Burmese leader, Aung San Suu Kyi, President Barack Obama officially lifted US trade sanctions with Myanmar. This is great news for the Burmese economy and for the gemstone industry, since many gemstones are mined in Myanmar, such as ruby, jade, spinel and more.
An enormous jade stone weighing 175 tons was unearthed in Myanmar last month. Burmese jade has been treasured for centuries, especially by the Chinese, who value a translucent, emerald-green form of jadeite known as "imperial jadeite" more highly than gold. The huge jade stone, which measures almost 6 meters long and over 4 meters tall was found in Northern Myanmar, in Kachin State, where a lot of Burmese jade is mined. The giant jade boulder has an estimated value of around $170 million.
Every month we answer questions of general interest from our customers. Please feel free to send your questions or suggestions to our support team at help@gemselect.com!
Question
Hi, I have a three-stone ring with one missing stone and would like to order more than one stone to find the best match. Would you allow me to return the stones that do not match?
Answer
Of course! We have a 30-day
inspection period
and
return policy
which enables our customers to carefully evaluate each purchase and return gemstones that are not needed. Furthermore, if you pay by PayPal, along with buyer protection, there is a shipping refund offer until 31st December 2016. This can be activated for free and allows up to 3 refunds of $20 each in shipping fees.
Question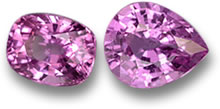 Unheated Pink Sapphire from Tanzania
Good day to you, I'm looking for a pink gemstone for an engagement ring, what is your best recommendation?
Answer
Depending on your budget and color preference, we have several recommendations for
pink gemstones
. Probably the most popular pink stone for engagement rings is sapphire, because it is extremely hard and durable, which is important in a ring that will be worn daily.
Pink sapphire
also has stunning color and brilliance, which makes it hard to beat for gemstone jewelry. Another very popular choice at the moment is
morganite
, which is pale pink to peach. This is another great stone with regard to hardness and durability, as are
pink garnet
and
pink tourmaline
We always welcome your questions, comments and feedback! For those who are interested in attending some gem and jewelry events, please see the details below.
Event Name
Mid-South Jewelry & Accessories Fair
Venue
Memphis-Cook Convention Center, 255 N Main St, Memphis, Tennessee, USA
Dates
November 3 - 6, 2016
Venue
Messe Berlin, Messedamm 22, 14055 Berlin, Germany
Dates
November 4 - 6, 2016
Event Name
Jacksonville Christmas Bead & Jewelry Bead Show
Venue
Morocco Shrine Center, 3800 St. John's Bluff Rd., S. Jacksonville, Florida, 32224, USA
Dates
November 4 - 6, 2016
Event Name
Singapore Jewellery & Gem Fair
Venue
Marina Bay Sands Expo & Convention Centre, 10 Bayfront Avenue, Singapore
Dates
November 4 - 7, 2016
Event Name
Gem And Mineral Show
Venue
Place Bonaventure, 800, De La Gauchetiere St. West, Montreal, Canada
Event Name
7th Tokyo Fashion Jewellery Expo
Venue
Tokyo Big Sight, 3-11-1 Ariake, Koto, Tokyo 135-0063, Japan
Dates
November 7 - 9, 2016
Venue
Fiera Milano City, Hall 4, Gate 4 Colleoni, Milan, Italy
Dates
November 11 - 14, 2016
Event Name
Best Adornments of Russia
Location
Russian Federation
Venue
All-Russia Exhibition Center, Pr-t. Mira, 119, Moscow, Russia, 129223
Dates
November 17 - 20, 2016
Event Name
San Antonio Premier Wholesale Jewelry, Gift & Accessories Show
Venue
San Antonio Events Center, 8111 Meadow Leaf Dr., San Antonio, Texas, USA
Dates
November 18 - 20, 2016
Event Name
China International Gold, Jewellery & Gem Fair
Venue
Shanghai World Expo Exhibition & Convention Centre, No. 1099 Gui Zhan Rd, Pudong, Shanghai, China
Dates
November 18 - 21, 2016
Event Name
Hong Kong International Jewelry Manufacturers' Show
Venue
Hall 1, Hong Kong Convention & Exhibition Centre, 1 Expo Drive, Wanchai, Hong Kong
Dates
November 24- 27, 2016
Keep up with our new arrivals before they hit the newsletter by joining our thousands of fans and followers on our social networking pages. We love interacting with our customers - you can visit us on Tumblr, LinkedIn, Twitter, Facebook or Pinterest!
To ensure you can receive our emails, please be sure to add help@gemselect.com to your list of safe contacts, or you add us into your email address book! Please feel free to contact us with any questions, comments and queries! We respond to each and every email we receive.
Happy Gem Hunting!
Your friends at GemSelect