GemSelect November 2014 Newsletter - Gemstones; Exploring the Interior
Emerald Gemstone in Mouth
A Gutsy Business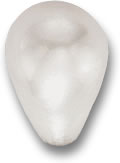 La Peregrina Pearl
The gemstone business sometimes takes guts. We have all heard of sword swallowing, but what about gem swallowing? Unlike sword swallowing, gem swallowing is not done for entertainment purposes; it is usually done by people trying to avoid customs tax, by thieves or by hired mules. Sometimes, gems are even ingested by animals, intentionally, or accidentally. A famous story relating to this is the story of La Peregrina Pearl. This pearl, the size of a quail's egg, was discovered in the 15th century and belonged to various royal and historical figures before it was owned by Elizabeth Taylor. Taylor lost the pearl in a hotel room, only to find it in her puppy's mouth!

Cognac Diamond
In the Middle-Ages, diamond mine owners circulated rumors that diamonds were poisonous in an attempt to protect their assets from being swallowed by miners. However, nowadays, this myth does not seem to worry people. Ian Fleming, the author famous for the James Bond series, published a non-fiction spy novel called, "The Diamond Smugglers" in 1957 about African diamond smuggling, which was estimated to be worth around $16.5 million per year. This might explain the amount of diamond smuggling that still goes on.
There are numerous stories of modern day diamond smugglers. In 2010, a Sri Lankan diamond smuggler was arrested at Chennai Airport, India. He had swallowed 2,060 diamonds inside 42 condoms. The diamonds were valued at around $670,000 and the man would have received commission if he had been successful. This turned out to be the fourth time that the smuggler had pulled such a stunt. Police reported that the smuggler looked uncomfortable and sat awkwardly whilst being questioned, but when asked what the matter was, the smuggler said that he had troublesome hemorrhoids.
More recently, in February 2014, a 66 year old woman traveling from Trinidad and Tobago was arrested in Pearson International Airport in Toronto with a staggering 10,202 rough diamonds (1,500 carat weight). It is not clear as to whether Helena Freida Bodner had smuggled the gemstones by ingesting them or concealed the stones by placing them in another orifice. The mind boggles at the thought.
An English jeweler told the story of a would-be customer who turned to thieving when he could not afford a platinum and diamond engagement ring that he had his heart set on. Simon Hooper from Dorset, England, swallowed the whole ring whilst the jeweler's back was turned in 2007. An X-ray revealed the ring, but Mr Hooper claimed that it was a piece of silver foil. In police custody, Hooper tenaciously held onto the ring for three days before finally passing it. The jeweler reported that people would not want to buy the ring now because of where it had been, so he would be forced to sell it at a loss of around 1000 pounds.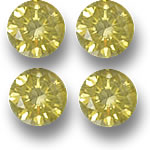 Yellow Champagne Diamonds
In 2010, a jeweler's dog swallowed a 3 carat diamond. The dog, called "Sollie" gobbled up the stone when it accidentally fell to the floor of George Kaufman's jewelry store in Maryland, USA. The stone passed through the dog's digestive system and when it finally made an appearance, it was scrupulously cleaned and then returned to its owner.
An old story of a swallowed diamond dates back to 1857. The jewel in question was thought to be the Agra Diamond. This diamond was swallowed to be smuggled, not by a mule, but was hidden in horse feed and fed to a horse as part of a plan to transport the large jewel to England. However, this plan backfired when the horse became ill before setting sail. The poor horse was shot and the diamond retrieved and taken to England.
It is said that ostriches have been known to swallow diamonds. Birds with gizzards tend to swallow stones (known as gastroliths) to help pulverize food, since they do not have teeth, and ostriches have been known to swallow diamonds. Perhaps the diamonds are attractive because they are shiny, or maybe they are nice and hard, with their Mohs hardness score of 10, and are the best gizzard stones for greedy ostriches with indigestion.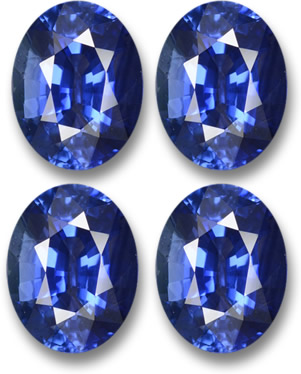 Oval Blue Sapphire Gems
In her book, Physica, Abbes Hildegard von Bingen mentioned the healing powers of gemstones and went on to suggest that licking a sapphire could aid the intellect: "Who is dull and would like to be clever, should, in a sober state, frequently lick with the tongue on a sapphire, because the gemstone's warmth and power, combined with the saliva's moisture, will expel the harmful juices that affect the intellect. Thus, the man will attain a good intellect." It seems that some people take this idea one step further by ingesting these precious gems.
For example, two Thai men were arrested at Colombo Airport by Sri Lankan customs in February 2003. They had swallowed 10 condoms containing a total of 78 gemstones, most probably sapphires. The arrest took place after a tip-off and the men were escorted to a hospital where X-rays revealed the concealed jewels. It is thought that the two young men had been smuggling gemstones for some time.
An Indian man was arrested at Chennai Airport after flying in from Bangkok. He had hidden diamonds, rubies and sapphires inside packets of noodles. We assume that he did not plan to season his noodles with sapphires, but intended to sell the gems for a tidy profit.
Oval Emerald Gemstones
When it comes to eating your greens, there are plenty of stories of emerald gemstones being swallowed by miners and smuggled out of mines to be sold privately. Many years ago in Asia Minor, it was thought that ingestion of an emerald would have a laxative effect. Indeed, an 11th century Byzantine philosopher, monk and politician, Michael Psellus, wrote that powered emerald mixed with water was a cure for a catalogue of ailments, from leprosy, the plague, dysentery and other digestive problems. It was also once believed that holding an emerald under the tongue would enable the future to be seen. In modern times, less superstitiously, stray emeralds that are found in the river below the Muzo Mine in Columbia, are carried in the mouth, so that they can be swallowed if bandits appear.
An international news article reported the case of a Belgian woman called Magdalena De Vree. She was arrested in 1987 at Milan Airport, Italy, after X-rays showed that she had swallowed an amazing 10,999 diamonds and 217 emeralds contained in two plastic bags. She had flown from Zurich, Switzerland. The gemstones were valued at approximately $1 million.
A more unusual emerald story was written by the ancient Greek historian, Herodotus. He wrote of Polycrates, King of Samos, who threw a gold and emerald signet ring into the sea in the belief that it would prevent the Gods from being jealous of his good fortune. Several days later, a fisherman presented Polycrates with a large fish as a gift. When the fish was cut open by the cook, to the astonishment of all (except for the fish) the signet ring was found inside it.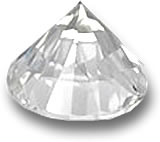 Brilliant-Cut Goshenite Gem
It may be better to smuggle gemstone rough than as faceted jewels, especially round brilliant-cuts with no culet facet (see image, right)! The hardness of gemstones with pointed edges make them a hazardous object to ingest, since the hard edges could cause serious damage to intestines as they make their way through the digestive tract. In the case of swallowing whole pieces of jewelry such as platinum engagement rings, the size of the item could cause a serious internal blockage. However, if the jewelry passes through the stomach and intestines, the setting would protect the gut from sharp gemstone edges. Once recovered, however, the jewelry would be difficult to clean well, without dismantling it. Even cleaning soap residue from gemstone rings can be tough. Therefore, we at GemSelect recommend looking at gemstones and jewelry, rather than tasting them.
Featured Gems - Charoite, Jasper and Pink Sapphire
Back to Top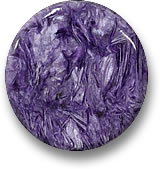 Charoite cabochon
Charoite was relatively recently discovered in the 1940s in Siberia, which remains the sole source, and was not sold commercially until 1978. It is rare and has a distinctive appearance; lilac to deep purple with a swirled pattern. Charoite gems are unmistakable and are sometimes described as "unnaturally beautiful". However, we can assure our customers that our charoite gems are completely natural. Sometimes charoite can exhibit chatoyancy (the cat's eye effect), which adds to its attractive "unreal" appearance. Charoite is most often opaque, but can also be slightly translucent. When polished, charoite has a beautiful vitreous to pearly luster. These characteristics make it most suited to cabochon cuts, which are best displayed in the form of necklace pendants and earrings. Charoite is thought to induce positive dreams.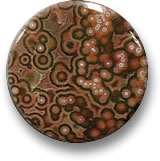 Round Jasper Cabochon
Jasper is a type of quartz that displays a wide diversity of patterns and colors. Its interesting appearance is caused by the process of its formation and by impurities. It is always opaque and when polished it has a dull to vitreous luster. Jasper has a good level of hardness and is typically cut en cabochon or carved into ornamental objects. Since it is a durable gemstone, jasper is versatile and can be made into any kind of jewelry, even rings that are worn daily. Jasper beads make attractive necklaces and bracelets when mixed with other drilled gemstones. Moreover, jasper is easy to clean and care for. Some believe that jasper can help its wearer through difficult times by promoting feelings of tranquility and giving positive energy.
Round Pink Sapphire Pair
Pink sapphire can be found in many shades, from delicate pink to deep pink. It is an affordable alternative to pink diamond. Although it is affordable, pink sapphire is actually rarer than blue sapphire. Pink sapphire has become a popular choice of gemstone for engagement rings due to its brilliance and positive connotations, such as sincerity and loyalty. Sapphire's excellent hardness makes it suitable for any jewelry design, including rings that are worn daily. Pink sapphire looks stunning when accented by white diamond or white sapphire and set in white precious metal. Sapphire is the zodical gemstone for those born under the sign of Taurus and the birthstone for September. It is also thought to bring peace, joy and wisdom to its wearer.
Christie's New York "Important Jewels" sale, held on 22nd October, achieved $33.7 million in total. White and cognac diamonds dominated the spotlight, particularly a 101.36 carat, cushion-cut very faint light-brown diamond on a necklace pendant, which sold for $4.98 million to an anonymous buyer. Christie's Geneva will be auctioning some rare jewels in November, including The Blue Belle of Asia; a 392.52 carat cushion-cut blue sapphire and The Queen of Burma; a 26.66 carat oval Burmese ruby.
According to the NRF (National Retail Federation), almost a quarter of US consumers (24.8% to be exact) wish to receive jewelry for the holiday season of 2014. This is the highest percentage since the year 2006. 44% of shoppers plan to purchase their gifts for the festive season online, with 40.9 intending to begin shopping in November.
Every month we answer questions of general interest from our customers. Please feel free to send your questions or suggestions to our support team at help@gemselect.com!
Question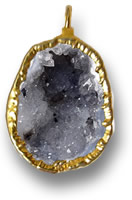 Agate Geode Pendant
I notice that you have some nice agate geodes and citrine and amethyst crystal clusters. They are beautiful and I am interested to buy some, but I'm not sure what to use them for. Could you give me some ideas?
Answer
Geodes and crystal clusters can be incorporated into a wide variety of jewelry as pendants for earrings or necklaces, or set into bracelets and even rings. For high jewelry, geodes can be set in yellow or white precious metal and surrounded by diamond or other accent stones (see picture, right). For tribal-style jewelry, the cluster or geode can wire-wrapped. One thing to take into account when designing this type of jewelry, is that if unprotected and exposed to wear and tear, crystals can become dislodged. Therefore, these gems may be best suited for pendants for necklaces or earrings, rather than rings and bracelets.
Question
Hi there, I'm looking for a pink gemstone for a ring, but I'm new to gemstones and don't know where to start! Could you please give me some advice?
Answer
Well, first of all, you should decide whether you will be wearing the ring everyday, whether you are looking for a transparent, or opaque stone, and then think about the shade of pink that you would like, the shape, size, and of course, the budget. We have a great choice in a variety of shades, shapes and sizes. You might find our article on
buying pink gemstones
helpful.
We always welcome your questions, comments and feedback! For those who are interested in attending some gem and jewelry events, please see the details below.
Venue
Fashion Institute of Technology, NY, USA
Event Name
China International Gold, Jewellery & Gem Fair
Venue
Shanghai World Expo Exhibition & Convention Centre, Shanghai, China
Dates
November 6 - 9, 2014
Event Name
Malaysia International Jewellery Festival 2014
Venue
Hall 1, Kuala Lumpur Convention Centre, Kuala Lumpur, Malaysia
Dates
November 7 - 10, 2014
Event Name
GTS Florida Jewelry & Accessories Expo
Venue
Osceola Heritage Park, Kissimmee, FL, USA
Dates
November 8 - 10, 2014
Event Name
Junwex Yekaterinburg
Venue
World Trade Center, Kuibysheva Str, 44, 620026 Yekaterinburg, Sverdlovsk, Russian Federation, Russia
Dates
November 13 - 16, 2014
Venue
Gate Scarampo (7), Hall 1, Viale Scarampo, Fieramilanocity, Milan, Italy
Dates
November 14 - 17, 2014
Event Name
Jewelery Arabia 2014
Location
Bahrain, Middle East
Venue
Bahrain International Exhibition & Convention Centre, Manama, Bahrain
Dates
November 18 - 22, 2014
Event Name
Gujarat Jewellery & Gem Fair
Venue
Gujarat University Convention & Exhibition Centre, Ahmedabad, Gujarat, India
Dates
November 21 - 23, 2014
Event Name
Hangzhou International Jewellery & Gem Fair
Venue
Zhejiang World Trade International Exhibition Center, Zhejiang, Hanhzhou, China
Dates
November 21 - 24, 2014
Event Name
Taiwan Jewellery & Gem Fair
Venue
Taipei World Trade Center Hall 1, Taipei, Taiwan
Dates
November 21 - 24, 2014
Event Name
Hong Kong International Jewellery Manufacturers' Show (HKIJMS)
Venue
Hall 1, Hong Kong Convention & Exhibition Centre, 1 Expo Drive, Wanchai, Hong Kong, SAR
Dates
November 27 - 30, 2014
Keep up with our new arrivals before they hit the newsletter by joining our thousands of fans and followers on our social networking pages. We love interacting with our customers - you can visit us on Tumblr, LinkedIn, Twitter, Facebook or Pinterest!
To ensure you can receive our emails, please be sure to add help@gemselect.com to your list of safe contacts, or you add us into your email address book! Please feel free to contact us with any questions, comments and queries! We respond to each and every email we receive.
Happy Gem Hunting!
Your friends at GemSelect
First Published: November-03-2014
Last Updated: December-13-2017
© 2005-2021 GemSelect.com all rights reserved. Reproduction (text or graphics) without the express written consent of GemSelect.com (SETT Company Ltd.) is strictly prohibited.