GemSelect Newsletter - March 2008
In our newsletter this month: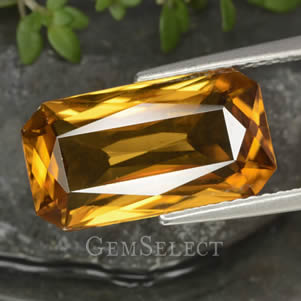 Natural Zircon from Tanzania
We wrote a newsletter feature on zircon two months ago and didn't expect to be writing about it again so soon. But we were so impressed by the Tanzanian zircon that has recently come on the market that we wanted to share the story of these exceptional gemstones.

Natural Yellow Zircon
We know that many gemstone buyers are well acquainted with the attractions of zircon. We also know that some people have never heard of it, or confuse it with the diamond simulant, cubic zirconia. Zircon is zirconium silicate and is the oldest known mineral on Earth. It has good hardness (6.5 to 7.5 on the Mohs scale) and it combines a very high refractive index (approaching that of diamond) with strong dispersion; the tendency to split white light into the colors of the spectrum. In short, zircon is a very brilliant gem with impressive fire.
Most of the zircon we've seen in the past comes from Cambodia, our neighbor to the east. Northwestern Cambodia produces very fine material, some of which can be heat-treated to produce the highly regarded blue zircon. Zircon in its natural state ranges in color from yellow-brown to orange or red.
The natural zircon colors have never had quite the same appeal as the heat-treated blue. But we think that the impressive material recently found in Tanzania will change a lot of minds about natural zircon. The range of colors is unusual, with some stunning colors that we've never seen before in zircon. Also, the clarity is outstanding; virtually all the pieces are graded VS or better and more than half the stock is VVS grade. Another remarkable thing is that these zircon gems are large.

Pink Rose Zircon from Tanzania
The colors include a range of oranges from golden brown to a spessartite-like mandarin. The most unusual colors are a range of rose tones, from cinammon to cranberry pink, with some gems displaying a combination of orange and rose hues. There are a few quite rare red gems, including orange-red and crimson. The only heat-treated pieces in the group are some brilliant yellows; all of the others are completely untreated.
There is a good selection of shapes, including ovals, rounds, pears, emerald-cut and a few trillions and fancy-cut pieces. Zircon is not a gem typically found in large sizes, but most of the pieces in this lot weigh over 2 carats. There are a good number of 5 carat stones, with a few pieces as large as 6.9 carats. It is very unusual to find outstanding colors with great clarity in these large sizes.
We are buying as much of the Tanzanian zircon as we can. Right now the supply is good, but like many colored gems, one never knows how long it will last. The first signs of tightening supply is when the pieces get smaller and the clarity declines. So far we're still seeing large, high quality specimens.
We've recently written an article explaining gemstone cleavage, and we've put together a chart listing the cleavage properties for more than 60 varieties of gemstones.
In our growing gemstone articles section you'll find a number of new pieces on gemstones written by the GemSelect staff, on topics as diverse as gem appraisals and copper-bearing gems.
Each month we focus on one of the lesser-known gemstones. This month's featured stone is beryl.
Natural Beryl from GemSelect
The beryl family is one of the most important gemstone families. It includes emerald, aquamarine and morganite, as well as golden and red beryl. Beryl is quite a hard stone (7.5 to 8 on the Mohs scale) and suitable for all kinds of jewelry. Golden beryl, occurring in lemon-yellow and golden-yellow, tends to have exceptionally good clarity. Inclusions are rare in golden beryl, and the superb clarity combined with the fine color make this beryl an excellent stone for all kinds of jewelry. Golden beryl is found in Brazil, Madagascar, Namibia, Nigeria, Sri Lanka and Zimbabwe.
For more information see our beryl information page
Every month we answer questions of general interest from our customers. Please feel free to send your questions or suggestions to our support team at help@gemselect.com!
Question
I notice that you sell red
sapphire
on your website. I thought red
corundum
is
ruby
while all the other colors of corundum are called sapphire. Am I right? AJB, USA.
Answer
Yes, you're right. If it's red and it's corundum, it is almost always called ruby. There are really only a few exceptions to the rule. One exception is corundum that is red-orange or pink-red. It might be called either sapphire or ruby (it's a judgement call). The other exception is when the red color of the corundum is the result of
heat treatment
with beryllium. In that case it is normally called sapphire as a reference to its humbler beginnings.
Question
I bought 2 gems from you recently, but I forgot to print out all the details on them. Now I can't find them on your website. Can you help? MD, Australia.
Answer
When a gem is sold, we no longer show it on our website, since no one wants to shop for items that aren't available. However, the information for sold items can still be found. Just enter one or more gem IDs (separated by commas) in the search box on our home page, and it will bring up the records for those gems. The gem ID is the 6 digit number that you'll find on every detail page, where you see a line that looks like "4.52ct VVS tourmaline (#153854)". In that case 153854 is the gem ID. We always include the gem IDs in any emails we send you about your purchase.
Keep up with our new arrivals before they hit the newsletter by joining our thousands of fans and followers on our social networking pages. We love interacting with our customers - you can visit us on Tumblr, LinkedIn, Twitter, Facebook or Pinterest!
To ensure you can receive our emails, please be sure to add help@gemselect.com to your list of safe contacts, or you add us into your email address book! Please feel free to contact us with any questions, comments and queries! We respond to each and every email we receive.
Happy Gem Hunting!
Your friends at GemSelect