GemSelect Newsletter - Rooster Rocks for 2017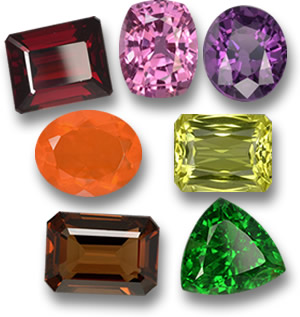 Fire and Wood Colored Gemstones: Pyrope Garnet, Pink Sapphire, Purple Spinel, Fire Opal, Lemon Quartz, Enstatite and Tsavorite Garnet
Cock-a-doodle-doo! Well, here we are in the Chinese lunar year of the Rooster; the Red Rooster, to be exact. Some prefer to refer to it as the Red Chicken or Fire Phoenix. In Chinese astrology, each year has an assigned animal and element, and luck for this year depends on your personal zodiac animal. The reason for the fiery red is because the year 2017 is associated with the element of fire. By nature, roosters are brightly colored and impressive with iridescent feathers, thus, some believe that the Year of the Rooster calls for bold fashions and colors. Yet others are sure that red should be avoided and that contrasting green will bring about harmony in 2017. To clarify, it seems that either fire colors (red, pink, yellow, orange and purple) or wood colors (green and brown) should be worn to attract the best of luck in 2017. According to feng shui practitioners, these colors can be worn as clothing, fashion accessories or gemstone jewelry, so let's take a look at some of the gemstones with fire and wood colors.
In the gemstone industry, "fire" refers to dispersion; the way that gemstones split light into spectral colors. This appears like rainbow colors and can be a useful tool in gemstone identification. Gems that have a high level of dispersion include sphalerite, demantoid garnet, sphene, diamond and zircon. When it comes to astrology, "fire" refers to one of the elements, the others being earth, water and wood. Each element has its own colors and those for fire are red, pink, yellow, orange and purple.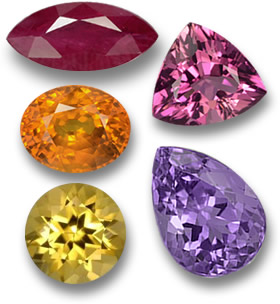 Fiery Colored Gems: Ruby, Pink Tourmaline, Orange Sapphire, Amethyst and Golden Beryl
Without a doubt, probably the best-known red gemstone is ruby. The fluorescence of ruby means that it seems to glow from within with a life of its own. This led to some folklore, such as the belief that a fine ruby can produce enough heat to boil water. While ruby is most famous, it is not the only red stone in the jewelry box, with several others to choose from, such as red garnet, red tourmaline, red zircon, red spinel and other red gems for jewelry. There is an even greater choice when it comes to pink gemstones. If pink may seem overly feminine and girly for some, there some very robust pink stones to be found as well as soft pink and orange-pink gemstones. This year, rose-colored gemstones set into rose gold jewelry are predicted to remain popular, as is yellow gold, and what better gemstone to set in yellow gold than a golden yellow colored gemstone. Bestselling yellow gemstones include citrine and sapphire. Though it is not as popular, golden beryl is a wonderful yellow jewelry gemstone that deserves a little more attention than it receives. Another stone that occurs in yellow, intense orange and red is the aptly named fire opal. This Mexican stone has a fantastically vivid golden yellow to bright red body color, making it perfect for incredibly eye-catching gemstone jewelry.
Purple is an interesting color because it is a mix of red and blue. This means that it can be either warm or cool. Those who like the bluer violet colors will enjoy the colors of violet-blue tanzanite gems, which range from electric blue to violet. For those who like it hot, gems which occur in reddish-purple include rubellite tourmaline, purple sapphire, purple spinel and amethyst gemstones; amethyst is also the birthstone for those born in February.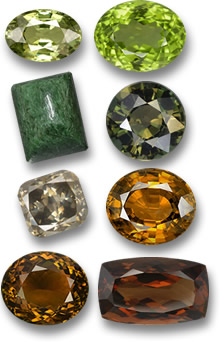 Demantoid Garnet, Peridot, Maw-Sit-Sit, Kornerupine, Diamond, Zircon, Tourmaline & Enstatite
In the world of colored stones, there are gem materials that began as wood or tree products, some of which belong to the small group of organic gemstones that come from living organisms. For example, peanut wood is the name given to a variety of petrified wood in which organic material has been gradually replaced by chalcedony or jasper, forming a harder material which retains the shape and structure of the wood. Jet is black fossilized wood that became a popular gemstone material during Victorian times, especially for mourning jewelry. Also, amber is a popular gemstone formed from fossilized tree resin.
In astrology, wood element colors are green and brown, but do not assume that these colors are drab and boring; there are some spectacular gems in this category, from emerald and jade to green garnet and kornerupine. With Pantone's introduction of "Greenery" as their color of the year for 2017, green is set to be everywhere this year. A gemstone that perfectly matches the Pantone color is peridot, a vivid green gemstone composed of olivine.
Brown gemstones were not the most popular colored gemstones until champagne and cognac diamonds appeared on the scene; these along with smoky quartz are probably the best-known brown gemstones. Other brown gemstones include brilliant zircon, pleochroic tourmaline and rare enstatite; a gemstone that not many have heard of, but has a luxurious, rich brown color.
We hope that this newsletter has given you a few ideas for this year's jewelry projects. Whether you strut your stuff like a bold rooster or go for more subtle jewelry designs, there is a color scheme to suit all this year, from flamboyant to elegant, and everybody can celebrate the Year of the Rooster in style. Furthermore, we hope that the rooster year will not ruffle your feathers and that your gems and jewelry will be fabulous enough to crow about, or at least wear with pride.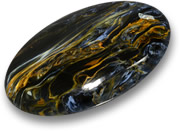 Pietersite Cabochon
Pietersite is a stormy-looking rock mostly made up of hawk's eye and tiger's eye, giving it chatoyancy (the cat's eye effect) with a difference. Where tiger's eye and hawk's eye have parallel chatoyant fibers, pietersite has chaotic chatoyancy which is typically swirled. This and its silky luster are shown off by cabochon cuts. Due to the mix of golden tiger's eye and blue hawk's eye, pietersite can be reddish-brown, bluish or a mixture of both, making it perfect for many different jewelry settings and color schemes. The main sources for pietersite gems are Namibia and China.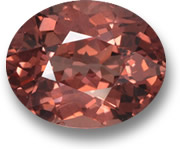 3.5-Carat Pinkish Malaya Garnet
Malaya garnet is one of the "hybrid" garnet varieties, which seems to be gaining attention of late. This may be due to last year's excitement over garnet from Mahenge, traded as "Mahenge garnet", or perhaps the fact that it is a more affordable alternative to popular morganite and pink tourmaline. The same mineral-rich area of Tanzania yielded stunning red spinel gemstones in 2007, known as "Mahenge spinel". Malaya garnet ranges in color from pink to red and peach to orange. It was first disregarded as an "outcast" because its colors did not fit the standard garnet criteria; however, malaya garnet is now appreciated for its rarity and beauty.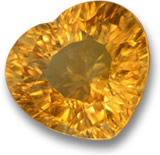 Heart-Shaped, Concave-Cut Citrine Gem
We have recently acquired some stunning concave-cut citrine gems. Citrine is a popular yellow to golden orange variety of quartz that gets its name from its lemon-yellow color. Citrine gems are great for bold jewelry designs because they can be found in large sizes at affordable prices. In crystal healing circles, citrine is referred to as the "success stone" since it is thought to encourage abundance and wealth. Concave-cut citrine gems have curved, three-dimensional, conical facets, allowing more brilliance to reach the eye. Concave-cut gemstones are so popular that they always sell quickly. Therefore, if you would like to acquire one of these citrine stones, please do not hesitate, otherwise you may miss out!
A gemstone smuggler was arrested by police at a Paris train station attempting to take 800 grams in uncertified rough diamonds into Brussels in his underwear. The man was believed to have traveled from the Democratic Republic of Congo with diamonds worth over $300,000, which were packaged in plastic - a good idea considering that diamond is the hardest substance on Earth; that could cause some serious chafing down below.
Just when you think you have seen it all, the House of Cartier has produced an innovative Panthere Joueuse de Cartier timepiece without hands. The diamond and emerald watch features an iconic Cartier panther reaching for a ball; the paw and ball replace hands tell the time, as the panther and its toy rotate. The bejeweled timepiece is available with a strap or as a bracelet.
The South Australian Museum has revealed the Fire of Australia, an opal described as the "finest cut opal in existence". The remarkable opal gemstone weighs 998 grams and is polished on two sides, showing off an incredible spectral play of color that is seen in fine opal. The Fire of Australia was mined from Coober Pedy in 1946 by Walter Bartram, whose family stored the opal until it was passed on to the Museum.
Every month we answer questions of general interest from our customers. Please feel free to send your questions or suggestions to our support team at help@gemselect.com!
Question
Hi, I know that GemSelect offers AIGS lab reports for gemstones, but I am looking for something urgently. Does GemSelect offer any kind of gemstone report that I don't need to wait so long for? Also, I bought a stone last month and forgot to get a report for it, is there some way to get a gem certificate for it?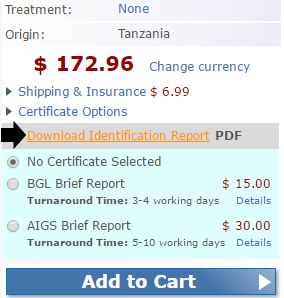 Download Your Free Company Report
Answer
Actually, we offer Burapha Gemological Laboratory (BGL) reports which only take 3-4 business days (often times, these are completed in 1-2 days) and are very reliable. Also, we have a new feature that allows our customers to download a complimentary GemSelect company report. These reports can be previewed before buying gemstones by clicking on "Certificate Options" above the "Add to Cart" button on the gemstone product page (see the image on the right-hand-side for details). Once the gemstone has been purchased, the complimentary gem report can be accessed via the customer account. To do this, simply login to your account with your user name and pass code, select "Order History" and then click on "show details". You will see an option below each listed item to "Download Identification Report". Simply click on this in order to print out your free gem report. These reports are available for gemstones purchased from January 2016.
Question
Dear GemSelect, I'm looking for transparent green-yellow gemstones do you have any recommendations?
Answer
Of course! There are several attractive green-yellow gemstones, including
chrysoberyl
, sphene,
sillimanite
, sapphire, demantoid garnet,
Mali garnet
, tourmaline and lemon quartz. These occur in colors ranging between green and yellow. Though each stone is unique and may vary in color, for a perfect blend of yellow and green, we recommend chrysoberyl, sillimanite and Mali garnet stones.
We always welcome your questions, comments and feedback! For those who are interested in attending some gem and jewelry events, please see the details below.
Event Name
Globex Gem & Mineral Show
Venue
Days Inn, 222 South Freeway, Tucson, AZ, USA
Dates
January 26 - February 11, 2017
Venue
Juan Carlos I Exhibition Centre, Glorieta Sar Don Juan de Borbon y Battermberg, S/N, 28042, Madrid, Spain
Dates
February 1 - 5, 2017
Location
Russian Federation
Venue
Expo Forum Convention & Exhibition Center, Peterburgskoye Sh., 64, St. Petersburg, Russian Federation
Dates
February 1 - 5, 2017
Venue
Placer County Fairgrounds, 800 All America City Blvd, Roseville, CA, USA
Dates
February 3 - 5, 2017
Event Name
Atlantic Craft Trade Show
Venue
World Trade and Convention Center, 1800 Argyle St, Halifax, Canada
Dates
February 4 - 6, 2017
Event Name
Reed Gift Fair
Venue
Melbourne Convention & Exhibition Centre, 1 Convention Centre Pl, South Wharf, Melbourne, VIC, Australia
Dates
February 4 - 7, 2017
Event Name
Tucson Gem & Mineral Show
Venue
Tucson Convention Center, 260 S Church Ave, Tucson, AZ, USA
Dates
February 9 - 12, 2017
Venue
Messe Frankfurt Exhibition, Frankfurt am Main, Frankfurt, Germany
Dates
February 12 - 14, 2017
Venue
WTC Events Center, Av. das Nacoes Unidas, 12551 Brooklin Novo, Sao Paolo, Brazil
Dates
February 15 - 18, 2017
Venue
Earl Warren Showgrounds, 3400 Calle Real, Santa Barbara, CA, USA
Dates
February 17 - 19, 2017
Event Name
Inhorgenta Munich 2017
Venue
New Munich Trade Fair Centre, Messe Munchen GmbH, Messegelande, Munich, Germany
Dates
February 18 - 21, 2017
Keep up with our new arrivals before they hit the newsletter by joining our thousands of fans and followers on our social networking pages. We love interacting with our customers - you can visit us on Tumblr, LinkedIn, Twitter, Facebook or Pinterest!
To ensure you can receive our emails, please be sure to add help@gemselect.com to your list of safe contacts, or you add us into your email address book! Please feel free to contact us with any questions, comments and queries! We respond to each and every email we receive.
Happy Gem Hunting!
Your friends at GemSelect