Victoria Beckham; From Posh Spice to Fashion Heights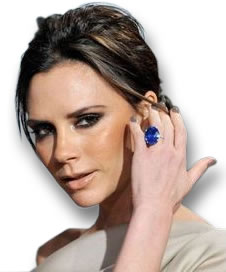 Victoria Beckham Showing off a Large Blue Sapphire Ring
Victoria Beckham, previously Victoria Adams, is best known for being a member of The Spice Girls known as "Posh Spice"'. The all girl pop group enjoyed global success with hits such as "Wannabe" in 1996. In 1998 she was engaged to David Beckham and the couple became affectionately known as "Posh and Becks". Their engagement began with a marquise-shaped diamond ring in a gold band and a diamond band for him. Since then, they have changed their style several times over; and her engagement ring has been upgraded no less than 13 times.
After her marriage to David Beckham, Victoria was not happy merely sitting on the sidelines. Indeed, following her Spice Girls success, she busied herself with various projects, including several reality TV series, a solo singing career and fashion lines, as well as giving birth to four children and moving to Spain and LA to be with husband David. After him, her first love is fashion, and she has modeled, designed and become a successful brand in her own right, with outlets in New York, LA, Tokyo, Hong Kong, Paris and London. In 2011, she was announced the British Fashion Awards Designer of the Year. Not only this, but she has written two bestselling books; one an autobiography and another filled with fashion tips.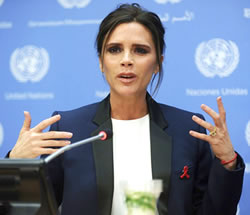 Victoria Beckham Wearing an Emerald-Cut Yellow Diamond Ring
Like her husband, Victoria Beckham also devotes time to good causes, such as the Elton John AIDS foundation and Save the Children. In 2014, she was made the International Goodwill Ambassador for UNAIDS. She sees that her fame will allow her to be listened to and make a difference. Despite these good intentions, she has received death threats and when she was rehearsing onstage in 2000, a red laser light appeared on her chest, prompting a quick exit offstage. She was targeted by kidnappers in 2000 and in 2002. In the year 2000, a plan to take her and her son Brooklyn failed due to a tip off, and then in 2002, thanks to the tabloid newspapers, the criminals behind a second plot were arrested. Sadly, wealth and fame come at a price.
Victoria Beckham has worn some extremely large colored gemstones on her ring finger. These include several halo-designs such as a cushion-shaped emerald, an oval diamond and a large ruby. She has also worn a large, oval, prong-set blue sapphire (see image, top). Other diamond engagement rings she has showed off include a big emerald-cut white diamond, a round white diamond in a wide band with black accent stones, two emerald-cut yellow diamond rings, a large pear-shaped white diamond and a diamond band. It is not surprising that Mrs Beckham has said that her favorite jewelry item is her wedding ring; who wouldn't admire such a collection. In her younger days, she often wore elaborate necklaces and chandelier earrings. Later she was seen in Jacob & Co. pieces and vintage Boucheron necklaces. She often lets her clothes speak for themselves, with minimal accessories, rather than overloading herself with bling.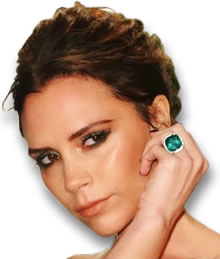 Victoria Beckham Wearing an Emerald Halo Ring
Like anyone in the public eye, she has been criticized and scrutinized for her thinness, lack of smiles in photographs and several other issues. However, she should be admired for her successful career and home life. She seems to be able to juggle being a businesswoman, a wife and a mother, and to maintain an enviable level of fitness while doing so. Furthermore, she cleverly does a lot of her own PR, wearing her own designs to important events which have global media coverage. She says that she designs with herself in mind. Indeed, women all over the world who would like a taste of her seemingly perfect life buy into her brand.