Happy Father's Day 2016 to Hardworking Dads
David Beckham with his Daughter, Harper Seven
He rose to fame with Manchester United over 20 years ago and is now more famous than ever, with over 50 million followers. A father who presents a great example to others is David Beckham. He and Victoria Beckham have four children; Brooklyn, Romeo, Cruz and Harper. The Beckhams are wealthy enough to hire nannies and chauffeurs, but the couple prefers to put the children first and take the time and effort to raise them well. David has referred to his family as his greatest achievement. He is a doting father who leads by example.
He has come a long way from the shy, football-playing teenager he was. His stylish demeanor makes him a hot commodity for advertising campaigns and he continues to attract attention and interest after retirement from a successful sporting career. It seems that the term, "metrosexual" was coined for David Beckham; he is equally comfortable in a sarong or a sharp suit. In 2015, GQ Magazine listed him among the world's 50 best-dressed men. He has experimented with style over the years including jewelry; after receiving his first wages, he treated himself to a luxury watch, and then upon his 1998 engagement to Victoria Adams, he also wore a diamond engagement ring and the couple had matching gold watches.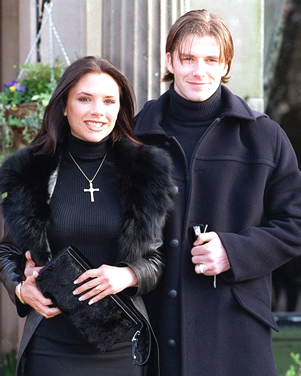 David and Victoria Beckham's Engagement Rings
In 2001, he wore a pair of platinum and diamond hoop earrings along with his cornrows (see image, below). Before the current necklace layering trend, he appeared in layered beaded necklaces, beaded bracelets and stud earrings. In fact, over the years, he has been seen in more jewelry than his wife, even though Victoria Beckham actually owns fashion shops. In 2011, he became the face of Breitling; a luxury watch brand. An integral part of David Beckham's style is his tattoos, which are works of devotion to his wife and children, showing that his family are the most important aspect of his life.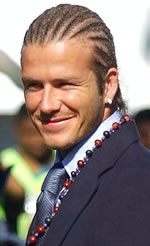 Beckham in Earrings and a Beaded Necklace
Not only is Beckham admired for his good looks, he is also considered to be a true gentleman and role model. While many of his contemporaries got caught up in the glitz and glamour that comes with premier league football, he seemed to have kept his feet firmly on the ground and his manners in check, despite at one time being the highest-paid footballer in the world. In interviews, he states that he was brought up to work hard and have firm morals; these are values that he passes on to his own children. Family has always come first for him, in fact, he was criticized by his manager, Alex Ferguson, for missing training in order to take care of his sick son. Now a teenager, his son is learning not to take money for granted as he works in a coffee shop at weekends.
Some of the things that will inspire his children include his great footballing achievements (for which he received an OBE in 2003), his hardworking lifestyle and his philanthropic work. He has been involved in children's charities for several years and became the UNICEF UK ambassador in 2005. Ten years later he set up the David Beckham UNICEF Fund to assist children who are in danger. In 2013, he donated his salary earned by playing for Paris Saint-Germain to a children's charity. Additionally, he supports several other good causes, including Malaria No More UK. His leading by example is certainly having an effect; his second son, Romeo made his parents proud when he ran in the children's London Marathon raising over $8,600 for UNAIDS.
Last Father's Day, David Beckham used Instagram to pay tribute to his own father for the love and support over the years, and showed off a gift from his own children; a treasured bracelet with block beads spelling out the word "Daddy". It's no surprise that he came out as top dad in a 2013 British poll. This quote sums up how humble he is: "I would never complain about the position I'm in or the attention I get. At the end of the day, I'm very lucky to have what I have and do what I do, but I don't see myself as any different from anyone else who works hard and is a dad and a husband." Happy Father's Day to David Beckham and all hardworking fathers everywhere.