Gemstones for Essential Workers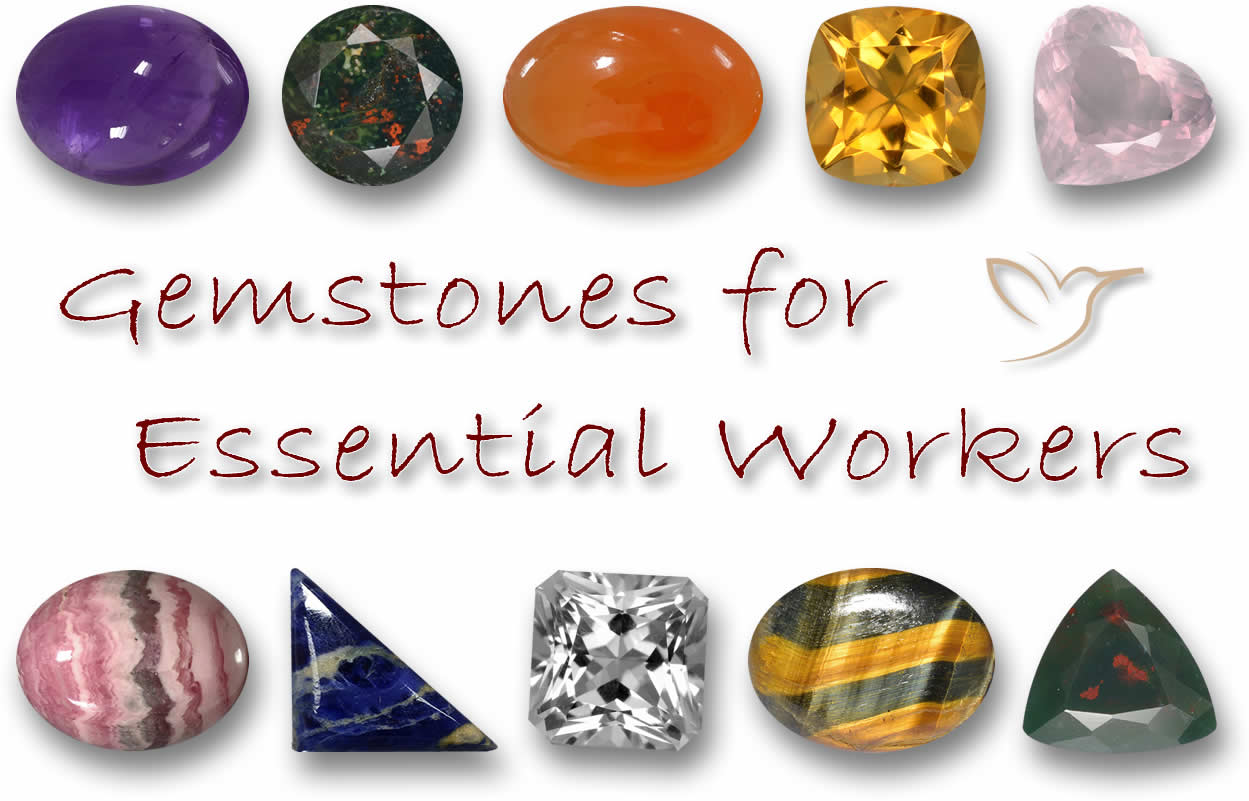 First responders and front line workers have been in the news more than usual in this past year as they have led the way in dealing with the Covid-19 pandemic. This crisis has shown us just how important they are in our lives and how tough it would be without their help.
Traditional first responders such as police officers, fire fighters, paramedics, doctors and nurses have always had to deal with the stresses of danger and life-or-death situations but they have been joined by teachers, pharmacists, care workers, postal workers, bus drivers even checkout staff at the local supermarket in facing possible peril to keep society ticking over.
It takes a special kind of person to be able to cope with the pressures of this type of work and unfortunately workers exposed to these dangerous situations are more likely than most to develop depression, PTSD, alcohol and drug problems and anxiety.
If a friend, husband, wife, daughter, son, brother, mother and so on is one of these workers facing daily danger we can offer any support we can, a hug, an encouraging word, some quiet time and space, love and understanding.
The first port-of-call for anyone feeling overwhelmed by the enormous burdens faced by being a first responder or a front line worker must always be a medical professional but gemstone crystals can offer everyday reinforcement in a variety of ways.
We have put together a collection of gemstones that can be a gift to yourself or to a worker you feel could benefit from their presence.
Any of these gemstones can help in a variety of ways in dealing with the many issues faced as a frontline worker or first responder but I have also picked out each gemstone's main attribute.
A gift of one of these gemstones either as a loose stone or as jewelry to a friend, relation or to yourself would be a wonderful gesture. The gemstone could be tucked away in a pocket or purse and the jewelry worn when appropriate to offer protection throughout the day.
Black Tourmaline, Tiger's Eye and Bloodstone can be made into some outstanding jewelry for men such as bracelets, pendants or rings. They have a masculine look and a toughness to withstand a few knocks and bumps.
Quick Guide to Gemstones for Essential Workers

| Gemstone | Best Attribute |
| --- | --- |
| | Stress Relief |
| | Physical Fitness |
| | Revitalization |
| | Optimism and Positivity |
| | Empathy and Compassion |
| | Prevents Depression |
| | Communication |
| | Resists Addictions |
| | Decision Making |
| | Protection from Negativity |