GemSelect Newsletter - July 2007
In our newsletter this month: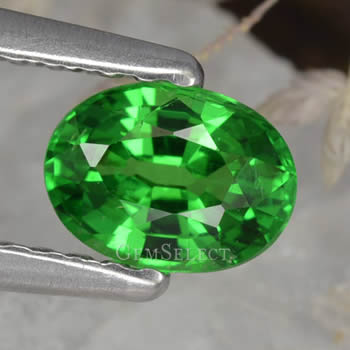 Rare Tsavorite Garnet

Garnet Varieties
Garnet has historically been highly regarded for its very good hardness (7 to 7.5 on the Mohs scale) and great brilliance. The height of garnet popularity was undoubtedly during the 18th and 19th centuries in Europe, where Bohemian garnet jewelry was all the rage.
The popular image of garnet is that of an inexpensive dark red gem, often with a distinct brownish tone. While much garnet certainly falls into that category, there are some rarer varieties of garnet that have stunning colors and are highly sought after by collectors. These rare varieties of garnet have been responsible for a major resurgence in the garnet market.
Spessartite, the distinctive orange-red garnet, is colored by manganese and, in redder specimens, by iron as well. Found in Nigeria, Mozambique and Namibia, this garnet has been in good supply recently, a situation that experts warn is likely to be temporary. Many different grades of spessartite are currently available, with moderately included material selling for attractive prices. However, very clean mandarin orange spessartite is quite valuable, especially in larger sizes.
Tsavorite, a rare grossular garnet, departs even further from the traditional red garnet. Tsavorite is a recent discovery, found for the first time in the 1960s in the border area where Kenya and Tanzania meet. Fine tsavorites are an intense medium green color; a few resemble fine emeralds. Tsavorites may be moderately included, but the finest specimens are eye clean. Large tsavorites are quite rare; even stones weighing up to two carats are not abundant. Tsavorites range in color from light-green to very dark-green.
Like so many colored gemstones, tsavorite was popularized by Tiffany & Co., who started a special campaign in 1974 to promote it. The promotion only increased the rarity of this already scarce gem. At one time tsavorite was being mined from 40 different areas throughout Tanzania and Kenya. Today there are only four mining ventures that produce commercial quantities.
Rhodolite is a beautiful pink to violet-red garnet. Its name is derived from the Greek word, "rhodon", which means "rose colored". It was assigned its name by George Frederick Kunz after the mountain rhododendron of North Carolina, which has a similar color. By composition, rhodolite falls somewhere between almandine and pyrope. It is not considered a specific garnet subgroup in itself, but describes garnets of the rose or pink rhododendron color. Top quality pink rhodolites are mined in Sri Lanka, Tanzania and Zimbabwe. Large gemstones are rare, but we recently cut some very large rhodolite pieces weighing over 10 carats from some high quality rough from Tanzania.
In addition to spessartite, tsavorite and rhodolite, there are a few other rare garnets that we always look for, but rarely find. Demantoid garnet is another green garnet, slightly more yellow-brown than tsavorite, but with a very high refractive index and excellent dispersion. Found only in Russia and Namibia, it is extremely uncommon. Another very rare garnet is color change garnet, which is a mixture of spessartite and pyrope garnet. It has a dramatic color change from blue to violet that is more intense than the more expensive alexandrite. We occasionally find small lots but they always sell out very quickly. Recently we were lucky enough to find a few specimens.
Our buyers are always busy finding the best value gems for our customers. Here are some of the excellent buys we've made in the last few weeks:
Andesine from the Congo: It's a rare event when we buy a type of gemstone that we've never stocked before. Andesine, a recent introduction to the gemstone market, is a type of feldspar similar to labradorite and sunstone. We've bought some very nice pieces in a lovely champagne tone.
Tourmaline from Mozambique: We have found a new source for Mozambique tourmaline and have been buying some outstanding pieces in a marvelous variety of colors, from bronze and green to raspberry red. This is probably the best stock of tourmaline we have ever had at GemSelect.
Yellow Golden Citrine from Brazil: We've just bought some new, fine Brazilian citrine gems, mainly trillion cut and weighing between 3 and 6 carats. These have very good color and excellent Portuguese cuts.
Top Grade Spinel from Tanzania: We've recently found some of the finest spinel we have ever offered at GemSelect. We've bought a wonderful range of really outstanding colors, especially violet, blue and pink. Also, there are some very well cut pieces in large sizes (weighing 2 to 4 carats). You'll also find some amazing electric pink-red pieces that are really spectacular.
Swiss Blue Zircon from Cambodia: It's been a long time since we found blue zircon this fine. Excellent color saturation and weighing up to 5.5 carats. These are all very well cut and have excellent brilliance. Additionally, most pieces have VVS clarity.
Tsavorite Garnet from Tanzania: We've just purchased a small number of very high grade tsavorite garnet gems from Tanzania. Tsavorite, like emerald, typically has some inclusions. But these pieces are exceptionally clean, and they have a brilliance and sparkle that ordinary tsavorite just can't match. You'll find pieces in light-green and forest green, mainly weighing between 2 and 3 carats. We do have a few very special pieces that weigh 3 and 4 carats, and one extraordinary gem of over 9 carats!
Top Grade Rhodolite Garnet from Tanzania: We have cut a number of pieces of a very high grade pinkish-red rhodolite garnet from Tanzania. These have the pinkish purple-red color that is the most coveted in rhodolite, with excellent clarity and luster. All the pieces are impressively large, with several pieces weighing over 10 carats.
Fluorite from Namibia: This is the best fluorite stock we've had in a long time, with many new pieces in green, blue, violet and bronze. There are an interesting range of cuts and shapes, with a number of pieces in the popular concave cut.
Each month our staff select some of their favorite gemstones from our inventory. This month we feature some large pink spinel from Tanzania. Spinel gems over 2 carats are rare, and spinel gems weighing over 2 carats in top pink hues are very rare indeed.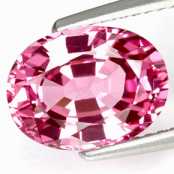 3.77ct VVS-VS Spinel from Tanzania
This is the largest clean pure pink spinel we've had at GemSelect, and it is truly a stunning piece. It has wonderful brilliance and luster, and excellent color saturation.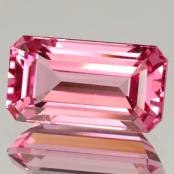 3.55ct VVS-VS Spinel from Tanzania
Another very large pink spinel in a hard to find emerald cut, about 11.5 by 6.4 mm. This piece also has excellent color with a deep saturated pink and no windowing.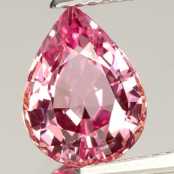 2.79ct VVS Spinel from Tanzania
This a slightly smaller gem but with tremendous fire that creates the illusion of many colors in the photos. But it is actually a very pure deep pink, deeply cut for maximum color.
Each month we focus on one of the lesser known gemstones. This month's featured stone is zircon.

Zircon
Zircon does not really count as a little-known gemstone, though some people confuse it with cubic zirconia, a synthetic diamond simulant. Zircon is a unique gem that deserves to be better known. The oldest known zircon gems are from Western Australia, with an age of 4.4 billion years. The name probably comes from the Persian word "zargun" which means "gold-colored", though zircon comes in a wide range of different colors. Untreated zircon is gold or brown, though the most popular zircon color is blue, and is produced by heat treatment.
Most blue zircon gems are pastel blue, but some exceptional gems have a bright blue color. Due to its extremely high refractive index and strong dispersion, zircon has great brilliance and intensive fire. The luster is vitreous to a brilliant sheen. Although relatively hard (rating 6.5 to 7.5 on the Mohs scale) zircon is somewhat brittle and therefore sensitive to knocks and pressure.
Zircon is also notable for being one of the densest gemstones, which means that it will look smaller than other gem varieties of the same weight. Most fine zircon is mined in Northern Cambodia.
For more information see our zircon info page.
Every month we answer questions of general interest from our customers. Please feel free to send your questions or suggestions to our support team at help@gemselect.com!
Question
Can you provide appraisals of the value of gemstones I buy from you? I appreciate your answer. DTO, USA.
Answer
Sorry, we don't provide appraisals of value. We know quite a bit about the prices of colored gemstones in the wholesale market, but we're not experts on prices in the retail market. If you need an appraisal you should consult a trained professional such as a member of the American Society of Appraisers. In general, it's not a good idea to get an appraisal from the dealer who sold you a gem; the appraisal should come from a disinterested third party. We do get feedback from our customers from time to time on appraisals, and they are generally extremely pleased with the appraised value of the gems they have bought from us.
Question
I have a sapphire I'm interested in selling. Do you buy gemstones as well as sell them? WJ, USA.
Answer
We do all our buying here in Chanthaburi, Thailand, where rough stone is brought from mines throughout Asia and Africa. We only buy rough or finished stones in large lots to lower our cost. That's one of the main reasons we are able to keep prices low for our customers. If you need to sell a single gemstone, consult a gem dealer where you live.
Keep up with our new arrivals before they hit the newsletter by joining our thousands of fans and followers on our social networking pages. We love interacting with our customers - you can visit us on Tumblr, LinkedIn, Twitter, Facebook or Pinterest!
To ensure you can receive our emails, please be sure to add help@gemselect.com to your list of safe contacts, or you add us into your email address book! Please feel free to contact us with any questions, comments and queries! We respond to each and every email we receive.
Happy Gem Hunting!
Your friends at GemSelect