GemSelect Newsletter - February Birthstone: Amethyst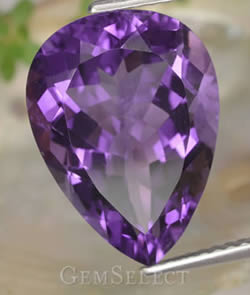 Pear-Shaped Amethyst Gemstone
Amethyst Legend
Probably the best-known purple gemstone is the violet quartz gem type known as amethyst. Its name comes from a Greek myth in which Dionysius, the god of intoxication was angered by an insult from a human, and swore to take revenge on the next human he saw. Thus, Amethyst, a beautiful young maiden was attacked by Dionysius's fierce tigers on the way to pay tribute to Diana. Luckily for Amethyst, Diana turned her into a quartz statue to protect her from Dionysius, who wept tears of wine in sorrow when he realized what he had done. The clear quartz statue of Amethyst was stained purple by Dionysius's tears. The real reason for the purple color of amethyst is traces of iron and aluminum; quartz without trace impurities is clear and white.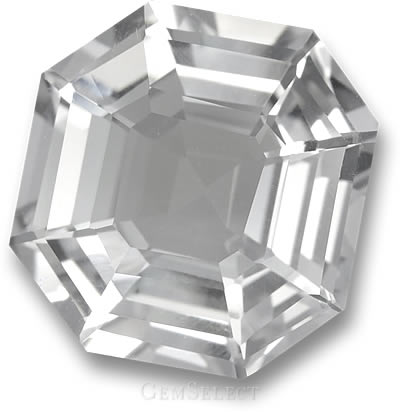 Asscher-Cut Clear White Quartz Gemstone
In ancient Greek, the word, "amethystos" means "not intoxicated", and since ancient times, amethyst was carved into wine goblets and worn in rings in the belief that it would prevent drunkenness. This may have come from an alternative version of the Greek myth of amethystos, which goes that Amethyst was avoiding Dionysius's lusty advances and prayed to Artemis to keep her chastity. According to this story, Amethyst was turned into a statue of pure crystal by Artemis and then Dionysius poured his wine over her statue in tribute to her purity. Perhaps this legend led to amethyst's associations with sobriety, the church, Christ, chastity, divinity and spirituality. Amethyst has often featured in rings worn by Roman Catholic bishops and was known as "the stone of bishops".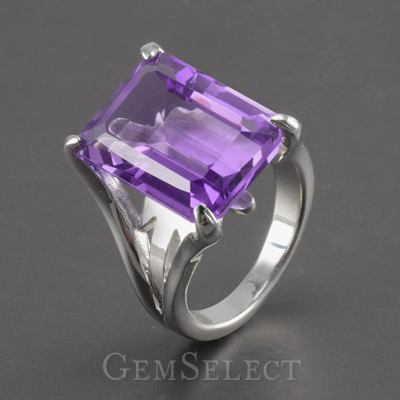 Emerald-Cut Amethyst Silver Ring
Amethyst has also been long-associated with royalty and was even used during ancient Egyptian times, when amethyst was mined in Southern Egypt and carved into beads worn by pharaohs. During an excavation of the tomb of Djer, bracelets of gold, lapis lazuli, turquoise and amethyst were found and a necklace of amethyst and carnelian beads was found at the Dendara grave from the reign of Senwosret I. One of the amethyst beads had been carved in the form of a scarab beetle (an amulet that symbolizes rebirth) and two others were inscribed with the names of the king. Amethysts were mined from Southern Egypt.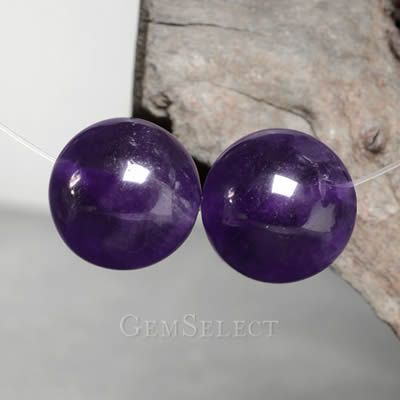 Matched Pair of Spherical Amethyst Beads
The Phoenicians, ancient Romans and Elizabethans reserved the color purple for elite and royal robes because it was a costly dye to produce, so purple and amethyst continued to have regal connotations up until modern times. Some of the most beautiful royal amethyst jewelry includes the Norwegian Amethyst Parure, the Nassau Amethysts, Queen Josephine's amethyst tiara and the Duchess of Windsor's amethyst and turquoise Cartier bib necklace.
As well as being regal and religious, amethyst has other lore associated with it, such as being able to prevent evil thoughts, calm the mind, strengthen immunity, help insomnia, promote good dreams, provide balance, aid mental focus, lift the spirit, encourage wise judgement, release from addiction, protect against maliciousness, aid creativity and more.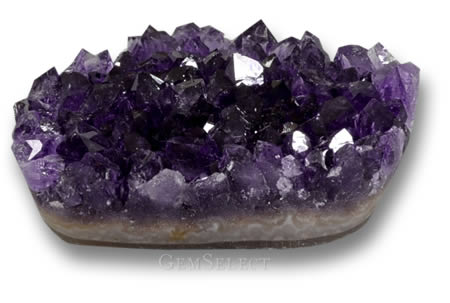 Amethyst Geode Gemstone
Whether or not amethyst can actually deliver all of these wonderful things, it is a good-looking natural jewelry gemstone that will continue to be worn and admired by all. For those who were born in February, amethyst is the official birthstone. Pisceans also wear amethyst as their zodiac stone and it is given in celebration of the 6th wedding anniversary. Amethyst is also the gemstone for Wednesday.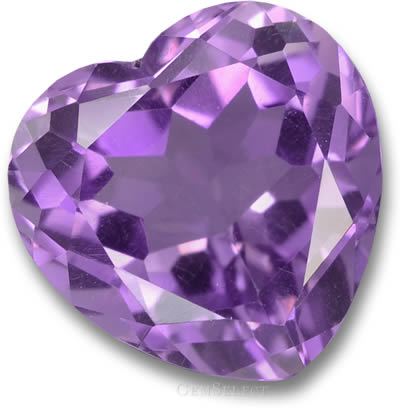 Heart-Shaped Amethyst Gemstone
Since the start of the new year, we've added many new gemstone types, as well as several specific varieties or colors that are rare to find in certain gemstone types, including London blue topaz, scolecite, black opal, spectrolite, sugilite, labradorite, rhodochrosite, jasper, agate and more. Because of the wide variety of new gemstone arrivals this month, it was really difficult deciding on which gems to feature this month -- so, here goes:
Cat's eye moonstone is the best known gemstone variety of orthoclase feldspar. The combination of chatoyancy with an attractive, distinctive cat's eye is exceptionally rare to find in a single stone. Top-quality specimens can often exhibit a 'three-dimensional' depth of color due to moonstone's remarkable adularescent effect. Chatoyancy is a rare phenomenon found only in a handful of gem types. In addition to cat's eyes, we also have star moonstone gems too! These exhibit asterism that often resembles a cross, which makes them very popular for religious reasons.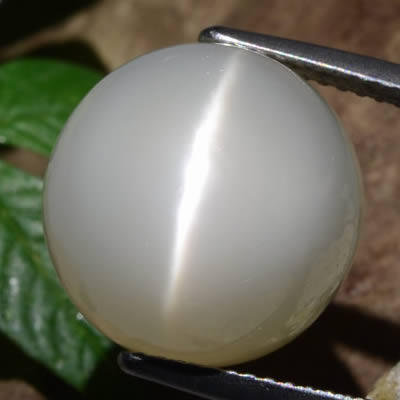 Why are natural gemstones rarely available drilled? It you've ever searched for quality gemstone beads, rondelles and briolettes, you've likely found that they're quite hard to find. The reason it's hard to source pre-drilled gemstone is simply because gems are bought and sold by weight, so by drilling holes into them, it's almost like throwing money down the drain. This is why most gems are either faceted or cut en cabochon. Facet-cut gems and cabochons also tend to attract higher prices, even smaller stones. However, due to the extreme popularity and high demand for beads and drilled gemstones for jewelry, we scoured the markets to find some more drilled gems to add to our collection. Some of the new beads, rondelles and briolettes we've added, include black opal, labradorite, rutile quartz, opal, emerald, sapphire and jadeite. Browse our selection now, because these are moving almost as quickly as we can get them online!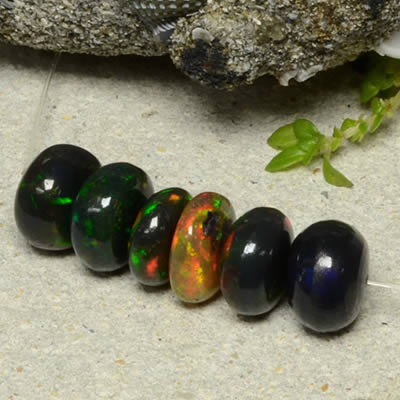 Sunstone is another popular member of the feldspar gemstone group. Not only have we been lucky enough to source faceted sunstones and star sunstones, we've now been fortunate enough to add some beautiful sunstone cabochons to our ever-growing stock of over 60,000 gems! Sunstone is famed for its unique glitter caused by platelets of hematite or goethite inclusions. When cut and polished, sunstone exhibits a vitreous luster, often described as sparkling. Sunstone has been very hard to source for many years, so we consider ourselves very lucky to be able to offer these in our stock. Browse our stock now to ensure you get the best pick of the lot!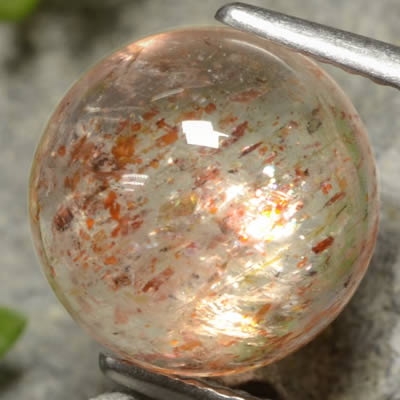 Sunstone Cabochons
The Markle effect has begun! We have all noticed how member of royal families have sparked jewelry trends, from Lady Diana's famous blue sapphire halo ring to Kate Middleton's drop earrings, and now Prince Harry's bride-to-be, Meghan Markle's jewelry choices are drawing attention. Ms. Markle's oval yellow gold and opal stud earrings are proving popular and have triggered a trend.
While most eyes are on Meghan Markle, another royal engagement has been announced, with a fabulous padparadscha sapphire ring. Princess Eugenie of York's has shown off a stunning yellow gold padparadscha sapphire ring with a diamond halo from Jack Brooksbank, former manager of Mahiki nightclub. The couple met seven years ago and the surprise proposal took place in Nicaragua. The engagement ring has been compared to the Princess Diana sapphire engagement ring and also Eugenie's mother, the Duchess of York's ruby halo engagement ring.
Sarine Technologies Ltd., a leading developer of gemstone technology, has opened a lab in Israel offering digital gemstone reports, courtesy of advanced technology. The Sarine Technology (Gemmological) Lab offers diamond grading and colored gemstone reports. A second Sarine lab is set to open in India in May.
The Golden Globes 2018 saw a sea of black, but some of the jewels provided a splash of color on the red carpet. Many of the stars chose emerald jewelry, including Laurie Metcalf, Isabelle Huppert, Penelope Cruz and Catherine Zeta-Jones. Issa Rae wore a plunging Lorraine Schwartz emerald and diamond tasseled necklace. Pauletta Washington chose emerald dangle earrings and an emerald ring, and a fabulously large pair of emerald pendant earrings were shown off by Zoe Kravitz.
Every month we answer questions of general interest from our customers. Please feel free to send your questions or suggestions to our support team at help@gemselect.com!
Question
I'm looking for a 16th year anniversary gift for my wife, is there a dedicated gemstone for this?
Answer
Yes, there is a material or gemstone to celebrate each
wedding anniversary
and for the 16th year, it is
peridot
, a green gemstone that is olive to bright green and has been called "evening emerald" because it remains bright even in low lighting. Peridot comes in many shapes, sizes and cuts, so it is ideal for any jewelry style apart from tension settings because it can be sensitive to high pressure. You can learn more about this lively, green gemstone
here
.
Question
I usually access your site on my tablet, but I prefer the layout of the old website with its left menu and top filters. Is there a way I can find the gems I need on the old website using my tablet?
Answer
Yes, if you are on a tablet or mobile device, you can revert to the desktop (old) website by going to the main menu on the upper left of your screen and then select "Switch to desktop version", which is located at the bottom of the menu under the gem types and information links. If you want to switch back to mobile view, you can find the link to do so under the "Help" menu.
We always welcome your questions, comments and feedback! For those who are interested in attending some gem and jewelry events, please see the details below.
Event Name
JOGS Tucson Gem & Jewelry Show
Venue
Tucson Expo Center, 3750 E Irvington Rd, Tucson, AZ 85714, USA
Dates
January 25 - February 5, 2018
Event Name
Bisutex/Madrid Joya
Venue
Juan Carlos I Exhibition Centre, Juan Carlos I Exhibition Park, Campo de Naciones, Madrid, Spain
Dates
January 31 - February 4
Event Name
Junwex St. Petersburg 2018
Location
Russian Federation
Venue
ExpoForum Convention & Exhibition Centre, Peterburgskoye shosse, 64k1, St. Petersburg, Russian Federation, 196140
Dates
January 31 - February 4, 2018
Event Name
Jewellery & Watch 2018
Venue
National Exhibition Centre (NEC) Birmingham, B40 1 NT, UK
Dates
February 4 - 8, 2018
Event Name
International Watch & Jewelry Guild Show
Venue
Hyatt Regency Miami, 400 SE Second Ave., Miami, FL 33131, USA
Dates
February 5 - 6, 2018
Event Name
64th Annual Tucson Gem & Mineral Show - Crystals and Crystal Forms
Venue
Tucson Convention Center, 260 S Church Ave, Tucson, AZ 85701, USA
Dates
February 8 - 11, 2017
Event Name
XIIJS Signature Show 2018
Venue
Bombay Convention & Exhibition Centre, Off Western Express Highway, Goregaon (E), Mumbai 400063, India
Dates
February 9 - 12, 2018
Venue
Messe Frankfurt Exhibition GmbH, Ludwig-Erhard-Anlage 1, 60327, Frankfurt am Main, Frankfurt, Germany
Dates
February 9 - 13, 2018
Event Name
Craft Easy Buyers' Expo (Atlantic Craft Trade Show)
Venue
Homewood Suites/Silver Birch Conference Centre, 1960 Brunswick St., Halifax, Nova Scotia B3J 2G7, Canada
Dates
February 10 - 11, 2018
Event Name
TransWorld Jewelry, Fashion, & Accessories Show
Venue
Donald E. Stephens Convention Center, 5555 N River Road, Rosemont, IL 60018, USA
Dates
February 15 - 18, 2018
Event Name
Inhorgenta Munich 2018
Venue
New Munich Trade Fair Centre, Messegelande, 81823 Munich, Germany
Dates
February 16 - 19, 2018
Event Name
Feninjer Brazilian Gems & Jewellery Show
Venue
World Trade Center (WTC), Av. das Nacoes Unidas, 12551, Sao Paulo, Brazil
Dates
February 19 - 22, 2018
Event Name
Bangkok Gems & Jewelry Fair
Venue
Impact Exhibition & Convention Center, Popular Road, Muang Thong Thani, Bangkok, Thailand
Dates
February 21 - 25, 2018
Event Name
Reed Gift Fair
Venue
ICC Sydney Exhibition Centre, 14 Darling Dr., Sydney, NSW 2000, Australia
Dates
February 24 - 28, 2018
Event Name
Hong Kong International Diamond, Gem & Pearl Show
Venue
AsiaWorld Expo, Hong Kong International Airport, Cheong Wing Rd, Chep Lap Kok, Lantau, Hong Kong
Dates
February 27 - March 3, 2018
Keep up with our new arrivals before they hit the newsletter by joining our thousands of fans and followers on our social networking pages. We love interacting with our customers - you can visit us on our social media channels, including Tumblr, LinkedIn, Twitter, Facebook, and Pinterest!
To ensure you can receive our emails, please be sure to add us to your list of safe contacts!
Happy gem hunting!
Your Friends at GemSelect
First Published: February-02-2018
Last Updated: May-31-2018
© 2005-2021 GemSelect.com all rights reserved.
Reproduction (text or graphics) without the express written consent of GemSelect.com (SETT Company Ltd.) is strictly prohibited.