GemSelect Newsletter - Imperial Gems
Majestic Amethyst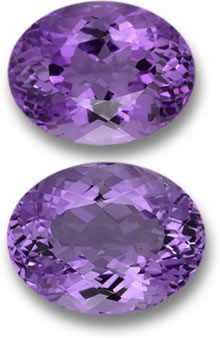 Purple Amethyst Gems
The term "imperial" can relate to authority, majesty or something that is outstanding with regard to size or quality. Particular colors are associated with authority, and for this reason, they are referred to as "imperial". The Phoenicians, who lived in what is now known as Lebanon produced a purple dye from mollusks used for royal Mesopotamian robes. The dye would also color the skins of the workers and earned them their name, which comes from the Greek for "Tyrian purple". In ancient Rome, magistrates wore purple robes, so in the West, purple has long been considered an imperial color. The reason why it was worn by those of high social standing was because the dye was costly to produce. The British Elizabethan sumptuary laws reflect this; Queen Elizabeth I banned non-royals from wearing the color purple. The current Imperial State Crown of the United Kingdom owned by Queen Elizabeth II continues the royal preference for purple with its purple velvet cap. In the nineteenth century, a young chemist called William Henry Perkin discovered a purple dye while experimenting with aniline to make quinine. This resulted in a commercial dye called mauveine and allowed purple cloth to be affordable and available to all.
The definitive purple gemstone is amethyst, which is associated with royalty because of its purple color. Thus, the British Royal Scepter contains a large amethyst. Amethysts were also a favorite of Catherine the Great and Egyptian royalty. Amethyst also holds a high place in the ranks of the Christian church and was referred to as "the stone of bishops". The rings worn by Roman Catholic bishops are often set with an amethyst gemstone. The stone may have been adopted because of its color; the Church has traditionally used purple robes, which relates back to Christ as the King of the Jews and finery. Yet, amethyst is not the only imperial gemstone.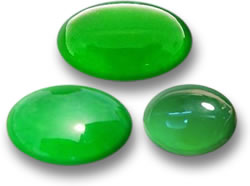 Imperial Jadeite Cabochons
In traditional Chinese culture, yellow represents earth and is at the center of all the elemental colors. The roof tiles of the Forbidden City had a yellow glaze and other decorations were colored yellow. The color gold is related to yellow. Similar to the West, purple is associated with nobility, since the Han Dynasty prime minister would be given a gold seal with a purple silk ribbon. With regard to gemstones, the imperial jewel of China is green jade. More specifically, in Chinese jade is called "yu", which means "imperial" or "heavenly" and is a symbol of purity, goodness and beauty. In China, jade is considered to be more precious than gold and the most valuable form of jade is uniformly colored emerald green jadeite mainly from Burma. This is called "imperial jadeite", probably because during Imperial China, the court acquired large quantities of imperial jadeite.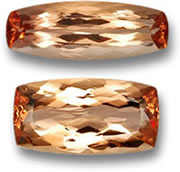 Imperial Topaz Gems
Another gemstone that was associated with the elite is imperial topaz (also called "precious topaz"). Imperial topaz acquired its regal title from the Russian Tsar who claimed exclusive rights to natural pink topaz gems from the Ural Mountains of Russia. Frances Anne Vane, Marchioness of Londonderry received a Russian pink topaz as a gift from Tsar Alexander I. She wore the jewel to the Coronation of William IV in 1830. Imperial topaz is now more generally defined as yellow, pink, red, lavender-pink or peach-pink topaz, with natural pink topaz being extremely rare. Imperial topaz is the most valuable form of topaz due to its rarity. The main source of imperial topaz is now Minas Gerais in Brazil.
Gems and jewelry have been symbols of wealth and status for centuries and some colors and gemstones have acquired a regal status. These imperial jewels are either outstanding material or have a certain historical significance. Such beautiful colored jewels can make the wearer feel special, particularly when the stones have a high value. Amethyst is less scarce and is therefore more affordable than imperial jadeite, which is reserved for those who would like to feel like an Eastern Emperor or Empress. Likewise, imperial topaz the rare color of the setting sun fetches high prices worthy of Russian Tsars and Tsarinas.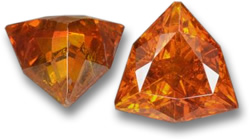 Unique Sphalerite Gemstone
We have recently acquired some fantastic sphalerite gems with unique cuts, weighing 2-5 carats. Sphalerite is a rare, collector's gemstone that has a remarkably high dispersion. This gives sphalerite great "fire"; the ability to separate visible light into distinct colors. The dispersion of sphalerite is even greater than that of diamond! This fire combined with its greasy to adamantine luster makes sphalerite an incredible stone. Most sphalerite gems range from yellow to fiery orange colors and have inclusions. Gemstone cutters have their work "cut" out for them with sphalerite because of its brittle tenacity and perfect cleavage; another reason why our new stones are such an exciting find.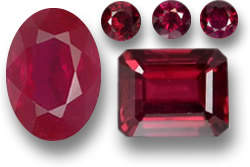 Various Ruby Gemstones
July is set to be red-hot with rubies! The official birthstone for July is ruby, one of the "precious four" and a stone which has long been associated with passion, power and plenty. Whether you're looking for round diamond-cut ruby lots, a stunning single emerald-cut ruby or an affordable calibrated-sized ruby, we have a great selection of rubies to choose from for every budget. Ruby is also the stone for Capricorn and the symbol of passionate devotion used to mark the fifteenth and fortieth wedding anniversaries, as well as the stone for those born on a Tuesday. Whatever the reason for wearing ruby, you can be sure to find one to suit you and it will be sure to set your fingers on fire.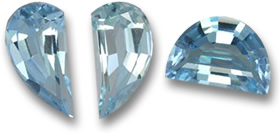 Fancy Swiss Blue Topaz Gems
Blue topaz is always one of the most popular gemstones of all time, so we always try to stock blue topaz gems in pretty much every shape and size. Blue topaz is an affordable and durable gemstone with a range of colors, including pastel "sky blue", bright "Swiss blue" and rich "London blue". Some of our fancy Swiss blue topaz gems have generated great interest lately. These include half hearts and half moon shapes, which are perfect for unique silver jewelry designs. Blue topaz is a December birthstone and also a fourth wedding anniversary stone. If red ruby is too hot for you, blue topaz is a cool choice.
Perhaps it's time to get those jewelry acquisitions appraised... A 26-carat diamond ring purchased in a car boot sale in West London for 10 British pounds and believed to have been "fake" for many years has been auctioned for almost $830,000, exceeding expectations by far. The 26-carat white diamond ring was purchased in the 1980s and worn about town without a second thought, until it was taken to Sotheby's auction house and appraised. The ring was thought to have been made in the 1800s.
Debmarine Namibia, a joint venture between De Beers and the Namibian government has launched diamond exploration ship, the motor vessel, SS Nujoma, named after Namibia's first president, Shafiishuna Nujoma. The ship will search Namibian waters for marine diamonds over 120 meters below sea level, in an attempt to increase supply.
Chinese Company, Fosun Gold has made a bid for colored gemstone company and owner of Fabergé brand, Gemfields, with a view to its long-term business potential. The new offer is 10% above the proposal made by Pallinghurst Resources Ltd.; Gemfields's biggest investor, and comes recommended by Gemfields management.
The Rockefeller Emerald set a new record for emerald price per carat when it sold for $305,000 per carat last month. The exceptional, 18.04-carat, emerald-cut Colombian emerald mounted in a platinum ring was acquired by Harry Winston for $5.5 million.
Every month we answer questions of general interest from our customers. Please feel free to send your questions or suggestions to our support team at help@gemselect.com!
Question
Hi, I'm looking for a 5-carat yellow sapphire, but my budget may not stretch that far, can you give me any other suggestions?
Answer
We certainly can! Probably the most obvious choice would be
citrine
, which is affordable, durable and can be found in many different cuts and shapes. For more greenish-yellow gems, try
lemon quartz
. Other options include
golden beryl
; a yellow cousin of emerald, and golden apatite, which is not as hard as the aforementioned gems, but is suitable for earrings or pendants.
Question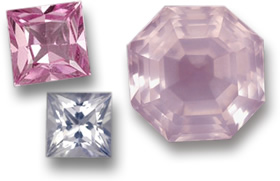 Princess-Cut Sapphires (Left) and Asscher-Cut Rose Quartz (Right)
I would like to buy a square-shaped gemstone and am wondering if you can tell me the difference between the Asscher cut and the princess cut? Which would be the best cut for a ring?
Answer
The Asscher cut is a modified emerald cut that was designed by Joseph Asscher in 1902 to increase the brilliance of the step cut, and has parallel facets with a windmill-like pattern on the crown. Asscher-cut gemstones are not exactly square, since they have truncated corners. The princess cut is a modified brilliant cut, the style of which emerged in the 1960s. The princess cut has a sharp, square outline and non-linear facets on the crown. Princess-cut gems are generally easier to find than Asscher cuts. Because they are perfectly square with pointed corners, gems that are brittle and prone to chips or fractures are not recommended for princess-cut gemstone rings. Generally, if you are looking to flaunt color, an Asscher cut would be recommended, and a princess-cut would be best for brilliance, though both are beautiful choices.
We always welcome your questions, comments and feedback! For those who are interested in attending some gem and jewelry events, please see the details below.
Event Name
Fashion Goods & Accessories Expo (Fashion Accessories Expo)
Venue
Tokyo Big Sight, 3-11-1 Ariake, Koto-ku, Tokyo, 135-0063, Japan
Event Name
Singapore International Jewelry Expo 2017
Venue
Marina Bay Sands Expo & Convention Centre, 1 Bayfront Ave, Singapore 018971
Event Name
TrendSet Summer 2017
Venue
New Munich Trade Fair Centre, Messegelande, 81823 Munich
Venue
Embassy Suites by Hilton Detroit-Livonia/Novi, 19525 Victor Pkwy, Livonia, MI 48152
Event Name
InterJeweller 2017
Location
Russian Federation
Venue
Grand Hotel "Pearl", Chernomorskaya ul. (Tsentr), 3, Sochi 354002
Event Name
TransWorld Jewelry, Fashion & Accessories Show
Venue
Donald E. Stephens Convention Center, 5555 N River Rd, Rosemont, IL 60018
Venue
Waldorf Astoria, 301 Park Ave, New York, NY 10022
Event Name
International Watch & Jewelry Guild Show
Venue
Marriott New York Brooklyn Bridge, 333 Adams St, Brooklyn, New York, NY 11201
Event Name
India International Jewellery Show 2017
Venue
Bombay Exhibition Centre, NSE Nesco Complex, Off Western Express Highway, Goregaon East, Mumbai, Maharashtra 400063, India
Event Name
Malaysia International Jewellery Fair 2017
Venue
Kuala Lumpur Convention Centre, Stall 7, Jalan Pinang, 50450 Kuala Lumpur, Malaysia
Event Name
Arkansas Jewelers Association
Venue
Capital Hotel, 111 W Markham St, Little Rock, AR 72201
Keep up with our new arrivals before they hit the newsletter by joining our thousands of fans and followers on our social networking pages. We love interacting with our customers - you can visit us on Tumblr, LinkedIn, Twitter, Facebook or Pinterest!
To ensure you can receive our emails, please be sure to add help@gemselect.com to your list of safe contacts, or you add us into your email address book! Please feel free to contact us with any questions, comments and queries! We respond to each and every email we receive.
Happy Gem Hunting!
Your friends at GemSelect
First Published: June-28-2017
Last Updated: June-30-2017
© 2005-2021 GemSelect.com all rights reserved.
Reproduction (text or graphics) without the express written consent of GemSelect.com (SETT Company Ltd.) is strictly prohibited.