GemSelect Newsletter - December 2008
In our newsletter this month: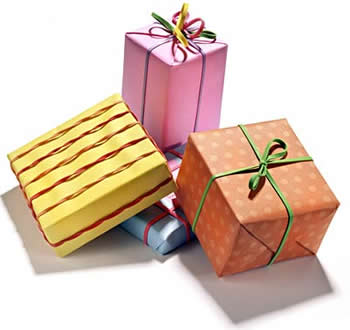 Holiday Gifts
At this time of the year we receive many requests for gift suggestions. So we've collected some of our best ideas for this month's newsletter. We hope this makes your holiday shopping just a little easier.
If you're looking for a very special gift, a good place to start is with our Top Grade Gems. Our staff selects the finest pieces from our inventory for this group, so if you want our personal recommendations, you'll find them here. This special group features our very best gems, selected for color, cut and clarity.
A personalized gift is always appreciated, so you may want to consider a birthstone or anniversary stone. You can make your choice by month or by signs of the zodiac. There are recognized alternative choices for many months as well.
Another nice gift idea is a matched pair of gems. Well-matched pairs are actually quite difficult to find, but we buy our gems in volume and our staff spends a lot of time going through parcels of gems to put together matched pairs. We've made it one of our specialities and we typically have as many as 900 matched pairs in our inventory, with around 50 gem types represented. Click here to see all our matched pairs.
If you'd like to purchase a large gemstone but are looking for something fairly inexpensive, have a look at our huge selection of cabochons. These are popular with collectors and make nice momentoes as well as stunning jewelry. We currently have 60 different types of cabochons in our stock, with more than 2,700 pieces in all.
Finally, we are often asked what are the best values in fine gemstones today. Everything seems to get more expensive every year, but in our opinion the finest gems for the price are tourmaline, spinel, spessartite garnet and zircon. This year we're recommending kunzite and morganite as well, since we recently found some very fine pieces at excellent prices.
At this time of year we take special care to make sure our customers receive their orders promptly and reliably. We've shipped gemstones to more than 90 countries and we've become experts at international shipping. So here's some advice to take the worry out of ordering an important gift online.
We strongly recommend FedEx for all holiday gifts. It's fast -- 3 to 4 days to nearly anywhere in the world -- and you can track your shipment online so you'll know exactly when it will be delivered. It is remarkably reliable as well. Just make sure your give us your correct street address (no post office boxes, please) and provide a telephone number in case of any problems with delivery.
Please note that loose gemstones may be imported duty-free to the USA, but FedEx shipments to other countries may be subject to tax and duty. If you're unsure about the situation in your country, please email us and we'll advise you about the quickest and cheapest shipment method.
FedEx ships nearly everywhere in the world, but there are a few countries where we must use registered mail instead of FedEx, due to local customs regulations. Please see our Shipping Info page for the details.
Finally, please note that if you order a gemstone certificate we may need a few extra days to get your gem tested at the lab. But we'll always tell you exactly when your order will ship.
Each month we feature a rare and unusual gem from our inventory. This month we feature a very rare large sphene from Sri Lanka:

Natural Heart-Shaped Sphene
Sphene's claim to fame is its remarkable brilliance and fire, rivalling that of diamond. While always in demand, sphene has been a rare gem on the market. But very large sphene with excellent clarity are extremely rare. This 12.18 carat heart-shaped piece is the largest sphene we have ever been able to buy, but also one of the cleanest. Sphene tends to be included, but this piece is so clean we've graded it VVS. The brilliance and fire of this sphene is difficult to capture in a photograph, but we've recently taken a video that conveys just how stunning sphene can be. Click here to see for yourself.
Every month we answer questions of general interest from our customers. Please feel free to send your questions or suggestions to our support team at help@gemselect.com!
Question
I noticed you now have video clips for some of your gemstones. That is so cool! Its just like looking at the stone in person. Are you planning to show videos for all your gems? MZ, USA.
Answer
We've been hard at work on our new video project and have already taken videos for about 10% of our inventory. Eventually we'll have videos of all our gems. In the short term we're focussed on shooting video of faceted stones in the larger sizes. We welcome your comments on our videos.
Question
I'm looking for a colored gem with a lot of brilliance and fire. What kind of gems should I be looking at? I really appreciate your help! HW, South Africa.
Answer
Keep up with our new arrivals before they hit the newsletter by joining our thousands of fans and followers on our social networking pages. We love interacting with our customers - you can visit us on Tumblr, LinkedIn, Twitter, Facebook or Pinterest!
To ensure you can receive our emails, please be sure to add help@gemselect.com to your list of safe contacts, or you add us into your email address book! Please feel free to contact us with any questions, comments and queries! We respond to each and every email we receive.
Happy Gem Hunting!
Your friends at GemSelect