Jordanian Jewels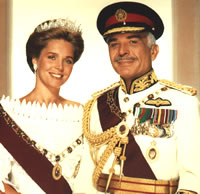 Queen Noor and King Hussein
American-born Lisa Najeeb Halaby became Queen Noor al-Hussein of Jordan when she married King Hussein in 1978. When Queen Noor became a member of the Jordanian Royal Family, she could have chosen a life filled with tiaras and high teas. However, Queen Noor made it her mission to work for a higher purpose, championing the rights of women and establishing the Noor Al Hussein Foundation (NHF).
Due to her birth nationality, Queen Noor felt that she should serve as a bridge between the Middle East and the West. Thus, she worked on peace-building missions along with her work toward improving the quality of life of Jordanians. One of her many projects is the Wadi Musa Silver Jewelry Project, which has been training Bedouin women in the art of silver jewelry working since 1996. To date, over 700 women have become skilled silversmiths through the Project. The center where the silver is produced is outside the ancient city of Petra, an important tourist attraction of Jordan. The silver jewelry that is crafted in Wadi Musa is Nabatean-style. The Nabateans were an ancient Arab tribe who built the ancient city of Petra. The silver jewelry made at the workshop ranges from simple silver earrings to elaborate beaded gemstone necklaces.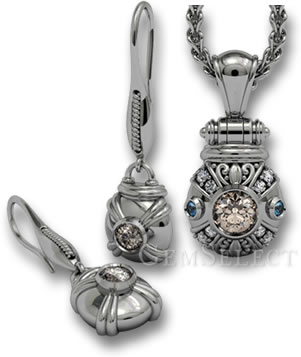 Modern Silver Jewelry
Queen Noor has worn some stunning precious gemstone jewelry. The Diamond Sunburst Tiara (see image, above), was a gift from King Hussein. Another beautiful tiara worn by Queen Noor is a Diamond Scroll Tiara by Chaumet. While she has access to priceless royal jewels, Queen Noor also enjoys wearing more down-to-earth pieces of fashion jewelry, such as protective eye pendants and beaded bracelets. Queen Noor is known more for her social work than for her jewels. During her life she has earned a great deal of respect and recognition for her efforts, which are concerned with organizations not only in Jordan, but all over the world. Earlier this year, she received the Woodrow Wilson Award for her humanitarian work.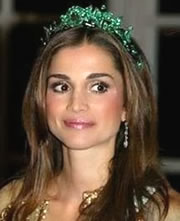 Queen Rania Wearing a Boucheron Emerald Tiara
In 1999, Queen Noor and Jordan suffered the tragedy of losing King Hussein, who was succeeded by his son from his second marriage to Princess Muna al-Hussein; Abdullah II. Since being widowed, Queen Noor has continued her humanitarian work. The current Queen of Jordan, Queen Rania, also works to foster cross-cultural understanding, breaking down the barriers caused by stereotypes. Queen Rania is not often seen in sumptuous jewels, but is known for her style. Some of the most memorable jewels she has worn are the emerald and black gold Boucheron Ivy Emerald Tiara (see image, left) and the diamond Arabic Scroll Tiara. However, she looks just as elegant in simple jewelry.
Queen Rania is especially interested in the welfare of children. In an open letter addressed to girls of the world, Queen Rania wrote that there is more to girls than "pink dresses, pigtails, dolls, ringlets, ribbons, bows and tiaras". While she is one of the most beautiful members of royalty, she appears unaffected by both her looks and wealth. It could be said that such assets to society are the jewels in the crown of Jordan.