Sep 01, 2020
Updated Sep 01, 2020
Gemstones for Creative Professions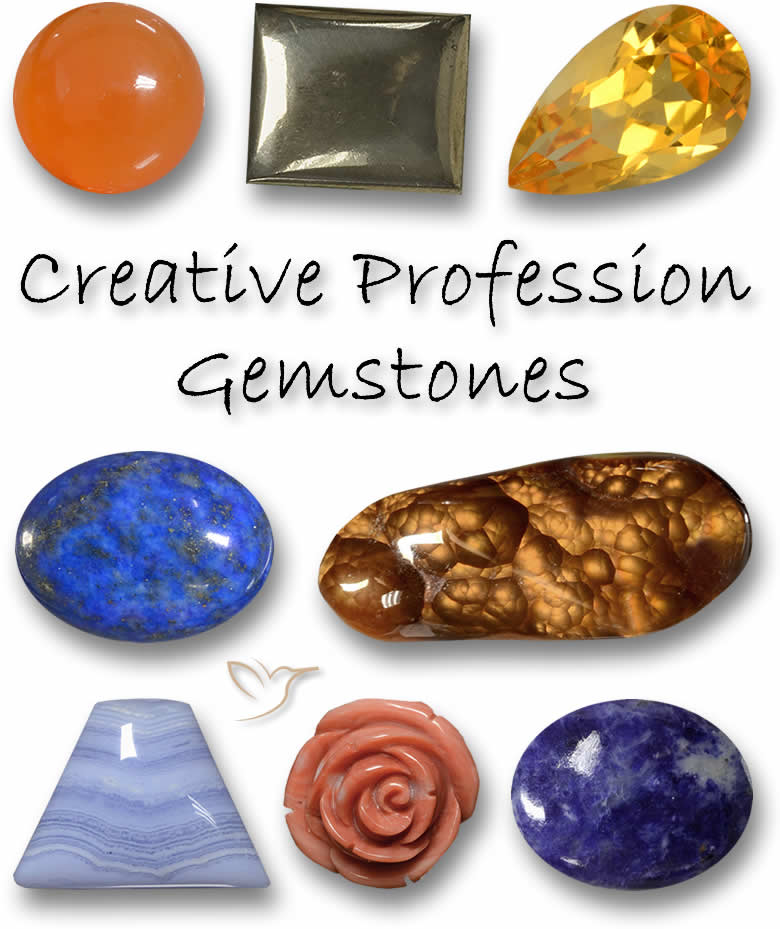 If you work in TV, film, publishing, advertising, music, writing, painting, pottery or any more of the myriad of creative professions you will know that innovation and new ideas are a major part of your daily life.
Coming up with original and interesting concepts day after day is not easy and from time to time you might need a little inspiration so I have come up with a few gemstones to stimulate your artistic endeavors.
Let's get straight to it with what is probably the most effective and well known crystal for the imagination:
Okay, that is the number one gemstone out of the way but there are a few others that are fighting for the title. The Chakras are energy points located around the body that can influence us mentally and physically.
The Sacral Chakra is located just below the belly button and is the centre of creativity, pleasure and passion within us. Its associated color is orange so many orange gemstones (such as the aforementioned Carnelian) can enhance inventiveness.
Here are a couple of gemstones related to our Sacral Chakras:
Many forms of creative performance are all about communication – writers, journalists, bloggers and even actors need help in expressing their ideas. These gemstones can help:
If you are going to do a live performance whether it is on stage or a public speech or even just a presentation of your work nerves can get the better of anyone. The next two gemstones can help:
Someone once said that success is 10% inspiration and 90% perspiration and we all know that natural talent and creativity can only get us so far – it takes hard work to get to the top. Our next few gemstones will help with the practicalities of artistic creation – determination, motivation, insecurity, learning and self-confidence.
So these are the gemstones we recommend but what should you do with them? We have a few suggestions of how to use gemstones to get creative.
One of the simplest ways is to wear a gemstone as a piece of jewelry, that way it will be with you all day, quietly helping. If wearing jewelry is not appropriate then placing a gemstone or two in a pocket or in your purse would work just as well and are easily reached if a bit of extra reassurance is needed.
All the gemstones I have mentioned can affect the Chakra points so some quiet meditation or just simple relaxation with the gemstone placed on the right Chakra location will work wonders.
Put the creativity gemstone under your pillow or in the pillow case to stop it disappearing to let it work its magic while you are sleeping.
Decorate your home or work space with your favorite gemstone to give your whole sphere a creative aura. Make an elixir, put it in a spray bottle and give everywhere you go a positive misting.
Ask your crystals for help. If you have a creative block, particular fear or apprehension, upcoming performance then sit with your gemstone and tell it what you need. You will find solutions and help in no time.
Our Quick Guide to Gemstones for Creative Professions

| Gemstone | Main Attribute |
| --- | --- |
| Carnelian | Motivation |
| Citrine | Enthusiasm |
| Orange Coral | Visualization |
| Lapis Lazuli | Communication |
| Blue Agate | Communication |
| Sodalite | Calming |
| Fire Agate | Protective |
| Pyrite | Determination |
| Sunstone | Confidence |
| Bloodstone | Endurance |
| Fluorite | Learning |
| Garnet | Positivity |