Cambodian Gem Mountains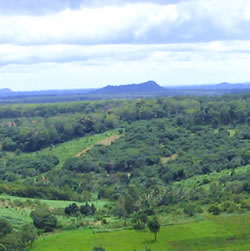 Ratanakiri "Gem Mountain" in Cambodia
Cambodia is especially famous for beautiful blue sapphires which were mined in the town of Pailin (Battambang Province) on the edge of the Cardamom Mountain range. This area is situated on the Thai-Cambodian border. The most highly-prized sapphires from Pailin are medium-blue and have a quality approaching that of fine Ceylon and Kashmir sapphire. The high point of commercial Pailin sapphire mining during the Khmer Rouge control of Cambodia has long passed. Due to its mineral wealth, Pailin became a Khmer Rouge stronghold in the 1970s, and the resources were greatly exploited by the dictators. On the Thai side of the border many adventurous gem hunters risked deadly landmines to find the precious stones, and in some unfortunate and tragic cases, lives and limbs were lost in the quest for Pailin blue sapphires. Others contracted malaria and were forced to return from the jungle empty-handed and in ill health. Some gems were still being mined into the noughties, but these days, Pailin sapphires are not often traded. In fact, many of the gemstones sold in Pailin now are from elsewhere. Secondary deposits do yield small amounts of sapphire, ruby, garnet and zircon, and very occasionally, a lucky local panning for river gems will strike it rich.
Nowadays, arguably the most important gems mined in Cambodia are zircon stones. The most popular color of zircon is blue, and this is achieved by heating brown zircon, though not all stones will exhibit a highly-saturated blue after treatment. Blue zircon can exhibit an unusual and attractive topaz or teal-like hue. If the heat treatment is performed professionally, the color will be stable and permanent. Zircon is a gemstone material with a high level of brilliance, which is why it is often used as a diamond substitute. Sometimes zircon is overlooked because it is mistaken for the synthetic material known as cubic zirconia. However, zircon is a natural gemstone material. The best-known source of zircon in Cambodia is the province of Ratanakiri, which is in the northeast of the country, bordering Vietnam and Laos. The name, "Ratanakiri", comes from the words "ratna" meaning gem and "kiri", meaning mountain in Sanskrit. Therefore, it may be loosely translated as "Gem Mountain". A small town in Ratanakiri known as "Bo Keo" (which means "sapphire mine") is the location of the best-known zircon gemstone material and some sapphire.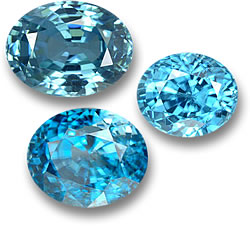 Cambodian Blue Zircon Gems
In order for the zircon gems to be unearthed, they are mined from shafts by hand. The earth is brought to the surface, panned and sifted through to separate the zircon gems from the gravel and dirt. Gem dealers come to inspect the stones with penlights and then buy the cuttable gemstone rough straight from the source. The best rough material has the fewest inclusions, which will yield eye-clean gemstones. Many of the stones are purchased by Thai gem buyers, who take their acquisitions to Chanthaburi, Thailand; an international gemstone processing center where the stones are treated, cut, and then traded in the busy Thai gem market. Some of the zircon is processed in Ratanakiri, and part of it is taken to be processed in Phnom Penh. Along with zircon, amethyst, onyx and peridot is mined in small quantities from Ratanakiri.
Other places where amethyst, zircon and sapphire have been mined in Cambodia include the northern Preah Vihear Province, which borders Thailand and Laos. This province is home to an 11th century temple complex called "Preah Vihear Temple", which is on the UNESCO World Heritage list. This ancient Khmer temple that is dedicated to Shiva has been the focus of a longstanding border dispute between Cambodia and Thailand, who both claimed ownership of the ancient Hindu temple. The temple complex is an outstanding example of Khmer architecture located on the edge of a scenic plateau, which is part of Dângrêk Mountain Range. It is surrounded by beautiful green vistas. Despite the temple being within the Cambodian border, it is more easily accessible from the Thai side.
Lesser-known mining activities in Cambodia unearth aquamarine, smoky quartz and topaz gems. These are mined in Takeo Province, in Southeast Cambodia. This area is not on the tourist trail and only small-scale mining takes place here. Another area in the least-populated province in Cambodia is Mondulkiri in the east. Mondulkiri is the largest Cambodian province and borders Ratanakiri. Like many other mining operations in Cambodia, small-scale mines are dug by hand here, often in rubber plantations and the dirt is slowly excavated by the bucketful. Such pits are numerous in many parts of Cambodia, and deserted mines pepper the landscape. This means that it is important to be careful when walking in these areas, in order to avoid falling down an abandoned mine shaft. Gold is another precious substance that has been mined in this area, particularly at Okvau Gold Deposit.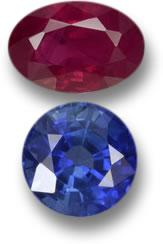 Ruby and Sapphire from Cambodia
More recently, some gemstones have been mined in Koh Kong Province in the southwest. These include sapphires and rubies. This is a coastal area with islands and part of the Cardamom Mountain Range that begins in the south and extends to the east up to Pailin and over the Thai border into Trat and Chanthaburi Provinces. Koh Kong was under Thai administration for a short time after the Franco-Thai War, when the Japanese brought about a peace treaty. Koh Kong is a popular tourist destination, with casinos and beach resorts. Titanium is one of the resources of this area and in recent years there have been disputes about opening a titanium mine in Koh Kong. While many locals welcomed the development and employment that a titanium mine would provide, others felt that preserving the environment was more important.
In many parts of Cambodia, gemstone mining only takes place during the rainy season, when there is sufficient water to wash the rocks in order to separate the gemstones from the rock. While this is the best time of year to see mining activity, the rainy season can also be a messy time to be hiking in Southeast Asia, since conditions can get quite muddy. Many of the gem mines of Cambodia are situated in thickly forested areas which can be quite difficult to negotiate due to vegetation, landmines and mountains. However, for those who are interested in seeing gemstone mines at first hand, there are day trips to some mining areas in places such as Ratanakiri. For those who prefer to keep their hands clean, the markets offer both loose gemstones and ready-made jewelry. These are best assessed by an expert eye or certified by a reputable gem lab before purchase.