GemSelect Newsletter - Royal Thai Gems and Jewels
Thai Crown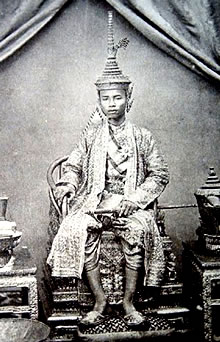 King Chulalongkorn in 1868 During the First Coronation Ceremony
In our home of Thailand this month, we have Chulalongkorn Day, which falls on the 23rd October. This special Thai public holiday commemorates the passing of King Rama V (also known as King Chulalongkorn), the grandfather of the present monarch. King Chulalongkorn was greatly respected for the many progressive reforms that he introduced during his reign. The Queen Regent, Queen Saovabha Phongsri (renamed Her Majesty the Queen Sri Bajarindra by King Rama VI) survived for a further nine years after the passing of the King. Queen Saovabha Phongsri was also revered for her contribution to Thai society. She implemented reforms which improved the lives of Thai women and general public health, along with other concerns. Like her beloved King, Queen Saovabha blended Eastern and Western dress styles, showing innovative modern fashions. As befitting a Siamese Queen, she also had a sumptuous collection of jewels, particularly pearls and diamonds.
King Chulalongkorn was crowned at the age of 15 in 1868, and during his coronation ceremony, he wore the Great Crown of Victory; a tall Thai conical crown constructed of gold and decorated with red and green enamel and diamonds, with a large, brilliant-cut Indian diamond on the pinnacle of the spire. Part of his Royal Regalia included the jewel-encrusted, double-edged Sword of Victory. On his feet, he wore the Royal Slippers, which are made from gold and lined with red velvet. A second coronation ceremony was held in 1873, after the King came of age.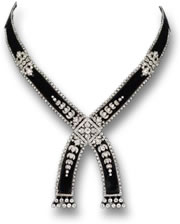 Replica of King Rama V Cartier Necklace
King Chulalongkorn made Fabergé an official royal jeweler. One of the Fabergé items in the Royal Collection is a Medallion of Queen Saovabha. It is said that the Royal Siamese jewelry collection amassed by the monarchs showed a fusion of East and West. Later, in 1907, King Chulalongkorn traveled to Paris and appointed Cartier as an additional royal jeweler.
King Chulalongkorn founded the Most Illustrious Family Order. The Order was established in 1882 to commemorate King Rama I and was awarded to his descendants and their spouses. The Most Illustrious Family Order is comprised of the Chakri Pendant, a golden sash, the Chula Chakri Pendant (worn on the sash) and the Chakri Star. Additionally, King Rama V decreed that a pendant, sash and ring be added to the Ancient and Auspicious Order of the Nine Gems. The Nine Gems of the Order are diamond, ruby, emerald, yellow sapphire, garnet, blue sapphire, pearl/moonstone, zircon/topaz and cat's eye. Each of the gems possess qualities that are believed to benefit the wearer, such as success (diamond, ruby, pearl/moonstone), love (sapphire), wealth (diamond, zircon/topaz, blue sapphire), strength (emerald) and protection (cat's eye).
Golden Thai Tiara
Traditional Thai tiaras worn by Queen Saovabha in the King Rama V era are a little different than Western royal tiaras. The Thai style tiara is a circular piece that sits on the top of the head. Such tiaras surrounded the traditional Thai hairstyle of a high bun. One such special Royal Thai tiara is known as the Golden Thai Tiara and is constructed of gold and diamonds. The Golden Thai Tiara is designed so that the middle part can be removed and worn as a bracelet. Another tiara that belonged to Queen Saovabha is a diamond fringe tiara. This versatile piece has been worn as a necklace, a bandeau and as a tiara.
Nine Gems Belt
Other uniquely Thai jewels are golden belts, which are worn with traditional Thai attire. One of the most exquisite examples of this is Queen Saovabha's Royal Belt, which is made from gold, with a diamond and gold floral design brooch at the front that can be worn as a stand-alone piece. The goldwork is a stunning example of Thai artistry. Another beautiful belt which belongs to the Thai Royal Family is the Nine Gems Belt, which also has a detachable brooch set with nine colored gems. The brooch has a large, central faceted gem surrounded by eight gemstone cabochons. This brooch has been worn on the belt by the present Thai Queen, and as a necklace pendant and brooch by HRH Princess Sirindhorn. Lastly, an incredible belt was worn by King Prajadhipok (King Rama VII) during his coronation, which featured an extremely large emerald surrounded by diamonds. This belt has also been seen adorning the present Queen.
Thailand is a country with ornate artistry and distinct culture. We are proud to share some of the uniquely Thai history and jewels with you and hope that these pieces may inspire you to create or wear some Siamese gems or Thai-style jewelry. For those who are interested in auspicious gems and like colorful jewelry, the Nine Gems jewels are worth considering. Also, with the recent trend for wearing the hair in a high knot, Thai tiara fusion pieces may even reach the mainstream. Additionally, yellow gold jewelry has become increasingly popular in recent years, and colored gemstones never go out of style. Therefore, there has never been a better time to incorporate Thai fashion into jewelry designs.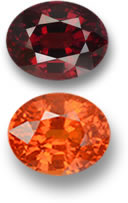 Pyrope & Spessartite Garnets
Garnet gems are natural, untreated stones that are available in many colors and varieties. Probably the best-known garnet variety is pyrope garnet, which is a deep red color. Pyrope garnets have been used as gemstones for centuries, since a large deposit was discovered in Bohemia around the 1500s. Pyrope stones are often very small, so any gems that weigh over 2 carats usually sell quickly. Large pyrope gems tend to be darker than lighter stones. Spessartite is an orange to red garnet that is often available in larger sizes, though unlike pyrope garnet, "eye clean" spessartite stones are rare. The most desirable spessartite color is reddish-orange with minimal brown tones. Both pyrope and spessartite garnets have an attractive vitreous luster and are durable enough for any jewelry application. They may be found in cabochons (especially spessartite) and carved gemstones (particularly pyrope), as well as faceted stones. For those who were born in January, garnet is their birthstone.
Tsavorite Garnet Gems
Tsavorite garnet is one of the most valuable garnet varieties, probably because there is only one source in the world for this rare garnet gem. Tsavorite was discovered by the late gemologist, Campbell Bridges in Tsavo National Park on the borders of Tanzania and Kenya. The story goes that Bridges ducked away from an angry buffalo and saw the green gems glinting in the light. Tsavorite garnet has a yellowish-green to deep bluish-green color. Like other garnets, tsavorite is an untreated gemstone that is suitable for any jewelry. It has a vitreous luster and "eye-clean" gems are available. Due to its value, tsavorite is usually cut into shapes which retain the most carat weight, such as ovals. The most highly prized tsavorites are a deep emerald green, however, they are not often found weighing over 1 carat. We have been fortunate enough to acquire some tsavorite gems weighing over one carat, but they may not be in stock for long.
Tourmaline Gems
Tourmaline is another untreated gemstone type which has many varieties and colors. Tourmaline is also one of the October birthstones, along with opal. A whole spectrum of color can be found in tourmaline gems, from pale pink and yellow to deep green, black, and many hues in between. Like garnet, tourmaline is a versatile jewelry gemstone, which can be used for statement pieces or set as accent stones. Both large and small tourmaline gems are easily available and affordable. Additionally, tourmaline is available in a wide variety of shapes and cutting styles, from round Portuguese-cut to octagonal scissor-cut gems. Some tourmaline varieties grow in elongated crystals, and thus are cut into long, narrow gemstones. Many tourmaline gemstones display more than one tone or color in a single stone. The most valuable varieties of tourmaline are paraiba tourmaline (a neon blue to green copper tourmaline) and rubellite (intense pinkish-red to violet tourmaline).
A rare pinkish-red spinel gemstone that formed part of the gemstone collection that belonged to Henry Philip Hope along with the Hope Diamond exceeded its pre-sale estimate when it achieved $1.47 million at Bonhams in London; a record price-per-carat for spinel. The 50-carat Hope Spinel is a rare pinkish-red, octagonal gem which is mounted in a pendant and surrounded by white diamonds. The gemstone was purchased by an anonymous telephone bidder.
An even more high profile gemstone is due to be auctioned by Sotheby's. The 12.02-carat "Blue Moon" diamond is expected to sell for at least $35 million in Geneva next month. The blue diamond was mined from Petra Diamonds' Cullinan Mine in South Africa. It is a cushion-shaped fancy blue diamond which was cut from a 29.62 piece of rough diamond and declared internally flawless by the GIA.
Every month we answer questions of general interest from our customers. Please feel free to send your questions or suggestions to our support team at help@gemselect.com!
Question
Hi, I'm having some trouble finding an eye clean hessonite garnet, can you help?
Answer
Yes, of course, we would be happy to help you select the gemstones with the best
clarity
. If you could let us know the sizes and shapes that you are interested in, we will help to inspect the gems to find you the best and most suitable. However, please be aware that hessonite is usually heavily included, and this can help to distinguish it from other gems, so the inclusions are part of the nature of the stone.
Question
Dear GemSelect, I love the color of emerald, but am looking for a cleaner gemstone. Is there anything else that you can recommend?
Answer
Yes, of course. There are several other
green gemstones
that may be suitable for you. One gem that has a beautiful emerald-green to forest-green color is chrome diopside.
Chrome diopside
is perfect for pendants and earrings, but is not recommended for everyday rings, since it lacks hardness. It can also be a little dark. On the other hand,
tsavorite garnet
is a stunning green gemstone that has the added advantage of good durability, making it suitable for all jewelry applications. When it comes to color, tsavorite is hard to beat. Both chrome diopside and tsavorite garnet are usually eye-clean gems, but are not usually available in large sizes. For large gems, green tourmaline is a good, affordable choice.
Green tourmaline
tends to be yellowish, but bluish-green gems are also available. Tourmaline is also durable enough for any jewelry type and is available in many different shapes and sizes.
We always welcome your questions, comments and feedback! For those who are interested in attending some gem and jewelry events, please see the details below.
Event Name
Jewelry Industry: Marketing Competitiveness
Location
Russian Federation
Venue
All-Russian Exhibition Centre, pr-t. Mira, 119, Moscow, Russian Federation
Venue
Tokyo Big Sight Exhibition Center, 3-11-1 Ariake, Koto-ku, Tokyo, Japan
Dates
October 1 - 3, 2015
Event Name
Aarhus Stone & Jewellery Fair
Venue
KHIF Hallen, Koltvej 43, 8361 Hasselager Aarhus, Denmark
Dates
October 3 - 4, 2015
Venue
John-F-Kennedy-Str. 9, Idar-Oberstein, Germany
Dates
October 3 - 5, 2015
Event Name
Madison Jewelry Expo
Venue
Marriott Madison West Hotel, 1313 John Q Hammons Dr, Middleton, WI, USA
Dates
October 4 - 5, 2015
Event Name
MidEast Watch & Jewellery Show
Venue
Expo Centre, Sharjah, UAE
Dates
October 6 - 10, 2015
Event Name
Shanghai World Jewelry Expo
Venue
Shanghai World Expo Exhibition & Convention Center (SWEECC), No. 1099 Guozhan Rd, Pudong District, Shanghai, China
Dates
October 8 - 11, 2015
Event Name
Gujarat Jewellery & Gem Fair
Venue
Ahmedabad University Ground, Navrangpura, Ahmedabad, Gujarat, India
Dates
October 10 - 12, 2015
Event Name
International Watch & Jewelry Guild Show
Venue
Hilton NY Brooklyn Bridge, New York, NY, USA
Dates
October 12 - 13, 2015
Event Name
Istanbul Jewelry Show
Venue
Istanbul Fair Center (CNR Expo), Halls 1-3, Yesilköy. 34149, Istanbul, Turkey
Dates
October 15 - 18, 2015
Event Name
Jewelers International Showcase
Venue
Miami Beach Convention Center, Booth 705, Miami Beach, FL, USA
Dates
October 15 - 18, 2015
Keep up with our new arrivals before they hit the newsletter by joining our thousands of fans and followers on our social networking pages. We love interacting with our customers - you can visit us on Tumblr, LinkedIn, Twitter, Facebook or Pinterest!
To ensure you can receive our emails, please be sure to add help@gemselect.com to your list of safe contacts, or you add us into your email address book! Please feel free to contact us with any questions, comments and queries! We respond to each and every email we receive.
Happy Gem Hunting!
Your friends at GemSelect