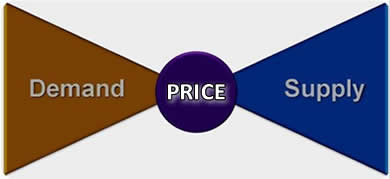 June 2009
In our newsletter this month:
• Gemstone Prices during Recession
• Rare and Unusual Gems
• Customer Questions
Gemstone Prices during Recession
The prices of many goods fall during periods of economic recession. Various factors contribute to declining prices, including falling consumer demand, liquidation sales and attempts to stimulate business through discounting. Depending on the severity of the economic downturn, the effect may be shortlived. In a protracted recession, such as Japan experienced in the 1990s, a nasty deflationary spiral can develop, where steadily falling prices lead consumers to delay purchases in the hope that they can buy the same goods in the future at a lower price.
Not all commodity prices fall during recession. While oil prices fell dramatically during the current recession, the price of gold has remained stubbornly high, even rising from the start of the global economic crisis in October 2008. This is not unusual in a recession, when speculators seek a safe haven in gold.
The high price of gold has certainly cut into jewelry sales, even leading some consumers to cash in their gold jewelry. Sales of luxury items such as jewelry are always slow during economic downturns, but the high price of precious metals has made times even tougher for many jewelers and jewelry designers.
Surprisingly, the gemstone trade has not suffered to the same degree. This is because the market for fine gemstones tends to be limited by supply, rather than demand. The demand for the finer stones always exceeds supply, and the better the stone, the more competition there is to buy it. Smart gem dealers put as much effort into establishing sources for good stones as they do to marketing their wares.
We are fortunate to have a diversified business, with customers in more than 90 countries. That has helped cushion the impact of the recession on our business. In fact, you may have noticed that we've actually increased our buying in these tough times while many other dealers are cutting back. For us it's an opportunity to buy special stones at good prices. We've been buying more calibrated pieces and more top-grade sapphires, including many unheated stones. We've also added substantially to our stock in aquamarine, spinel, tanzanite and spessartite garnet gems.
Few economists are brave enough to forecast an end to this recession. We're all hopeful that we might see some improvement by the end of the year. In the meantime we're taking advantage of the opportunity to buy some especially fine gems.
Rare and Unusual Gems
Each month we feature a rare and unusual gem from our inventory. This month we feature a rare flawless Paraiba tourmaline from Mozambique.

A rare vivid blue-green tourmaline was first discovered in the Brazililan state of Paraiba in 1989. Lab analysis showed the unusual color was due to the presence of copper and manganese. Market demand for these stones was so strong that the Brazilian mines were soon worked out. Fortunately similar material was discovered in Nigeria in 2001, and then in Mozambique in 2005.
The Mozambican material is regarded by many experts as the closest in color to the original Brazilian cuprian tourmaline. But where the Brazilian stones tended be heavily included, the Mozambique mines sometimes yield very clean specimens. The 2.21 carat trillion pictured above is the first Paraiba tourmaline we've found that is graded IF.
Customer Questions
Every month we answer questions of general interest from our customers. Please feel free to send your questions to help@gemselect.com.
Q:
I have heard that the sapphire from Kashmir is the best. Do you sell this sapphire? RG, Canada.
A:
Kashmir sapphire is indeed the most famous sapphire in the world. But it is extremely rare. New sapphire is rarely found in Kashmir, and in fact most of the material that exists was discovered more than 100 years ago. You will almost never see genuine Kashmir sapphire offered for sale; indeed they rarely appear even at the high end auctions.


Apart from its extreme rarity, Kashmir sapphire is valued for its intense cornflower blue and its silky sheen (due to rutile inclusions). You will sometimes find a similar color in the best sapphires from Ceylon, Burma and Madagascar.

Q:
How can I find the untreated stones on your website? I want to buy a blue sapphire that has not been treated in any way. Thank you. CY, Singapore.
A:
We have created pages where you can view just our unheated sapphires and our untreated gems in all varieties. Just click the links to visit the pages. Once you reach these pages you can use the blue pull-down menu to sort the gems by size, weight, color, shape and price.
A final note - if you send us email, please be assured that we answer all our email very promptly, 6 days per week. But we sometimes have problems with spam filters on the receiving end, so please adjust the settings on your email account so you can receive mail from help@gemselect.com.

Happy gem hunting,

Your friends at GemSelect
First Published: June-01-2009
Last Updated: October-29-2014
© 2005-2017 GemSelect.com all rights reserved.
Reproduction (text or graphics) without the express written consent of GemSelect.com (SETT Company Ltd.) is strictly prohibited.