GemSelect Newsletter - June 2007
In our newsletter this month:
A lot of the excitement in the international gem trade in the last 10 years has come from Madagascar. The size and scope of gem deposits there is still not well understood, but experts believe that Madagascar has some of the richest untapped gemstone resources in the world.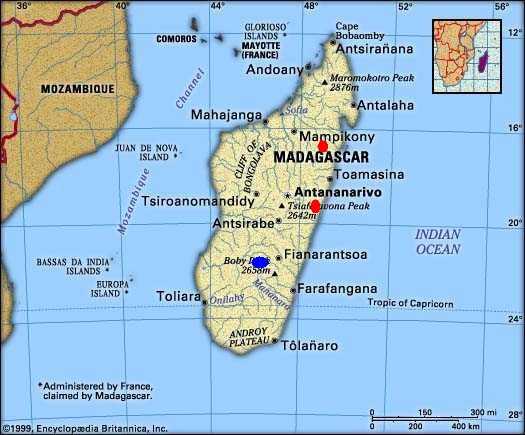 Map of Madagascar
Madagascar is a very large island (the 4th largest island in the world) located in the Indian Ocean about 400 km off the coast of Southeastern Africa. Formerly an independent kingdom, it became a French colony in 1886 and regained its independence in 1960. With a population of about 18 million, Madagascar remains one of the poorest countries in the world, largely due to a series of recent political crises that may now finally be ending.
Historically, Madagascar's economy has been dependent on agriculture (they are the largest exporter of vanilla in the world). The discovery of significant gem deposits is very recent. It began with some small finds in the southern part of the country in the early 1990s. But the enormous sapphire deposits discovered in 1998 in the tiny village of Ilakaka (see the blue dot on the map) came as a complete surprise and led to a kind of gemstone fever not unlike the gold rush in California in the mid-19th century.
Two important new ruby deposits in the east of the country - Vatomandry and Andilamena (see the red dots on the map) - have had a significant impact on the world's gemstone industry. The first Andilamena rubies were discovered in October 2000, but these were not transparent and appeared rather dark, requiring heat treatment to improve the color and remove the purple component. Better quality rubies were found in January 2001, and within 6 weeks there were nearly 40,000 miners working in the Andilamena area. Rubies from this region occur as well-formed tabular crystals (which average 0.5 of a gram or 2.5 carats each) with slightly rounded edges. Clean, attractive rubies showing fine deep red colors coming from this deposit are rare. However some superb examples have been mined weighing in at over 5 grams.
To date, a wide range of gemstones have been discovered in Madagascar; not only sapphire and ruby, but also tourmaline, aquamarine, emerald, garnet, chrysoberyl, alexandrite,topaz, andalusite, apatite, kyanite, zircon, amethyst and citrine.
Thus far, most of the Malagasy gemstones have been exported in rough form to Asia, where they are cut and sold on the world market. A significant percentage of this material passes through our home town of Chanthaburi, Thailand, so we see a good sample of the production. Our inventory at GemSelect currently includes a number of Madagascan gemstones, including sapphire, ruby, citrine, orthoclase, iolite, apatite, beryl and color-change garnet. We expect to see a great deal more in the years to come.
Our buyers are always busy searching for the best value gems for our customers. Here are some of the excellent buys we've made in the last few weeks:
Spinel from Tanzania and Burma: Burma has been the traditional source for fine spinel, but recently we've also bought some outstanding spinel from Tanzania. We have a wonderful range of colors, including red, pink, violet and cobalt blue, in very good sized pieces, a few as large as 4 carats. The clarity and luster of these are superb. Spinel lovers will be delighted.
Tsavorite Garnet from Tanzania: We've just received some new, fine tsavorite from Tanzania. These are brilliant vivid green pieces in sizes weighing up to 7 carats. Like all natural tsavorite, most have some slight inclusions, though we have a few rare pieces graded VVS. There is no gemstone except for fine emerald that can match the vivid green of tsavorite.
Color Change Sapphire from Africa: We have acquired two very fine pieces of rare color change sapphire. These appear violet or red depending on the lighting. Both pieces have VVS clarity; one weighs 1.94 carats and the other weighs 1.45 carats. These are quite exceptional gems.
Top Grade Rhodolite Garnet from Tanzania: We have bought a number of pieces of very high grade red rhodolite garnet from Tanzania. These have the pinkish purple-red that is most coveted in rhodolite, with excellent clarity and luster. All of the pieces are impressively large, with several weighing over 10 carats.
Ametrine from Bolivia: We've just added several dozen very fine pieces of violet golden ametrine. There are a nice variety of shapes in a range of practical sizes, at very affordable prices.
Tourmaline from Mozambique: In the last few months we've been buying some very fine Nigerian tourmaline. We have also just found some new tourmaline from Mozambique that is every bit as fine. These have terrific colors, including some wonderful pinks, in very good sizes, weighing mainly 2.5 to 4.3 carats.
Aquamarine from Mozambique: More exciting new gems from Mozambique! Some lovely aquamarine in delicate shades of blue and green. Aquamarine is a member of the beryl family along with emerald, and has excellent hardness. Thus it is suitable for all kinds of jewelry. There are a range of shapes available in gems weighing between 1.3 and 2.8 carats, with one stunning piece that weighs over 6 carats. Most of the pieces have VVS clarity.
Swiss Blue Topaz from Brazil: Recently we acquired some London blue topaz. We've now also added some very fine pieces in the brilliant lighter hue known as Swiss blue. Most pieces are in the 5 to 10 carat range, with a variety of shapes available.
Imperial Topaz Pairs from Brazil: This fine golden topaz has been incredibly popular in large sizes. This is the first time we've had matching pairs in small sizes, which are ideal for earrings.
Blue Star Sapphire from Thailand: This week we found some blue star sapphires at an excellent price. These have very well-defined stars and come in a range of sizes, weighing around 3 to 10 carats.
Concave Cut Smoky Quartz from Brazil: We always try to keep sufficient stock of the very popular smoky quartz. This week we bought some special smoky quartz in the brilliant concave cut. The curved facets of the concave cut return more light to the eye and the effect is quite remarkable. Many of these pieces are graded IF, so here's your chance to buy some of the finest smoky quartz available on the market.
Rutile Quartz from Brazil: We've added some rutile quartz to our inventory. Our first specimens of these fascinating gems sold out very quickly. In case you missed them, rutile quartz is transparent quartz with inclusions of golden rutile crystals in delicate patterns. Every piece is quite unique. A favorite with collectors.
Peridot from Burma: This week we found some wonderful Burmese peridot. These are a very lively green with excellent clarity and luster. We have a good selection of shapes, including round, oval, trillion and octagon, in a range of sizes.
Fluorite from Namibia: This is the best fluorite stock we've had in a long time, with many new pieces in green, blue, violet and bronze. There are an interesting range of cuts and shapes as well, with a number of pieces in the popular concave cut.
Spodumene from Afghanistan: Spodumene comes in a number of colors, including pink (known as kunzite) and green (known as hiddenite). The cream and yellow varieties are known simply as spodumene and we've recently purchased a number of interesting pieces at a very good price. If you're a collector, these are fairly rare, and have excellent color and clarity.
Chrome Diopside from Russia: We've just acquired a small number of pieces of exceptional chrome diopside in hard to find large sizes (2 to 5.6 carats). These rare pieces have outstanding color and clarity.
Each month our staff select some of their favorite gemstones from our inventory. This month we feature some rare and special gemstones from Tanzania that we acquired in the last few weeks.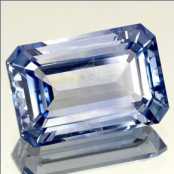 8.14-Ct VVS-VS Sapphire from Tanzania
This is one of the most exceptional sapphires we've bought in quite some time. It's remarkably large, weighing over 8 carats, and a rare light-blue that is extremely hard to find, but is much sought after by collectors. Its rarest aspect is that it is completely untreated. A fine untreated sapphire in this size and color is a very rare find.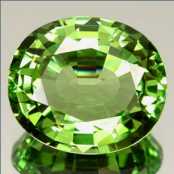 3.62-Ct VVS Tsavorite Garnet from Tanzania
We love the vivid green of tsavorite garnet and we buy it whenever we can find it. However, we usually find only small pieces, and virtually all the tsavorite on the market has inclusions. But this piece is the rare exception - it is both large and clean. If you've been looking for a really special tsavorite, this is the finest one we've found in many months.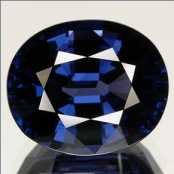 7.69-Ct VVS Spinel from Tanzania
As our long-time customers know, Burmese spinel is one of our specialties. We've just found a source for Tanzanian spinel and we've bought some outstanding pieces, especially in the rare cobalt blue hue. Among this lot were a few large pieces, including this stunning 7.69 carat marvel. It has amazing clarity, a beautiful luster and is very nicely cut. You will rarely see a fine spinel this large.
Each month we focus on one of the lesser-known gemstones. This month's featured stone is kunzite.

Kunzite
Kunzite is the pale pink or lilac variety of the mineral, spodumene. Kunzite was named as a tribute to George F. Kunz, the legendary American mineralogist and buyer for Tiffany & Co., who first described the gem in 1902. We told the fascinating story of George Kunz in our April 2007 newsletter. Kunzite is strongly pleochroic, meaning that there is a color intensity variation when a crystal is viewed from different angles.
Kunzite is colored by trace amounts of manganese and usually has a very pale and delicate color. The top and bottom of the crystal reveal the deepest colors and the cut has to take advantage of this. It is a reasonably hard gem, with a rating of 6.5 to 7 on the Mohs scale. Kunzite can often be found in large sizes, and we have had kunzite gems in our inventory weighing as much as 125 carats. Kunzite sources include Brazil, Afghanistan, Madagascar, Myanmar, Pakistan and the United States.
For more information see our kunzite info page.
Every month we answer questions of general interest from our customers. Please feel free to send your questions or suggestions to our support team at help@gemselect.com!
Question
I hope this isn't a silly question, but what exactly does "cabochon" mean? AR, New Zealand.
Answer
A cabochon is a stone that is cut with a highly polished rounded or convex top with no faceting, and a flat or slightly domed base. A cabochon may be cut in any shape, though oval is by far the most common. The term comes from the French caboche, meaning 'knob' or 'small dome'. Certain stones are almost always cut 'en cabochon', including opal, turquoise, onyx, moonstone and star sapphire. In the gemstone world you will often hear the term cabochon shortened to 'cab'.
Question
Why are some gemstones cut in facets and others as cabochons? Thanks! GS, USA.
Answer
The question is an interesting one because different gems are cut as cabs for different reasons. In many cases it is because the gem has special properties that are displayed only when it is cut as a cabochon. Examples are gems that display asterism (the star effect), chatoyancy (the cat's eye effect), iridesence (e.g., opal) or adularescence (e.g., moonstone). Most gems that are opaque rather than transparent are cut en cabochon rather than faceted. You will also see lower grade material in gemstones such as sapphire, ruby and garnet cut as cabs. If the gem material has very good color but is not sufficiently transparent or clean to be faceted, it can still be shaped and polished into a very attractive cabochon.
Keep up with our new arrivals before they hit the newsletter by joining our thousands of fans and followers on our social networking pages. We love interacting with our customers - you can visit us on Tumblr, LinkedIn, Twitter, Facebook or Pinterest!
To ensure you can receive our emails, please be sure to add help@gemselect.com to your list of safe contacts, or you add us into your email address book! Please feel free to contact us with any questions, comments and queries! We respond to each and every email we receive.
Happy Gem Hunting!
Your friends at GemSelect