Jaipur, Jewel in the Desert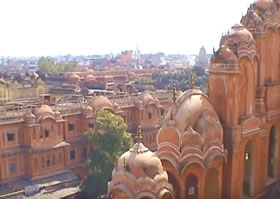 Jaipur, the Pink City from the Palace of the Winds
Jaipur is the capital of Rajasthan and the first planned city of India. It was built in 1727 by the Rajput ruler, Jai Singh II, who became the ruler at the tender age of eleven. He may have started young, but he is remembered as one of the greatest rulers who brought reform and development during his lifetime, the crowning glory of which is Jaipur.
For women, Jai Singh abolished the practice of sati, where a widow would sacrifice herself on her husband's funeral pyre. His contribution to astronomy was the construction of several observatories, including one that is still in working order in Jaipur. He also built Jaigarh Fort, which overlooks the Amber Fort and Palace and is home to the largest cannon on wheels, which can fire a cannonball a distance of 35 km. For many years, there was talk of treasure being held at the Fort and during Indira Ghandi's government, income tax officials held an extensive search of the premises in an attempt to confiscate the valuables, but it is unclear whether anything was found. According to rumors, the gold was hidden in giant water tanks in the Jaigargh Fort. A further fortification was built during Jai Singh's reign in the form of Nahargagh Fort (the "Tiger Fort"). Additionally, the City of Jaipur is nestled within protective walls that house a series of gates.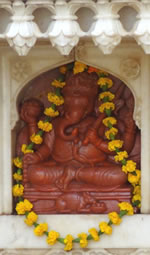 Shop for coral gems and carvings
The original capital was 11 kilometers outside the city in Amer (also called "Amber"); the UNESCO World Heritage Site of the Amber Fort and Palace. Jai Singh II moved the capital to Jaipur to accommodate the growing population and to allow the people better access to water. The Amber Fort is an incredible work of architecture, constructed from red sandstone and marble. It contains a carving of Ganesh made of a single piece of coral, two silver lions and a silver leaf door. The City Palace of Jaipur houses two giant sterling silver water urns, which carried holy Ganges water for Madho Singh to drink when he traveled to England for Edward VII's coronation in 1902. The huge urns stand at 1.6 meters tall and can hold 4000 liters of water each. They are the world's largest sterling silver vessels and were made from 14,000 silver coins.
Jaipur is known as the Pink City because of its distinctive pink buildings, which were decorated for the Prince of Wales's visit in 1876. Since then, the pink has stayed. One of the good things that Jai Singh II did for his region was to restore and develop the irrigation system for the city, bringing water to the semi-arid desert and turning the brown landscape green. However, it is not for this reason that Jaipur is sometimes referred to as the Emerald City; the gemstone industry has resulted in this affectionate nickname. When the city was constructed, Jai Singh II invited artists and craftsmen, including jewelers, to make their home in Jaipur and serve the royal family. This has resulted in Jaipur being an important center for colored gemstone processing and trade, particularly emeralds. Many of the emeralds from Brazil (Bahia) and Zambia pass through Jaipur.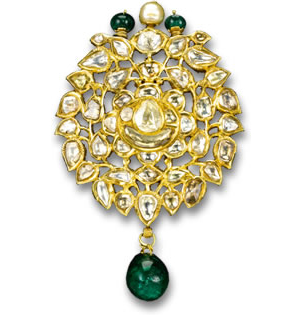 Traditional Kundan Pendant/Brooch with Diamonds, Pearl and Emeralds
Since the time of Jai Singh, gemstones have been cut, polished and set into jewelry in Jaipur and even now, there are a great deal of lapidaries and jewelry shops in the city. Gemstones from all over the world pass through this ancient place of artisans. The jewelry produced there is a blend of traditional and modern, including Indian pieces like meenakari (enamel work), kundan jewelry, modern jewelry, beaded bracelets and beaded necklaces. Some of the jewelers in Jaipur have ancestors who once produced jewelry for the royal family. Local businesses continue to create jewelry for customers all over the globe, such as Bill Clinton, Queen Elizabeth II and Oprah Winfrey, who come from far and wide to purchase the exquisite designs on offer.
Jaipur is a great city, built with both practical and aesthetic considerations. It continues to be a hive of activity and an important location with respect to the rich culture and history of India, and also the global colored gemstone and jewelry industry. Moreover, it is an attractive destination not only for gemstone and jewelry buyers, but also travelers who are drawn by the charms of the Pink City.