GemSelect Newsletter - Precious Treasure
Precious Pirate Treasure
Silver Aquamarine Pendant, Perfect for a Pirate
Ahoy me hearties! There is something romantic about pirates and buried treasure that excites our imagination, so since September 19th is "Talk Like a Pirate Day", we would like to dedicate this month's newsletter to the subject of precious treasure. Pirates are often romanticized, especially after the release of "Pirates of the Caribbean", in which Johnny Depp donned beads, silver rings and earrings à la Keith Richards, playing lovable rogue, Jack Sparrow. A jewelry gemstone that has long associations with safe water travel is aquamarine, which gets its name from the Latin term for seawater and was thought to dwell in mermaids' treasure chests. Aquamarine was also called "the sailor's lucky stone", making it perfect for pirate amulets. Pirate jewelry was not always for fashion alone; according to one source, the reason why pirates wore earrings was that they believed that applying pressure to the earlobe prevented seasickness.
The Golden Age of Piracy followed the discovery of the New World, bringing silver, gold and jewels across the Seven Seas. With global trade and travel came trade routes taken by ships, which were sometimes attacked by pirates in search of booty - not female posteriors, but valuable treasure. One of the most valued currencies during this time was "pieces of eight"; Spanish silver dollars.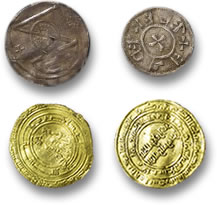 Silver Viking Coins and Gold Roman Coins
Pirates were not the only transporters of precious cargoes. The River Ribble near Preston, England is where one of the largest Viking treasure hoards was found during the Victorian era. The treasure trove comprised a large amount of silver coins, silver jewelry, ingots and other silver fragments. Some of the treasure from this hoard can now be seen in the British Museum.
A priceless sunken hoard of Roman gold coins was found more recently, in 2015, by scuba divers on the sea bed of the Caeserea National Park of Israel. Other items in the sunken hoard were ancient Roman bronze statues, a bronze lamp in the image of the sun god, Sol and a large green crystal.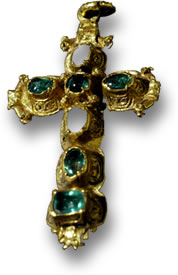 An Emerald and Gold Cross from the Nuestra Señora de Atocha
The Belitung shipwreck was an Arabian vessel found near Indonesia in 1998. The treasure hoard contained Tang Dynasty pieces, pearls, rubies and sapphires. The precious treasure was bought by the Singaporean government.
In the 15th century, the Spanish shipped great riches from South America to Europe. Some of these vessels did not make it. One flotilla of nine ships was caught in a hurricane in the Florida Straits and sank in 1622. One of the vessels, the Nuestra Señora de Atocha contained a cargo worth several hundred million dollars. It was discovered by former chicken farmer, Mel Fisher in 1985, after reading "Treasure Island" and searching for around 20 years. Along with silver, gold bars, pearls, a gemstone necklace and extremely long gold chains, were Colombian emeralds, including a 77.76-carat monster emerald crystal, a stunning emerald and gold ring, and a gold cross containing emerald cabochons. Some of the hoard was auctioned in New York City.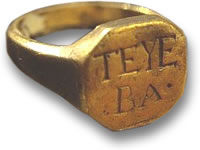 A Gold Ring from the Whydah Pirate Ship
The Whydah is a wrecked pirate ship, previously a slave ship sailed by Lawrence Prince. The ship was overpowered by Captain "Black Sam" Bellamy from Devonshire, England. The ship's bell was discovered in the sea off Cape Cod, Massachusetts in 1984, where it lay wrecked after a storm in 1717, with only two survivors. Despite being looted, the sunken cargo retrieved consisted of 180 bags of treasure, including chain necklaces, cuff links, pins, rings, belt buckles, Akan gold jewelry, silver, collar stays, and of course, coins (over 15,000 of them). The 1988 "finder's keepers" law of Massachusetts meant that the discoverer of the treasure after this time could keep it. The items found indicated that the pirate crew members of the Whydah were not Neanderthals, but old-world metrosexuals who enjoyed fashion and jewelry. The vessel looks like something out of "Pirates of the Caribbean".
Much sought-after "treasure" thought to have belonged to Scottish pirate, Captain Kidd, was found by a diver in Madagascar in 2015. Ironically, Captain Kidd was tasked with the job of hunting pirates, but became one of the most notorious pirates and the inspiration for Robert Louis Stevenson's "Treasure Island". The treasure consists of a large "silver" bar later revealed to be mostly lead. When Kidd was captured by the British and executed in 1701, the first two ropes used to hang him snapped. The hunt for his treasure continues.
Some believe that pirates were despicable anarchists, who stole others' hard-earned valuables and lacked moral fiber. It is said that one of the most feared pirates; Blackbeard, cut off ladies' fingers if they refused to give up their diamond rings. Like a true entrepreneur, Blackbeard sold his loot for less than market price. Yet, it is known that pirates offered African slaves better lives and risked death for a life on the high seas. It is believed that more sunken treasure has yet to be found. However, before you get your scuba gear and search for riches buried beneath the waves, be aware that a permit may be required, and treasure may be claimed by the government that has authority over the waters in which treasure is found, especially when it comes to military shipwrecks. Lastly, if you intend to go after pirate treasure, beware the curse of Blackbeard!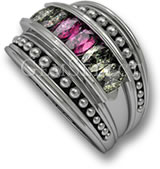 Multicolored Sapphire September Birthstone Ring
Since sapphire is the September birthstone, this month we are featuring one of our sapphire rings. The ring on the left is made with sterling silver and multicolored sapphires in a channel setting. This ring style is perfect for active ladies who do not like a high setting, such as a cathedral style. Moreover, the band-style is comfortable to wear. Sterling silver sapphire rings can be worn every day without worrying about wear and tear and GemSelect rings are designed to last, with sturdy settings, high quality metals and specially selected loose, natural gemstones. This sapphire ring would make a perfect gift for someone with a September birthday. Like our colored gemstones, what you see is what you get when it comes to GemSelect jewelry, meaning that the photos are of the actual items for sale.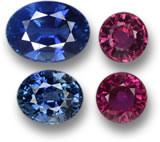 Unheated Ruby and Unheated Blue Sapphire
Also available this September are rare, untreated ruby accent stones and unheated sapphires, including blue sapphires. Unheated corundum (ruby and sapphire gemstones) is becoming harder and harder to find nowadays. Therefore, unheated ruby and sapphire are colored stones that should be purchased when available, since price per carat for such gem types is continually on the rise. Ruby and sapphire have been the most important red and blue colored gemstones for thousands of years, and are not likely to go out of fashion anytime soon. Ruby and sapphire are highly valued for their fabulous color, fantastic brilliance, great hardness and excellent durability. For those looking for larger natural rubies and sapphires, heat only ruby and heat only sapphire are also great options.
Color Change Garnet
There are several color-change gemstones, including color-change diaspore, color-change sapphire and color-change fluorite. Another rare and valuable color-change gemstone is color-change garnet, which occurs in various color change combinations, some of which are quite dramatic. The color-change garnet on the left is brownish green in daylight and changes to pinkish-orange in incandescent light. Color-change garnet also occurs in other colors, including red gems which change to green; brownish gems that change to rose pink; and even golden brown gems that shift to peachy orange. Color-change garnet is an untreated gem type that can be worn in everyday jewelry. To get the most magic out of color-change garnet jewelry, it should be admired in several different types of light, such as daylight, candlelight, early morning light, dusk and fluorescent light.
What could be the largest pearl in the world came to light at the end of August when a Filipino fisherman and his aunt handed it in to the Mayor of Puerto Princesa in Palawan Province of the Philippines. The 34 kg natural pearl, which has yet to be authenticicated, was found over ten years ago by the fisherman when his anchor was caught on the giant clam containing the precious treasure. Unaware of the value of his find, the fisherman kept the pearl under his bed and considered it a lucky charm that he touched before each fishing trip. Just to put the giant pearl into perspective, the largest recorded pearl is the Pearl of Lao Tzu, which weighs 6.4 kg.
A sapphire and diamond coronet worn by Queen Victoria of Britain has had a temporary export ban imposed to prevent it from leaving the UK if a British buyer cannot offer the £5 million asking price (before VAT). The royal coronet features 11 blue sapphires mounted in yellow gold and white diamonds mounted in silver. The iconic piece was designed by her husband, Prince Albert the year of their marriage and matched a sapphire and diamond brooch that Prince Albert gave her the day before the royal wedding. Queen Victoria wore the coronet in an 1842 official portrait by Franz Xaver Winterhalter.
Celebrity red carpet events usually bring the bling and the 2016 MTV VMAs were no exception. The stars who caught the most attention for their jewels were Beyoncé and her daughter Blue Ivy, who wore Lorraine Schwartz pieces estimated to be worth an astonishing $13 million. Beyoncé wore jewelry that included Paraiba tourmaline, emerald and pink diamond dangle earrings and a pink diamond ring. Her little girl didn't miss out on the jewels, with a beautiful Lorraine Schwartz tiara.
Every month we answer questions of general interest from our customers. Please feel free to send your questions or suggestions to our support team at help@gemselect.com!
Question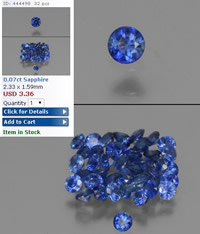 Buy By Quantity Gem Lot
I would like to buy only 2 gemstones, but the gem lot I like has 45 gems in it. Is it possible to split the lot or do I need to buy all 45 gems?
Answer
After many requests from our customers, we have now made it possible to split a lot and buy just 1 or 2 gems from a parcel. The picture on the right shows an example of a gem lot that can be split by quantity. At the moment, we can only offer this with newly stocked items, but we are working on adding this function to as many lots as possible. To find lots that can be split into a quantity of your choice, go to our
new arrivals
page, and then select the "lots" checkbox. You will see that such lots have a "quantity" field and the price showing for one gemstone. By clicking the arrow in the "piece" field, you can select the exact number of gems required and see the price adjust accordingly. For these lots, what you see is still what you get, since the photo shows all of the actual gems in the lot, and as with all other gems and jewelry for sale, stock photos are not used.
Question
I'm having a hard time finding untreated gemstones, can you recommend a supplier or do you carry them?
Answer
We do carry untreated gemstones and around 75% of our stock is completely untreated gemstones. This means gems that are not heated, chemically enhanced or impregnated. You may be surprised to know that we actually have more
untreated gems
than many specialist "untreated gem" suppliers!
We always welcome your questions, comments and feedback! For those who are interested in attending some gem and jewelry events, please see the details below.
Event Name
Japan Jewellery Fair 2016
Venue
Tokyo Big Sight Exhibition Center, 3-11-1 Ariake, Koto, Tokyo, Japan
Dates
September 1 - 3, 2016
Event Name
Bijorhca Paris
Venue
Paris Expo, 1 Place de la Porte de Varsailles, Paris, France
Dates
September 2 - 5, 2016
Event Name
VicenzaOro Fall
Venue
Vicenza Fairgrounds (Fiera di Vicenza S.p.A.), Via dell'Oreficeria 16 - 36100 Vicenza, Italy
Dates
September 3 - 7, 2016
Event Name
International Jewellery London
Venue
Olympia London, Hammersmith Road, Kensington, London, UK
Dates
September 4 - 6, 2016
Event Name
58th Bangkok Gems & Jewelry Fair
Venue
Impact Exhibition & Convention Center, Muang Tong Thani, Bangkok, Thailand
Dates
September 7 - 11, 2016
Venue
Juan Carlos I Exhibition Center, IFEMA, Feria de Madrid, Avda. del Partenon, 5, 28042, Madrid, Spain
Dates
September 7 - 11, 2016
Venue
Holiday Inn Palo Verde/Holidome, Tucson, AZ, USA
Dates
September 8 - 11, 2016
Event Name
September Hong Kong Jewellery & Gem Fair
Venue
Hong Kong Convention & Exhibition Centre and AsiaWorld Expo, Cheong Wing Road, Chek Lap Kok, Hong Kong
Dates
September 12 - 18, 2016
Event Name
International Fashion Jewelry & Accessories Show
Venue
Embassy Suites, 3974 NW S River Dr, Miami, FL, USA
Dates
September 14 - 18, 2016
Event Name
Reed Gift Fair
Venue
Sydney Convention & Exhibition Centre, Darling Dr, Darling Harbour, Sydney, NSW, Australia
Dates
September 17 - 20, 2016
Event Name
Delhi Jewellery & Gem Fair
Venue
Pragati Maidan, Mathura Road, Railway Colony, New Delhi, India
Keep up with our new arrivals before they hit the newsletter by joining our thousands of fans and followers on our social networking pages. We love interacting with our customers - you can visit us on Tumblr, LinkedIn, Twitter, Facebook or Pinterest!
To ensure you can receive our emails, please be sure to add help@gemselect.com to your list of safe contacts, or you add us into your email address book! Please feel free to contact us with any questions, comments and queries! We respond to each and every email we receive.
Happy Gem Hunting!
Your friends at GemSelect