GemSelect Newsletter - October 2007
In our newsletter this month: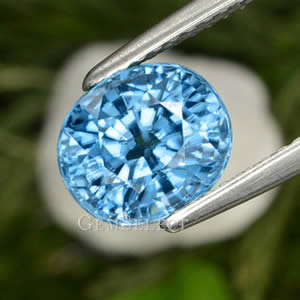 New Blue Zircon
As part of our continuing series of articles on understanding gem treatments, this month we look at heat treatment.
The heating of gemstones to enhance their color and clarity goes back centuries, probably beginning with the lucky fellow who accidentally dropped his valuable gem into a fire, only to discover the next day that the color had improved. It must have seemed like a kind of alchemy. Even today heat treatment of gemstones is a secret art that is known to very few.
Depending on the type of gem and the heating conditions, heat treatment can lighten or darken the color of a gem, remove certain color tones or improve clarity. Heat treatment is most commonly used with sapphire and ruby, but there are a number of other gem varieties that are enhanced by heat. These include zircon (blue and yellow), apatite, morganite, tanzanite and blue topaz (in combination with irradiation).
Heat treatment works by changing the nature of impurities in the gem material. These impurities are usually responsible for the color we associate with the gem. For example, a ruby containing a mere 1% or less of chromium will appear pink or red, but in the absence of chromium the pure corundum will be completely colorless.
Since the impurities in the stone typically react to heat at a lower temperature than the gem material, heat can be used to change the chemical state of the impurity without affecting the base gem material.
In some cases, heat treatment will improve the depth of color because heat causes dissolution of inclusions and diffusion of impurities (especially titanium from rutile inclusions) into the surrounding corundum. Since fine inclusions cause some stones to look cloudy, heat treatment that dissolves the inclusions may also improve the clarity of the stone.
The recipes for 'burning' gems are carefully guarded and there are many variables involved. Temperature is only one variable. Gems may be heated at temperatures as low as 100 degrees centigrade and as high as 2000 degrees (approaching the melting point of corundum). The amount of oxygen in the environment is also important; some gems are heated in a reducing (oxygen-free) atmosphere and others in an oxidizing atmosphere.
Heat treatment can generally be detected only by trained gemologists who look for changes in characteristic inclusions in gem material like corundum. On the basis of these observations, gemological labs will issue identification certificates that state "evidence of heat treatment is present" or words to that effect.
It is generally agreed that simple heat treatment of gemstones is stable and permanent. This is not surprising since the heat treatment mimics natural processes involved in the formation of gemstones in the earth. Since the success of heat treatment depends on the different melting points of impurities and the base gem material, heat treatment should not affect the gemstone material itself.
Our buyers are always busy searching for the best value gems for our customers. Here are some of the excellent buys we've made in the last few weeks:
Tanzanite from Tanzania: Tanzanite is becoming increasingly rare and expensive as supplies dwindle and demand continues to be very strong. So we rarely find good deals. But we've just acquired several dozen high quality pieces that we believe are excellent value at the price. These are mainly between 1 and 2 carats in a variety of shapes, with that medium to deep violet-blue that is characteristic of fine tanzanite.
Opal from Australia: Last week we bought some very nice opals from Australia, including some solid opals in small sizes, and some opal doublets in large sizes.
Citrine from Madagascar and Brazil: We always keep a good stock of citrine, and we recently bought some large pieces (weighing up to 30 carats) that make wonderful pendants. You'll also find some attractive matched pairs and some new lots of small gems.
Andesine Labradorite from The Congo: We've just acquired some high quality red andesine from Africa. Supplies of andesine from the Congo are quite recent, with the mineral found in a range of colors, including red, yellow, champagne and green. We've bought some lovely pieces in orange and red, with excellent luster.
Rutile Quartz from Brazil: Rutile (or rutilated) quartz is clear or smoky quartz with inclusions of rutile crystals. While most varieties of transparent quartz are valued most when they show no inclusions, rutilated quartz is valued specifically for the lovely patterns formed by the delicate golden needles of rutile inside it. We have just purchased a new lot of this fascinating gem and every piece is quite unique.
Blue Zircon from Cambodia: We have just bought some of the finest pieces of Cambodian blue zircon that we've found in a long time. Although we live very close to the Cambodian border, we do not see this very often. We have round pieces and emerald cuts in gems weighing up to 5 carats, as well as some lots of smaller pieces.
Kunzite from Afghanistan: We sold out of our previous stock of kunzite, but have since found a new source. We've just bought some first-rate pieces with excellent color saturation, in gems weighing up to 50 carats, and in a variety of shapes. We now have over 80 pieces of kunzite, probably one of the best selections you'll find anywhere.
Tourmaline from Mozambique and Nigeria: We are very active buyers of tourmaline and we add new pieces to our collection every week. We now have nearly 400 pieces of tourmaline in stock, in a huge variety of colors, shapes and sizes. We've recently added some stunning pieces in pink, orange and rose tones, with some pieces weighing as much as 10 carats.
Fluorite from Namibia: We have made many new additions of this colorful mineral to our inventory, including a number of interesting multicolor pieces and some lovely matching pairs.
Peridot from Burma and China: We've expanded our excellent selection of peridot with some stunning new pieces. Our new acquisitions include some interesting pairs and lots, in addition to our many large single pieces.
Ametrine from Bolivia: We've added many new pieces to our growing collection of this popular violet and golden gem. Our latest additions are mainly in the 2 to 6 carat range, with a nice selection of shapes. These are lovely pieces at a very affordable price.
Tsavorite Garnet from Tanzania: Some excellent tsavorite from Tanzania has recently appeared on the market, with top color and clarity. Some of our best buys were some wonderful matched pairs in cushion cuts. If you've always wanted tsavorite earrings, here is your chance to create a really stunning pair.
Spinel from Burma and Tanzania: We've recently found some of the finest spinel we have ever offered at GemSelect. We've bought a wonderful range of really outstanding colors, especially red, violet, blue and pink. There are some very-well cut pieces in large sizes (2-4 carats), and some first-rate matched pairs.
Apatite from Madagascar: We've just bought some new pieces of this hard-to-find gem, including some lovely light-green to forest green items that we haven't stocked before. A variety of shapes are available, in weights up to about 3.5 carats, including some matched pairs and lots.
Sphene from Sri Lanka: We have added some new pieces to our stock of this rare gemstone famous for its remarkable dispersion (fire). These are bright multicolor pieces in interesting shapes and cuts, weighing up to 4.5 carats.
Amethyst from Brazil: We've been finding some very good buys in Brazilian amethyst recently, including some excellent matching pairs in large sizes (up to 9 carats per pair). We also have a nice selection of cabochons in addition to our many faceted pieces.
Each month our staff select some of their favorite gemstones from our inventory. This month we feature some of the finest of our recent acquisitions. Click on the photos to go to the product pages.
Tanzanite from Tanzania
High quality tanzanite is in very short supply and prices are high. But we've recently bought a small lot of excellent pieces at reasonable prices. This lovely violet blue trillion is a good example. It has excellent color saturation, and is very clean and nicely cut.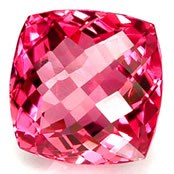 Tourmaline from Mozambique
We are seeing a lot of fine tourmaline coming out of Mozambique, with terrific colors in good sizes. This vivid pink-red cushion-shaped gem is a stunning piece, with extra brilliance from the checkerboard cut. At nearly 8 carats, this is not an inexpensive stone. But it is one of the nicest gems we've owned in this price range.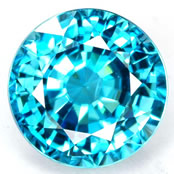 Zircon from Cambodia
In the last month we've been on a real zircon buying spree, since we've found some superb material in the market. We've been buying blue, orange and golden pieces, all with the characteristic brilliance and fire that make this gemstone so popular. This 4.4 ct blue gem is an unusually large piece for zircon and would make an outstanding ring stone.
Each month we focus on one of the lesser-known gemstones. This month's featured stone is andesine labradorite.

Andesine Labradorite from the Congo
There are fashions and trends in the gemstone world, and andesine is an unusual gem that has drawn tremendous interest in the past year. Gemologists have been particularly intrigued because red feldspar is extremely rare, and different stories have been told about the origin of this material. The original material in the market was identified as coming from the Democratic Republic of the Congo, but recently, similar feldspar said to be from Tibet has come on the market.
Adding to the slightly mysterious nature of this gem, it is variously known as andesine and labradorite, or as many people now call it, andesine labradorite. It is found in a range of colors, including red, yellow, champagne and green, but the red is the most valuable.
To see all our stock in this intriguing gemstone click here.
Every month we answer questions of general interest from our customers. Please feel free to send your questions or suggestions to our support team at help@gemselect.com!
Question
What does it mean when people say a gem is "windowed"? How can I tell if a gem has a window? Many thanks, AT, Australia.
Answer
In a well-cut faceted gem, the pavilion facets (those on the lower half of the stone) should reflect light back out of the top (table) of the stone. If the facets are cut below the critical angle for the particular material, light will pass right through the stone instead of being reflected back toward the eye. When this happens the gem will lack sparkle and brilliance. Try holding your gemstone over a piece of paper with some text on it. Look down through the table of the gem. If you can read the text through the gem, it has a window.
Question
How is the political turmoil in Burma affecting the gem trade in Thailand? Are you seeing any interruption in supply? PG, USA.
Answer
It is too soon to draw any conclusions about the impact of current events in Burma. Communications have been cut and border crossings with Thailand have been closed, but we don't know how long this will last. There is always a large supply of Burmese gems in Thailand at any given time, since most of them are cut and polished here. So any short-term interruptions in supply will probably not cause serious problems in the trade. We still have a good inventory of Burmese ruby, spinel, peridot, zircon and jade. At this point we worry more about the freedom of the Burmese people.
Keep up with our new arrivals before they hit the newsletter by joining our thousands of fans and followers on our social networking pages. We love interacting with our customers - you can visit us on Tumblr, LinkedIn, Twitter, Facebook or Pinterest!
To ensure you can receive our emails, please be sure to add help@gemselect.com to your list of safe contacts, or you add us into your email address book! Please feel free to contact us with any questions, comments and queries! We respond to each and every email we receive.
Happy Gem Hunting!
Your friends at GemSelect