GemSelect Newsletter - Gems from Mozambique
| | |
| --- | --- |
| | Gems from Mozambique - Garnet, Ruby, Tourmaline and Aquamarine |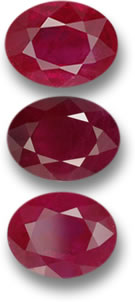 Mozambican Rubies
Recently, some exceptional rubies have been found in Mozambique, including a 40.23-carat ruby. Many gem traders travel from Thailand to Mozambique to tap into the ruby market there. Apart from ruby, there are several other gem types mined in this African country. Mozambique is one of the most exciting contemporary mining locations.
During and following Portuguese colonial rule until the early nineties, Mozambique suffered dreadful unrest. Although Mozambique was also struck by floods and subsequent drought, the economy has come a long way. Many Mozambicans continue to live in poverty, but the country is rapidly developing, partly thanks to beautiful tourist destinations and rich natural resources, including gemstones, which were not fully exploited until the mid-2000s.
The part of Mozambique where the main ruby mines are located is at a point between two important mineral-rich areas known as the Zambezi Belt and the Mozambique Belt. The Zambezi Belt stretches west from Northern Mozambique. The Mozambique Belt stretches southwest from Kenya to Namibia and includes Madagascar and Mozambique. The Mozambique Belt is the same geological formation that is responsible for gemstones from Kenya and Tanzania, such as tsavorite garnet and tanzanite. Most gem mining activity takes place in Northeastern Mozambique; the location of the Montepuez Ruby Mining Company in Cabo Delgado Province.
Mozambican rubies have a full range of colors and grades; some material is purplish-red like Burmese ruby and other material is brownish-red like Thai rubies. The pink material is defined as pink sapphire; both sapphire and ruby are corundum, ruby is red and all other colors are sapphire.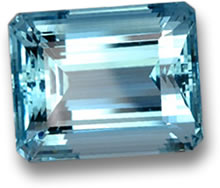 Mozambique Aquamarine
Some other gem types that are mined in Mozambique include aquamarine, emerald, garnet, morganite and tourmaline. Many of these are mined from the Alto Ligonha District of Zambezia Province, south of the Montepuez ruby mines. Mozambican aquamarine is sometimes referred to as "Santa Maria Afrique", after the famous Brazilian mine which produced intensely blue material. Similarly, the aquamarine from Mozambique is an intense and highly-prized blue color. Aquamarine is mined in the area of the northern border of Tanzania, near Tunduru, and in Madagascar. The aquamarine of Mozambique is a more recent discovery.
Emerald is a member of the same gem family as aquamarine; beryl. Mozambique's neighbor, Zambia is a well-known source for fine emeralds, particularly from the Kagem Emerald Mine. Some emerald is also mined from Zambezia Province of Mozambique. Emerald's sister stone; morganite, is a light-pink, peach-pink or violet-pink beryl gemstone which is also found in Zambezia Province of Mozambique. Morganite is actually rarer than emerald and aquamarine, and the morganite from Mozambique is considered to be of good quality. It is sometimes referred to as "Marropino morganite" indicating the source to be the Marropino Mine.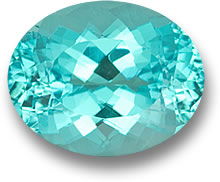 Paraiba Tourmaline from Mozambique
Among the most exciting gemstone discoveries in Mozambique is copper-bearing tourmaline that is referred to as "paraiba tourmaline" or "African Paraiba". Paraiba is the location in Brazil where the first discovery of this blue-green copper-bearing tourmaline (cuprian elbaite) was made around 2001 near Mavuco in Nampula Province. The term "paraiba" is now used as a trade name for similar copper-bearing tourmaline found in Nigeria and Mozambique. The Mozambican material is not a large deposit, so the tourmaline stones come at increasingly higher prices, as it becomes more and more scarce and mining overheads become greater. The African "paraiba" has a wider variation of colors than the Brazilian material and can be a little on the lighter colored side. Also, the African stones can be found in larger sizes than the Brazilian ones, which are rarely over 1 carat in weight. Another highly valued tourmaline variety that has been discovered in Mozambique is rubellite tourmaline; a valuable pink to red tourmaline variety.
As well as blue-green Paraiba and pinkish-red rubellite tourmaline, Mozambique is the source for many other colored tourmaline gems, such as medium to deep-green, blue, yellow, orange, golden brown, light-pink, black and bicolored tourmaline. There is almost a whole spectrum of tourmaline gemstones which are typically untreated and affordable.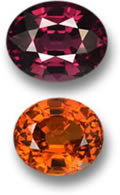 Mozambican Rhodolite and Spessartite
Garnets are found in several areas of Mozambique, especially in Cuamba District of Niassa Province, which is situated to the northeast of the Montepuez ruby mines, on the border with Tanzania. This is an important area for red rhodolite, pyrope and almandine garnets. Orange spessartite garnet is also mined from Mozambique. Spessartite was named after the Bavarian word for "forest" after it was found in a Bavarian mountain range in the 1880s. But this orange gem was rarely seen until deposits were discovered in Africa (Namibia, Nigeria and Mozambique) in the 1990s. In fact, the finest spessartite garnet used to be mined from Namibia, but most spessartite now comes from Mozambique. Several garnet varieties including almandine and spessartite have also been recently mined in nearby Malawi.
This month we have added many new gemstones to our inventory including aquamarine, sapphire and prehnite. If these do not excite you, we're sure that our blue topaz, tourmaline, kunzite, star moonstone and many other new additions will interest you. If you would like to see the best of the best, please check out our top grade gems.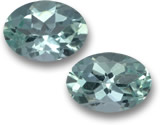 Oval Aquamarine Pair
We have acquired new stock of aquamarine in various shapes and sizes. For those who intend to make aquamarine jewelry suites or earrings, we have pairs and multi-gem lots, which are matched for size and color. The colors of aquamarine range from pale blue to greenish-blue, so if aquamarine gems are to be placed next to each other, it is important that their colors match well. Aquamarine is a beryl gemstone, therefore, it is closely related to emerald, which is colored by chromium. Aquamarine gets its color from traces of iron. The color of aquamarine is similar to the color of seawater, and is the reason for its name, which comes from an old Latin expression for seawater.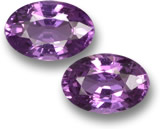 Oval Purple Sapphire Pair
Sapphire is one of the most popular jewelry gemstones, so we always try to keep a good selection in our inventory. We have added sapphire gems of many different colors, including many multicolored matched sets and pairs, as well as singles in pink, violet, green, yellow and blue. For those who like to create multicolored sapphire jewelry, fancy colored sapphire sets are ideal. Matching pairs are perfect for sapphire earrings or pendants. Sapphires are one of the most durable gemstone materials; they have no cleavage and a Mohs hardness of 9, so they are ideal for any jewelry application.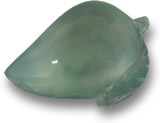 Prehnite Fruit Carving
Prehnite has sufficient hardness to be used in jewelry (6 - 6.5 on the Mohs scale), and is usually cut en cabochon or in faceted round gems. However, our recent acquisitions include some interesting prehnite carvings of leaves and fruit that are ideal for making unique pendants, earrings or fun cocktail rings. Prehnite used to be a collector's stone because of its rarity, but it has recently become more easily available due to new discoveries. Prehnite is a white to green translucent to transparent gemstone that is sometimes called "grape jade" in China because of the way it forms as nodules. Prehnite was first discovered in South Africa, and was the first mineral to be named after a person; Dutch mineralogist Colonel Hendrik von Prehn.
This year's Singapore JewelFest (SJF15) made an impact with a jewel-studded lingerie show, featuring pieces designed by Hans D Krieger Fine Jewellery and Esvara Viva, both in collaboration with Triumph. Two Victoria's Secret jewel-encrusted bras created by Mouawad from the 2014 Victoria's Secret runway show were also on display at the Singapore JewelFest 2015. Each of the fantasy bras are worth $2 million and contain thousands of rubies, diamonds and blue sapphires. These are not the most valuable fantasy bras made by Mouawad; the one worn by Heidi Klum in 2001 is worth an incredible $12.5 million.
The largest cushion-shaped fancy vivid pink diamond every to be auctioned is estimated to achieve between $23 and $28 million at Christie's Magnificent Jewels auction in Geneva on 10th November. The pink diamond weighs around 16.08 carats and is mounted in a platinum and gold ring surrounded by a double halo of white diamonds. The jewel is certified by the GIA to be "Fancy Vivid Pink" in color with a VVS2 clarity grade. Sotheby's Magnificent Jewels and Noble Jewels auction also to be held in Geneva in November will feature the Blue Moon Diamond; a 12.03-carat vivid blue diamond which is the largest cushion-shaped fancy vivid blue diamond to be auctioned. It is expected to achieve between $35 and $55 million.
A $10 million rare, blue star sapphire from Myanmar called the Star of Genesis attracted many gemstone enthusiasts to Singapore in October during the "Jewels of the Orient - An Exhibition of Rare Gems" show. The rare star gem not only displays asterism, but also changes color, from blue under white light, to violet under incandescent light. Additionally, the stone is unheated. Other exceptional jewels on show were lavender jade, fancy diamonds and tsavorite garnet.
| | | | |
| --- | --- | --- | --- |
| Event Name | Location | Venue | Dates |
| Mid-South Jewelry & Accessories Fair | USA | Memphis-Cook Convention Center, 255 N. Main St, Main Hall, Memphis, TN, USA | November 5 - 8, 2015 |
| Mineralis Berlin | Germany | Messe Berlin, Messedamm 22, 14055 Berlin, Germany | November 6 - 8, 2015 |
| China International Gold, Jewellery & Gem Fair | China | Shanghai World Expo Center, 1099 Guozhan Rd, Pudong, Shanghai, China | November 6 - 9, 2015 |
| Malaysia International Jewellery Festival 2015 | Malaysia | Kuala Lumpur Convention Centre (KLCC), Kuala Lumpur, Selangor, Malaysia | November 6 - 9, 2015 |
| Expominer | Spain | Hall 1, Montjuic, Exhibition Centre, Avinguda Reina Maria, Cristina, Barcelona, Spain | November 13 - 15, 2015 |
| West Coast Gem & Mineral Show - Fall | USA | Holiday Inn - Orange County Airport, 2726 S. Grand Ave., Santa Ana, California, USA | November 14 - 15, 2015 |
| Bijoux Expo Turkey | Turkey | Istanbul CNR Expo Center, Fuar Merkezi, 34830, Yesilkoy, Turkey | November 15 - 18, 2015 |
| International Watch & Jewelry Guild Show | USA | Hilton Miami Downtown, Miami, FL, USA | November 16 - 17, 2015 |
| Junwex Ekaterinburg | Russia | IEC Ekaterinburg-Expo, Expo Blvd 2, Ekaterinburg, Russia | November 19 - 22, 2015 |
| GTS Florida Jewelry & Accessories Expo | USA | Osceola Heritage Park, Kissimmee, FL, USA | November 21 - 23, 2015 |
| Taiwan Jewellery & Gem Fair | Taiwan | Taipei World Trade Center, Xinyi District, Taipei City, Taiwan | November 20 - 23, 2015 |
| Jewellery Arabia | Bahrain | Bahrain International Exhibition & Convention Centre, 158 Avenue 28, Sanabis 11644, Bahrain | November 24 - 28, 2015 |
| Hong Kong International Jewelry Manufacturers' Show (HKIJMS) | Hong Kong | Hall 1, Hong Kong Convention and Exhibition Centre, 1 Expo Drive, Wanchai, Hong Kong | November 26 - 29, 2015 |
Every month we answer questions of general interest from our customers. Please feel free to send your questions or suggestions to our support team at help@gemselect.com!
Q:
Hi GemSelect, can you explain the difference between "Rose de France" and other amethyst gemstones?
A:

"Rose de France" Amethyst

Yes, of course. The term, "Rose de France" is a trade name for a light shade of amethyst that looks somewhat similar to kunzite. Rose de France is lavender or lilac amethyst, which was popular in the 1920s and 30s, so the trade name is not used much these days. While traditionally, deeper purple amethyst often called "Siberian purple" is the most valuable and sought after, many people prefer the lighter colored amethyst gems. We carry a variety of amethyst from deep-purple to lighter amethyst gems that could be classified as "Rose de France", though we prefer to advertise them as "violet amethyst" rather than cause confusion with trade names.
Q:
Dear GemSelect, I ordered a color change diaspore gem with a gemstone report, but when I received it, the report only says "natural diaspore". Why is this?
A:
When it comes to color change diaspore, many gem labs will often only indicate "natural diaspore" on the report. This is because "diaspore" is the gemological name, whereas other names are used as trade names for this rare, gem quality aluminum oxide hydroxide mineral that is currently commercially mined only from Turkey. Therefore, if a gem is identified as being "natural diaspore", then it goes to say that it is color change diaspore. However, the degree of color change may vary from very slight to very dramatic. The best way to notice any color change effect is to view the gem many times under different light sources. For example, first look at the gemstone in daylight, and then use a candle or an incandescent light in a dark room. There are other gem types that have color change and non-color change varieties, such as garnet and sapphire.
We hope you found our topics interesting. Please feel free to send us your questions, comments or feedback!
Also, if you haven't already, be sure to join us on any one of our social networking pages. We love interacting with our customers - you can visit us on Tumblr, LinkedIn, Twitter, Facebook or Pinterest!
To ensure you can receive our emails, please be sure to add help@gemselect.com to your list of safe contacts, or you add us into your email address book! Please feel free to contact us with any questions, comments and queries! We respond to each and every email we receive.
Happy gem hunting!
Your friends at GemSelect
First Published: November-04-2015
Last Updated: March-08-2016
© 2005-2017 GemSelect.com all rights reserved.
Reproduction (text or graphics) without the express written consent of GemSelect.com (SETT Company Ltd.) is strictly prohibited.