GemSelect Newsletter - Gems for All
Faceted, Carved and Cabochon Gemstones for Under $50
Our quest to allow everyone to discover the beauty of natural gemstones and make these wonders of nature accessible to all budgets leads us to some stones that have a low price per carat. Some may be surprised at the diversity of gemstones that are available at very affordable prices, for example, $50 and less. Most people prefer stones in the 2-3 carat range, therefore, a price-per-carat of $25 and less means that a single stone will have a price point of around $50. Gemstones for this budget range from pastel to vivid colors, from opaque to transparent stones, and from carved to faceted gems.
One of the wonderful things about low price per carat gems is that they are often found in innovative cuts and shapes that will not be seen in pricier stones. This is because less valuable material leaves room for experimentation, which is expressed by creative cutting. Thus, popular Asscher cuts and unique shield shapes are seen in abundance in quartz gemstones. For suggestions on affordable jewelry gemstones, please read on.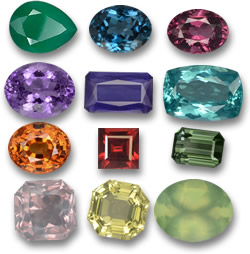 Inexpensive Faceted Gemstones
For those who are looking for faceted gems with a rich burst of color, there are many stones to choose from at affordable prices. For oversized jewelry projects, emerald-green agate stones and lemon-yellow quartz are perfect options. Other statement-sized faceted gems include large golden yellow citrine and purple amethyst gems. Large, vivid blue topaz gems are just as eye-catching and are ideal for cocktail rings, earrings and oversized pendants. In darker blue and violet colors, iolite is a great choice that costs a great deal less than blue sapphire or tanzanite, though 0.5-carat tanzanite gems can be bought for under $25. In the smaller sizes, red garnets and bright orange spessartite garnets add a perfect pop of fiery color. The stunning blue-green color of Paraiba tourmaline can be found at a fraction of the cost with blue-green apatite, which is available in many different sizes. While Paraiba and rubellite tourmaline gems come at a high price, there are many other tourmaline colors that can be acquired for much lower budgets.
In the more gentle colors, large white quartz and neutral smoky quartz gems are great, affordable suggestions, as well as pastel pink rose quartz and soft green green prehnite gems. Though prehnite is not related to rose quartz, it appears like a green equivalent with its translucency. Beautiful bicolor ametrine with its interesting mix of amethyst and citrine in one gem is a little rarer, but still very affordable. Cool white and pastel blue topaz gems are on offer for a similar price. Zircon gems are an alternative that are available in brilliant white, neutral and pink colors.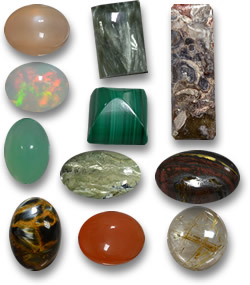 Affordable Cabochon Gemstones
With regard to affordable, bold colored cabochons, once again, in the larger sizes there is purple amethyst, green agate, blue topaz and citrine. However, when it comes to translucent to opaque cabochon gems, the possibilities are almost endless. Just some of these include orange to red carnelian, moonstone, green chrysoprase and malachite. Also, there are many beautiful but affordable blue cabochons, such as the well-known lapis lazuli and turquoise, and the lesser-known hemimorphite and sodalite. Unique multicolored stones, such as jasper and green serpentine are great for inexpensive jewelry, as well as tiger's eye matrix (also sold as "tiger's iron"), which has interesting streaks and swirls of yellow and red. Red and green ruby-zoisite is a uniquely contrasting gem type that is often carved or cut en cabochon, and has varying amounts of pink to red and green, with black inclusions, so no two gems are alike. Furthermore, all of these are all just a couple of dollars per carat.
When it comes to pastel-colored cabochon gemstones, jasper and agate gemstones are often seen in masculine, feminine and neutral soft colors. Some popular pastel stones are lavender chalcedony, rose quartz, lemon quartz and moonstone. An alternative pink stone with interesting banding is rhodochrosite. Some may be surprised to learn that pastel jadeite is an inexpensive gem, which can be acquired at very different prices than that of extremely valuable emerald-green imperial jadeite. Larimar is a dreamy cabochon gemstone that occurs in robin's egg blue, green and white. Though Larimar is only found in the Dominican Republic, it is very reasonably priced. For those who like interesting optical phenomena, silvery-green seraphinite is a distinctive cabochon gemstone with shimmering feathery chatoyancy compared to angels' wings. All of these pastel-colored cabochons sell for less than $10 per carat, making them accessible to all budgets.
This is not a complete account of all the affordable natural gemstones we have in stock. Incredibly, out of 130 available gem types in our online inventory, more than half of these gem types can be purchased for under $25, and many more for $50 or less. Thus, natural colored gemstones are definitely within the reach of any jewelry lover or gemstone collector. Whether you are in the mood for something new or if you are looking for alternatives to prohibitively-priced gemstones such as white diamond and Paraiba tourmaline, it is worth considering some of the more affordable stones that look incredible, but do not cost the earth to acquire.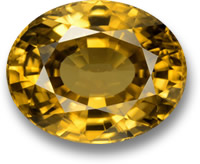 22-Carat Golden Zircon Gemstone
This pre-certified golden zircon gem may be too pricey for many, but we would like to share its beauty with you. Zircon is a natural gemstone that occurs in many colors, one of them golden yellow. This stone has a phenomenal color, weighs 22.8 carats and has excellent clarity. Zircon gemstones are not only beautiful, but have some interesting qualities. For example, they have such a high level of birefringence that they can look a little fuzzy in photos because of facet doubling. While white zircon is a popular diamond substitute because of its high dispersion and refractive index, colored zircon is more valuable, especially blue zircon.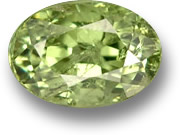 Namibian Demantoid Garnet Gem
One of the birthstones for January, demantoid garnet, is a green variety of andradite that was first found in Russia. Like zircon, demantoid garnet exhibits great brilliance because of its high refractive index, and a higher dispersion than diamond means that its fire is highly-prized. One of the rarest and most valuable garnet varieties, most demantoid garnet gems are small, but incredibly striking. Like many colored gemstones, the clarity of demantoid garnet is not always the main concern; in fact, rare Russian demantoid garnet gems with horsetail-shaped inclusions are highly-valued.
Round Carnelian Cabochon
Carnelian is a red-orange to brownish-red member of the large and varied quartz gemstone group and has been used as a jewelry gemstone for over 4000 years. Thus, it is not surprising that some important historical and religious figures wore carnelian gemstone jewelry, whether for decorative purposes or for protection and luck. This reddish gemstone is thought to have acquired its name from the cornel cherry due to the similarity in color. Carnelian gemstones may be translucent or opaque and are usually cut as cabochons or carved. The hardness and durability of carnelian makes it perfect for lasting rings, earrings and pendants.
Rare colored gemstones including the Juliet Pink Diamond, the Argyle Violet Diamond and a Victorian Orchid Diamond are on display at the Los Angeles County Natural History Museum until March 19 2017 in an exhibition called "Diamonds: Rare Brilliance". Not only can exhibition visitors get the opportunity to see rare fancy diamonds, but they can also learn interesting facts about these beautiful wonders of nature.
With Pantone's announcement of the color of 2017 to be a yellowish-green color called "Greenery", green gemstones like peridot could experience a rise in popularity. The color corporation recently unveiled the refreshing and natural green color that various gemstones can be found in, such as peridot, tsavorite garnet, tourmaline and sapphire.
Scientists have discovered a way of using the smallest possible pieces of diamond (diamondoids) to produce electrical wires that measure just 3 atoms across. Gemstone materials have many industrial uses and this new method allows diamondoids to bond by themselves to make nanowires.
Every month we answer questions of general interest from our customers. Please feel free to send your questions or suggestions to our support team at help@gemselect.com!
Question
Good day, I am looking for a deep red transparent gemstone, but not a ruby, do you have any suggestions?
Answer
Probably one of the most affordable choices is garnet.
Red garnet gems
include pyrope garnet, almandine garnet and rhodolite garnet, along with a few more that are reddish. Garnet gemstones are extremely durable and one of the most popular red gemstones. Another great choice is red spinel, though this is a lot rarer and will require a higher budget. For jewelry that will not be exposed to everyday wear and tear,
red zircon
is an attractive choice. To read more about red colored gemstones, please view our article about
red gems for jewelry
which goes into further detail.
Question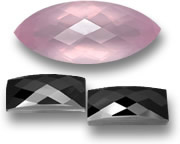 Marquise Checkerboard-Cut Rose Quartz and Rose-Cut Black Spinel
Hi, Could you please tell me the difference between a checkerboard cut and a rose cut gemstone?
Answer
Checkerboard-cut gemstones
have diamond-shaped facets, usually on the crown, where rose-cut gemstones have flat bottoms and faceted crowns. A
rose-cut
gemstone can also be checkerboard-cut on the crown, or it may have different-shaped facets. Checkerboard-cut gems have various shapes; for example, round checkerboard-cut gems, oval checkerboard-cut gems and heart-shaped checkerboard-cut gems. Gemstones that are often given a checkerboard cut include black spinel, black tourmaline, smoky quartz, citrine and ametrine.
We always welcome your questions, comments and feedback! For those who are interested in attending some gem and jewelry events, please see the details below.
Event Name
TrendSet Winter 2017
Venue
New Munich Trade Fair Centre, Messegelande, 81823, Munich, Germany
Dates
January 4 - 6, 2017
Venue
Sonoma County Fairgrounds, 1350 Bennett Valley Rd, Santa Rosa, CA, USA
Dates
January 6 - 8, 2017
Event Name
Malaysia International Jewellery Fair
Venue
Kuala Lumpur Convention Centre, Stall 7, Jalan Pinang, Kuala Lumpur, Malaysia
Dates
January 6 - 9, 2017
Event Name
Accessories The Show
Venue
Jacob K. Javits Convention Center, 655 W 34th St, New York, NY, USA
Dates
January 8 - 10, 2017
Event Name
Bangkok Gems & Jewelry Fair
Venue
Impact Exhibition & Convention Center, Muang Thong Thani, Bangkok, Thailand
Dates
January 12 - 15, 2017
Event Name
The Whole Bead Show
Venue
The Blaisdell Center, 777 Ward Ave, Honolulu, HI, USA
Dates
January 13 - 15, 2017
Event Name
American Made Show: Buyers Market of American Craft
Venue
World Trade Center, 2100 Stemmons Freeway, Dallas, TX, USA
Dates
January 19 - 22, 2017
Event Name
Bijorhca Paris
Venue
Paris Expo Porte de Versailles, 1 Place de la Porte de Versailles, Paris, France
Dates
January 20 - 23, 2017
Event Name
VicenzaOro Winter
Venue
Vicena Fairgrounds, Fiera di Vicenza, Via dell'Oreficeria 16, Vicenza, Italy
Dates
January 20 - 25, 2017
Event Name
Showcase Ireland
Venue
RDS Ballsbridge, 5 Anglesea Rd, Dublin, Ireland
Dates
January 22 - 25, 2017
Event Name
International Jewellery Tokyo 2017
Venue
Tokyo Big Sight, 3-11-1 Ariake, Koto-ku, Tokyo, Japan
Dates
January 23 - 26, 2017
Keep up with our new arrivals before they hit the newsletter by joining our thousands of fans and followers on our social networking pages. We love interacting with our customers - you can visit us on Tumblr, LinkedIn, Twitter, Facebook or Pinterest!
To ensure you can receive our emails, please be sure to add help@gemselect.com to your list of safe contacts, or you add us into your email address book! Please feel free to contact us with any questions, comments and queries! We respond to each and every email we receive.
Happy Gem Hunting!
Your friends at GemSelect
First Published: December-28-2016
Last Updated: June-13-2017
© 2005-2021 GemSelect.com all rights reserved.
Reproduction (text or graphics) without the express written consent of GemSelect.com (SETT Company Ltd.) is strictly prohibited.