GemSelect Newsletter - The Artistry of Jewelry
Jewelry as an Art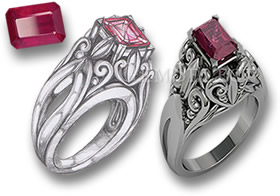 GemSelect Ruby Ring Design Process
For many years, our loyal customers have been asking us about supplying not only natural gemstones, but also finished jewelry. Therefore, as promised, we have been busily preparing our new gemstone jewelry products and are now ready to officially offer some GemSelect jewelry signature pieces.
Many people do not realize the artistry that goes into producing just one unique piece of jewelry. From the inspiration to the finished product, a great deal of work is involved. For something to be an art, it requires the use of both imagination and skill; therefore, jewelry could easily be defined as a form of art. While many people are able to produce a drawing or painting, jewelry requires several different special skills and various processes before a finished piece is ready to wear.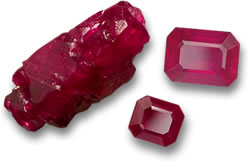 Rough and Faceted Ruby Gemstones
Before even making a piece of jewelry, a rough piece of mineral is taken and worked until a brilliant and finely faceted gemstone is revealed. This alone requires skill and precision, and could be considered to be an art when done by hand, rather than machinery alone. Cutting gemstones often involves orienting the stone to bring out the best color, brilliance and other qualities, such as optical phenomena, which are best displayed in well-cut gems. Examples of this are play of color in opal, star and cat's eyes and iridescence. Some of these things are not even seen if the gemstone is badly cut. Furthermore, the imagination leads the lapidarist to envision the final gemstone and decide which shape and cutting style would have the best outcome.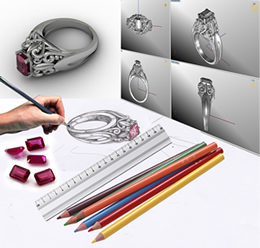 The GemSelect Jewelry Design Process
When the gemstone has been cut and polished, it is brought to the jewelry designer, who uses it as a guide for the imagination. The loose gemstone helps to excite inspiration and elicit creativity. The shape, cut and color of the gemstone enables the designer to contemplate a complementary form that the jewelry will take, while considering practicalities, such as structure and durability. The designer will often brainstorm several ideas until the best way to showcase the gem has been discovered. When a pleasing design has emerged, preliminary sketches are made, after which a precise 3D image of the design to a standard ring size and exact setting that will fit the gemstone is produced. Thus it is evident that an accomplished jewelry designer will possess both artistic flair and technical skills.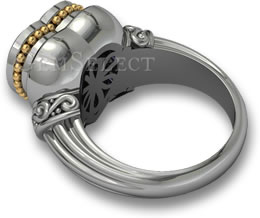 GemSelect Silver Ring with Rhodium Plating and Gold Detail
After the design has been created, the metal must be transformed from a lump of solid material into a beautiful but sturdy mount that caresses the gem and exhibits its natural beauty. The precious metal often has detailed embellishments that must also be strong enough to withstand the casting process and become a lasting ring, pendant, earrings or another jewelry item. Plating, such as rhodium can be added to provide protection from scratches and ornamentation. Finally, the center stone and accent stones come together with the metal as they are set into the piece before the single work of wearable art is checked for flaws. The work of the jeweler is presented to the public by the wearer. Whether jewelry is bought as a gift or not, it will be enjoyed exclusively by one, individual owner.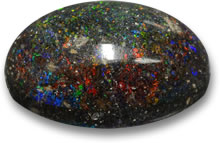 Opal in Matrix Cabochon
One of our brand new arrivals and a new gem in our inventory is opal in matrix (or "matrix opal"). Opal in matrix is similar to boulder opal, but rather than the precious opal being in a seam, it is in random fragments, giving it spots of color play. Precious opal forms in tiny fissures of the host rock, causing the unique look of opal in matrix. Its dark body color makes it suitable for ladies' or men's jewelry. Opals are quite delicate gems, but because of the way opal in matrix is interspersed in the host rock, these stones are strong and durable.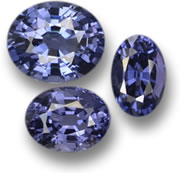 Blue Spinel Gems
The official birthstone for August is peridot, but a recent addition to the August birthstone list is spinel. With spinel, there is something for everyone's taste, from pale pink gems to blue, purple, red and black spinel. Spinel is a hard, durable and brilliant gemstone that is ideal for any kind of jewelry. Some of our new spinel gems include some beautiful blue and violet spinel. As you can see from the gems on the right, blue spinel can rival fine sapphire and comes at a fraction of the cost. Indeed, spinel used to be known as "Balas ruby" because of its resemblance to fine ruby, and has been mistaken for ruby many times. Furthermore, spinel is an untreated gem that is favored by some for its soothing properties.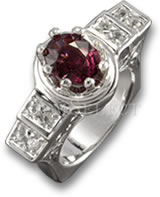 Silver Rhodolite Garnet Ring
Due to a high demand from our customers over the years, we have started to design some of our very own GemSelect jewelry, with a view to producing unique, custom-designed jewelry in the near future. When producing jewelry, our own natural gemstones are chosen to feature in GemSelect designs, such as this special silver rhodolite garnet and white sapphire ring. This in-house designer ring features a Tanzanian 2.84-carat raspberry-red rhodolite garnet along with 8 white sapphire accent stones set into sterling silver. This piece has a one-of-a-kind design that is not mass-produced and will not be found in a jewelry store elsewhere. GemSelect jewelry is produced in-house, from stone selection to setting, to ensure high quality. Each ready-to-wear ring has a free resizing option, which takes 1-2 business days.
Treasure hunters have been searching the Rocky Mountains with the hope of finding a treasure chest allegedly hidden by retired art dealer, Forrest Fenn, with the aim of getting people off their couches and offering an opportunity for the discoverer to become wealthy. One unfortunate hiker's remains were recently found in New Mexico, seven months after he set off in search of the hoard. Randy Bilyeu perished while searching for the treasure trove full of gold and gemstones including sapphires, jade and rubies, said to be worth around $2 million dollars. Forrest Fenn spent childhood days looking for agates in Yellowstone National Park and later amassed an enviable collection of jewels. He published a poem which provides clues for treasure hunters who have been searching in their thousands.
A lucky 9-year-old girl from Missouri found a 1.53-carat white diamond at the Crater of Diamonds State Park in Arkansas last month. Grace Houston, who intends to become a geologist, was searching for diamonds for a second day with her grandmother during a sizzling heatwave when she came across the diamond. Her family had surprised her with a visit to the park as a way of encouraging her interest in geology. In true rock hound style, she intends to keep the diamond as it is, rather than have it made into a ring. Just a few months before this, another lucky Missouri visitor to the park, Gail Husdon, found a brown diamond weighing 1.8 carats in the first five minutes of her search.
Every month we answer questions of general interest from our customers. Please feel free to send your questions or suggestions to our support team at help@gemselect.com!
Question
Pink Kunzite Gemstone
I really love kunzite, but people tell me that it fades in sunlight. Does this mean that it will gradually fade to completely clear after I wear it?
Answer
Kunzite
is known to fade, so it is considered to be an "evening stone". It is difficult to say exactly how much a kunzite gem will fade over time and how long it will take to fade. It will depend on how saturated the color is and whether it has been treated or not. Kunzite stones that are treated to enhance color are more likely to fade than untreated stones. However, fading is usually caused by prolonged exposure to direct sunlight and happens very slowly; usually over years. If you like
kunzite
and worry that it will lose its color, it is worth taking into account the amount of time you spend in the sun. If you are someone who spends a lot of time outdoors and enjoys sunbathing, it is a good idea to reserve it for evening and indoor wear. Another tip is to store kunzite gems in a closed jewelry box.
Question
What is the most popular alternative to diamond and how does it compare?
Answer
With regard to natural gemstones,
white sapphire
is the most popular diamond alternative. With its beauty, high level of brilliance, durability and great hardness, sapphire is hard to beat. White sapphire is versatile, which means it is often used for both side stones and center stones, particularly for bridal jewelry. While sapphire is not quite as hard as diamond, it has the benefit of a lack of cleavage, meaning that it is not likely to split, where
diamond
can be cleaved by a single blow. This means that sapphire can be worn in any jewelry setting. Diamond has a superlative adamantine luster, where sapphire luster is vitreous. Finally, sapphire is a little denser than diamond, so it is important to buy sapphire gems by size rather than by carat weight.
We always welcome your questions, comments and feedback! For those who are interested in attending some gem and jewelry events, please see the details below.
Event Name
India International Jewellery Show 2016
Venue
Bombay Convention & Exhibition Centre (BEC), Goregaon (E), Mumbai, India
Event Name
Dallas Summer Bead & Jewelry Show
Venue
Grapevine Convention Center, 1209 S Main St, Grapevine, TX, USA
Event Name
Malaysia International Jewellery Fair (MIJF) 2016
Venue
Kuala Lumpur Convention Center, Stall 7, Jalan Pinang, Kuala Lumpur, Malaysia
Event Name
Atlanta Jewelry Show
Venue
Cobb Galleria Centre, 9 Lobby, 2 Galleria Pkwy SE, Atlanta, GA, USA
Event Name
Reed Gift Fair
Venue
Melbourne Convention & Exhibition Centre (MCEC) and Melbourne Showgrounds (MSG), Melbourne, Australia
Dates
August 6 - 10, 2016
Event Name
Australian Opal Exhibition
Venue
QT Gold Coast Hotel, 7 Staghorn Ave, Gold Coast, QLD, Australia
Dates
August 11 - 12, 2016
Event Name
East Coast Gem, Mineral & Fossil Show
Venue
Eastern States Exposition, 1305 Memorial Ave, West Springfield, MA, USA
Dates
August 12 - 14, 2016
Event Name
Ambermart 2016
Venue
AmberExpo Convention & Exhibition Centre, Stadion Energa Gdansk, 11 Zaglowa St, Gdansk, Poland
Dates
August 25 - 27, 2016
Venue
Messe Frankfurt Exhibition GmbH, Ludwig-Erhard-Anlage 1, 60327, Frankfurt am Main, Frankfurt, Germany
Dates
August 27 - 30, 2016
Event Name
International Watch & Jewelry Guild Show
Venue
Hyatt Regency, Long Beach, Los Angeles, CA, USA
Dates
August 29 - 30, 2016
Keep up with our new arrivals before they hit the newsletter by joining our thousands of fans and followers on our social networking pages. We love interacting with our customers - you can visit us on Tumblr, LinkedIn, Twitter, Facebook or Pinterest!
To ensure you can receive our emails, please be sure to add help@gemselect.com to your list of safe contacts, or you add us into your email address book! Please feel free to contact us with any questions, comments and queries! We respond to each and every email we receive.
Happy Gem Hunting!
Your friends at GemSelect
First Published: July-29-2016
Last Updated: June-14-2017
© 2005-2021 GemSelect.com all rights reserved.
Reproduction (text or graphics) without the express written consent of GemSelect.com (SETT Company Ltd.) is strictly prohibited.