Frequently Asked Questions (FAQ) / Gems With the Most Brilliance and Fire
Is there a Difference Between Brilliance and Luster in Gemstones?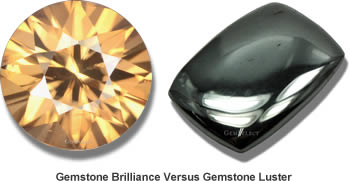 Brilliance, fire and luster have loose meanings in everyday language, but they are technical terms in gemology. Brilliance refers to the light reflected back to the eye from the interior of a gem. Thus only transparent gemstones can be said to exhibit brilliance, particularly those that have faceted-cut. Luster, on the other hand, refers to the light reflected from a gemtone's surface. Brilliance is graded from low to high, but luster is usually described in terms such as vitreous (glass-like), adamantine (diamond-like), silky, resinous and greasy (jade and opal). Pearls and gemstone cabochons are often graded by their luster, while faceted gemstones are often graded by their brilliance (in addition to color). View our refractive index chart to see which gemstones exhibit the most brilliance. Read more about gemstone brilliance, luster and fire and in our in-depth article.
STAY IN TOUCH
*You're signing up to receive GemSelect promotional email.
Privacy Notice © 2005-2023 GemSelect.com all rights reserved.
Reproduction (text or graphics) without the express written consent of GemSelect.com (SETT Company Ltd.) is strictly prohibited.
810
Popular Gemstones

All Gemstones (145)

Main Categories

| | |
| --- | --- |
| | Drilled Gems, Briolettes and Beads |
English speaking customer support only
Toll Free - USA & Canada only:
1-800-464-1640

International:
+66-39609697
Save Money
No shipping Fees for Additional Items!
$8.90 Worldwide Shipping
Size and Weight
Gems are always measured in Millimeter (mm)
Dimensions are given as;
length x width x depth,
except for round stones which are;
diameter x depth
Select gems by size, not by weight!
Gem varieties vary in density, so carat weight is not a good indication of size
Note: 1ct = 0.2g