GemSelect Newsletter - August 2007
In our newsletter this month: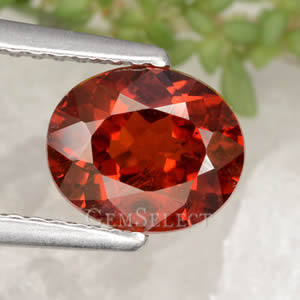 Spessartite Garnet Gemstone
Doing business in a product as rare and valuable as gemstones requires considerable honesty and trust between business partners. We put a lot of trust in our suppliers, just as our customers put a lot of trust in us. But the world being what it is, trust alone is not always enough. It also helps to know what you're doing.
The study of gemstones has come a long way since the days when any attractive red stone was called a ruby. Today gemologists have to be able to identify over 200 different gemstone varieties as well as detect an ever-growing list of gem treatments and synthetics. What was once an art has now become a science.
Every gemstone type has a unique set of physical and optical properties. These include hardness, specific gravity (density) and refractive index. Though several type of gemstones may have approximately the same specific gravity or the same specific refractive index, each gem type has a unique profile that results from all of the basic test data. Just don't try to identify a gem by one characteristic (such as refractive index) alone! You could easily be wrong.
The basic gemological tools are not difficult to learn to use. They include the simple 10x loupe (a powerful tool in the hands of an expert), the refractometer (for measuring refractive index), the polariscope (for identifying singly and doubly refractive gems), and a scale accurate to the 1/100th of a carat (for measuring specific gravity).
The binocular microscope is also becoming an increasingly important tool. It can be used to reliably detect signs of heat treatment or fracture filling, for example, though considerable skill and experience is required. Some forms of treatment can only be detected by specialized and expensive equipment. Detecting radiation treatment requires the use of gamma ray spectroscopy, and beryllium treatment of sapphire is most reliably detected with a procedure known as LIBS (Laser Induced Breakdown Spectroscopy). You're unlikely to find these tools at your neighborhood gemology lab.
A well-trained gemologist with vast experience in a particular kind of gem can often provide very detailed information about a gemstone, including information about its specific origin. But this sort of informed judgement about origin needs to be distinguished from quantitative tests that yield definitive conclusions about the type of gemstone. This is usually reflected in the certificates issued by gemology labs. While the lab can conclusively identify the material as ruby (corundum); it can only state that the observed characteristics are consistent with the material being mined in Madagascar. Gemology has become a science, but there's still some art left in it.
Our buyers are in the market every day finding the best values for our customers. Here are some of the excellent buys we've made in the last few weeks:
London Blue Topaz from Brazil: We have been finding some very fine topaz in the market in the highly regarded darker blue known as London blue. There are a wide variety of shapes and sizes, including some superb matching pairs. Topaz has excellent hardness (8 on the Mohs scale) at an exceptionally good price.
Emerald Pairs from Colombia: We've added some very nice matching pairs of Colombian emerald. In sizes between 1.3 and 2 carats, these have excellent color and the pairs are very well matched (not an easy thing to do with emeralds). We think the price is extremely good as well.
Yellow Golden Sapphire from Thailand: There has been some very fine yellow golden sapphire gems here recently and we have been buying all we can find. These are very good sized pieces, mainly between 2 and 3.5 carats, with excellent luster and brilliance. They are quite clean, with many graded as VVS-VS.
Tourmaline from Mozambique and Nigeria: We have been adding steadily to our collection of African tourmaline, including an outstanding selection of pieces between 2 and 5 carats. These are ideally sized for rings, and the color selection and quality is really quite amazing.
Kyanite from Cambodia: We've just received a new lot of Cambodian kyanite. These are lovely blue cabochons, mainly in the 2 to 4 carat size. An inexpensive gem with a unique color.
Fire Opal from Mexico: We have been buying some wonderful Mexican fire opal, including a number of pieces in the rare mandarin or red-orange hue. We have a nice range of shapes and sizes available. If you're not acquainted with fire opal, this is a very attractive but inexpensive gem.
Iolite from Madagascar: It has been a very long time since we came across fine iolite, a a gem variety of the mineral cordierite. Iolite has a lovely violet blue hue and very good hardness (7 to 7.5 on the Mohs scale). We just found some very nice pieces, mainly in 1 to 2 carat sizes, with excellent color and clarity.
Prehnite from South Africa: We had a good stock of prehnite last year and it sold out quickly. We've finally found some more. These are superb cabochons in various shades of lime green.
Amethyst from Brazil: We've been finding some very good buys in Brazilian amethyst recently, including some terrific matching pairs in larger sizes (up to 9 carats per pair). We also have a nice selection of cabochons in addition to our many faceted pieces.
Yellow Golden Citrine from Brazil: We've just bought some new fine Brazilian citrine gems. They are mainly trillion-cut in sizes between 3 and 6 carats. These have very good color and excellent Portuguese cuts.
Top Grade Spinel from Tanzania: We've recently found some of the finest spinel we have ever seen at GemSelect. We've bought a wonderful range of really outstanding colors, especially violet, blue and pink. Also, there are some very well cut pieces in large sizes (2-4 carats). You'll also find some amazing electric pink-red pieces that are really spectacular.
Tsavorite Garnet from Tanzania: We've just purchased a small number of very high grade tsavorite garnet from Tanzania. Tsavorite, like emerald, typically has some inclusions. But these pieces are exceptionally clean, and they have a brilliance and sparkle that ordinary tsavorite just can't match. You'll find pieces in light-green and forest green, mainly in sizes between 2 and 3 carats. We have a few very special pieces in the 3 and 4 carat size, and one extraordinary gem that weighs over 9 carats!
Rhodolite Garnet from Tanzania: We have cut a number of pieces of a very high grade pinkish-red rhodolite garnet from Tanzania. These have the pinkish purple-red color that is the most coveted in rhodolite, with excellent clarity and luster. All the pieces are impressively large, with several pieces weighing over 10 carats.
Each month our staff members select some of their favorite gemstones from our inventory. This month we feature a trio of stunning pieces from our recent acquisitions. Click on the photos to go to the product pages.
2.42ct VVS-VS Sapphire from Sri Lanka
A classic cornflower blue sapphire from Ceylon, but in an usually large size - over 2.4 carats. Clean blue sapphires with good color are increasingly rare in this size, and very hard to find at an affordable price. We were only able to find 2 pieces of this quality. We also have a 2.55ct VVS-VS sapphire with similar color and clarity.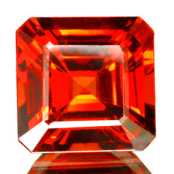 6.36 VS Spessartite Garnet from Mozambique
In the last few months we've found some outstanding gems from Mozambique, with that rare combination of top color, size and clarity. This 6 carat mandarin spessartite is a good example. It has a bright orange color, excellent brilliance and fire, good clarity, and a rare square emerald-cut that is unusual in spessartite garnet.
11.35ct VVS-VS Tourmaline from Mozambique
A truly stunning blue-green hue, this Mozambique tourmaline is both rare and unusual. This piece has it all - top color, superb luster and clarity, impressive size and an interesting modern cut. Perfect for a pendant.
Each month we focus on one of the lesser known gemstones. This month's featured stone is moonstone.

Moonstone
Moonstone owes its name to its white, almost magical shimmer that resembles light shining on the surface of the moon. Blue-whitish light glides over the surface when the stone is cut en cabochon. Gemologists call this phenomenon adularescence. The adularescence comes from the interior structure of the stone, which is scaly. Incoming rays of light are refracted inside the stone and scattered, creating a unique play of light.
Moonstone is the best known variety of orthoclase feldspar. Specimens from Sri Lanka shimmer pale blue on an almost transparent body color. Moonstone gems from India typically show cloudlike plays of light and shade on a beige-brown, green or orange background. Star moonstone is another excellent variety of moonstone. It comes in honey-colored, peach and green, and exhibits a stunning cat's eye or four-rayed star effect together with its mystical sheen and glow. Star moonstones are rare, but we usually maintain a small inventory at GemSelect.
Moonstone is fairly soft (6 to 6.5 on the Mohs scale) so is not usually used in rings. But it can often be found in large sizes, so it makes fascinating pendants. Moonstone comes from Sri Lanka, India, Madagascar, Burma, Tanzania and the USA.
For more information see our moonstone info page.
Every month we answer questions of general interest from our customers. Please feel free to send your questions or suggestions to our support team at help@gemselect.com!
Question
What exactly is beryllium treatment? Is it a good thing or not? Thanks for your answer. JFL, USA.
Answer
So-called "beryllium treatment" is a form of heat treatment for sapphire that adds the element beryllium to the heating process. Beryllium is an element well known in the gemstone world, since it is an essential constituent in many gemstones, including emerald, beryl, aquamarine and chrysoberyl. When sapphires are heated with beryllium, the result is a reduction in blue tones. Thus bright yellow or orange sapphire can be produced from weak yellow or greenish gems. Some stunning colors have been produced using this method.
Question
How is beryllium treatment of sapphire regarded in the trade now? Has it become accepted or is it still controversial? GP, USA.
Answer
About 7 or 8 years ago, beryllium treatment of sapphire caused some controversy when treated sapphires were put on the market without proper disclosure of the treatment. Since then the Thai gem "burners" have voluntarily adopted stricter disclosure guidelines so that all dealers will know when they are buying beryllium-treated sapphire. As a result, beryllium treatment is now widely accepted. Our own view on the matter follows the advice of the Asian Institute of Gemological Sciences (AIGS): "All types of heat treated stones have their place in the market besides the gems that were only mined, cut and polished by men, but proper disclosure at all levels of the trade should be the rule".
Keep up with our new arrivals before they hit the newsletter by joining our thousands of fans and followers on our social networking pages. We love interacting with our customers - you can visit us on Tumblr, LinkedIn, Twitter, Facebook or Pinterest!
To ensure you can receive our emails, please be sure to add help@gemselect.com to your list of safe contacts, or you add us into your email address book! Please feel free to contact us with any questions, comments and queries! We respond to each and every email we receive.
Happy Gem Hunting!
Your friends at GemSelect