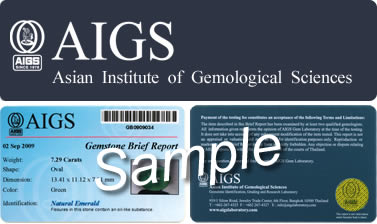 October 2009
In our newsletter this month:
• Gem Certification from AIGS
• New and Interesting Gemstones
• Rare and Unusual Gems
• Customer Questions
The task of gem identification is often quite straightforward, and can be competently handled by any knowledgeable gemologist using standard instruments that measure properties such as refractive index and specific gravity. But there are cases which are not so straightforward, and for those you need help from a laboratory with state-of-the-art equipment and highly experienced staff.
In the past we've provided gemstone certification from the local lab here in Chanthaburi, the Burapha Gemological Laboratory. They are a competent and ethical lab, and provide an efficient cost-effective service for the busy gemstone market here.
But the local lab is not able to test every kind of stone and identify every kind of treatment. Since we sell more than 110 different gem varieties and many kinds of untreated stones, we found ourselves sending more and more gems to Bangkok for testing. After trying a number of different labs, we found a lab that could reliably certify virtually every kind of stone: the Asian Institute of Gemological Sciences, widely known as AIGS.
There are a number of cases where advanced instruments and special expertise are needed to certify a gemstone. The most frequent case we encounter is that of unheated sapphires. Unheated sapphires are identified by the presence of characteristic inclusions that would be altered by heat treatment. But it takes considerable knowledge and experience to recognize these inclusions. The AIGS gemologists have many years experience analysing sapphire, and each gem is checked by two gemologists before they will sign off on a certificate. If they are not 100% confident of their conclusions, they will not issue a certificate.
Quartz is another difficult case. Though quartz is one of the most common minerals in the world, distinguishing natural from synthetic quartz is actually a challenge, especially with very clean specimens. Many gem labs will simply issue an "undetermined" verdict when analysing a quartz sample, since they don't have the expertise to reliably identify synthetic material. AIGS has the capability to do analysis with infrared spectroscopy, in addition to microscopic analysis of inclusions and twinning.
We had another case recently where we had some black gemstones that the local lab could not identify. Based on the measurements of refractive index and specific gravity, they thought it could be garnet. We sent samples to AIGS, who were able to identify it conclusively as black spinel. Even though the refractive index seemed to be out of the normal range of spinel, analysis of the chemical composition using an EDXRF (Energy Dispersive X- Ray Fluorescence) spectrometer showed conclusively that it was an iron-rich spinel.
We use AIGS for testing samples of all new gems we buy, and especially for testing rare or unusual gems such as the Padparadscha Sapphire featured in this month's newsletter. Soon we will start offering some gems with certificates included in the price, and you will be able to view the certifcate online.