Red Hot Rubies in Ice Cold Greenland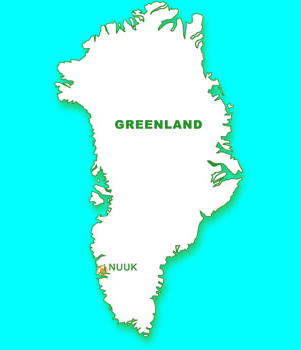 Greenland
Some of the oldest rocks in the world lie under the country of Greenland. With the Animal Planet and Discovery documentary series, "Ice Cold Gold", many people are aware that there are precious metal and gemstone deposits in freezing and far away areas of Greenland, where temperatures can drop to minus 30 degrees Celsius in winter. Several gemstone materials have been discovered in Greenland, including olivine (known in its gemstone form as peridot), tourmaline, diamond, lapis lazuli, amazonite, enstatite, spinel, topaz and kornerupine.
In fact, Greenland is the location of one of the most exciting ruby and pink sapphire finds in recent years. Greenland's corundum occurrences are located mostly in the south west, near Qeqertarsuatsiaat (formerly known as Fiskenaesset), south of the capital city of Nuuk. The presence of ruby and other precious materials in Greenland has been known for some time. Mineralogist, Karl Ludwig Giesecke explored and collected minerals, including sapphirine, from Greenland in the early 1800s. Over a hundred years later, in 1965, Martin Ghisler of the Geological Survey of Greenland discovered corundum, and a year later, he found gemstone-quality ruby in Aappaluttoq (which means "red" in Greenlandic); an island that is now known as Ruby Island, near Fiskenaesset. The Geological Survey of Greenland found more deposits in the area. The corundum of Greenland ranges in color from pale purplish-pink sapphire to deep-red ruby.

Ruby Rough
Following the discovery of the unearthed gemstone potential in Greenland, several private companies explored the deposits. True North Gems explored for gemstones in 2004 and extracted ruby. In fact, in 2005, TNG found a 440-carat rough ruby. This exciting discovery was carved into the 302.65-carat "Kitaa Ruby". This gem gets its name from the Kitaa region (a former administrative area of West Greenland) where it was found. The Kitaa Ruby was carved by Thomas McPhee into an image of the mother of sea legends and other figures that tell the story of the Norse and Inuit culture of Greenland. Successful exploration prompted TNG to apply for an exploitation permit for the ruby. The main mining area is at Lake Katrina, where the first Arctic open pit ruby mine will soon be operating in Southwest Greenland.
Some say that the melting of the ice sheet is responsible for allowing precious materials to be mined in Greenland. In the past, the summer provided a very short window for mining activity, but now, because of climate change, it is possible to mine for longer periods due to the increase in temperature and more favorable conditions. Mining in Greenland will contribute to the country's economic independence and provide much needed jobs. Since 2009, Greenland has been moving toward independence, with a self-rule system of government, so a healthy economy is required to gain freedom from Danish support.
The corundum deposits in Greenland are evidence that while gemstone material in some areas of the world has been mined out, new occurrences are continually being discovered. New technological advances and altering circumstances allow precious materials to be extracted from places where it may have previously been extremely difficult.