GemSelect Newsletter - December Blues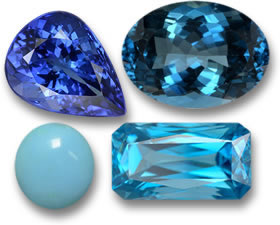 December Birthstones: Turquoise, Tanzanite, Blue Topaz & Blue Zircon
Turquoise Cabochons
Those who were born in December have their pick of the blues, with turquoise, tanzanite and blue topaz to choose from. Each of these stones has its positive points, so it's difficult to decide on one. Let's take a look at each gem type in more detail to make a more informed choice.
Turquoise is an important historical gemstone; the use of turquoise goes back several thousand years to the Sumerians, ancient Egyptians and Mesoamericans. The most important source of turquoise throughout the ages was Persia and turquoise is the national gemstone of Iran. Turquoise occurs in sky-blue, blue-green and green hues. Generally, the most popular color is a uniform medium blue. Turquoise is one of the most popular gemstone materials in the world, from past to present. The only downside to turquoise is that it can be scratched more easily than harder gemstones, so it requires a little care to preserve its luster. Our turquoise gems vary in color, size, shape and clarity, so we likely have something to suit a range of styles. Since turquoise is relatively soft, it can easily be recut and polished for jewelry. If you seek a pale-blue, blue-green or green cabochon gem, then turquoise is a great choice.
Tanzanite Gems
Tanzanite is one of the younger gems, with regard to its discovery. It was first discovered in 1967 in Northern Tanzania, which remains the sole source of tanzanite to this day. Upon its discovery, tanzanite was first assumed to be blue sapphire, and then olivine, but after being analyzed, it was revealed to be zoisite. While blue sapphire is the classic deep blue gemstone of choice for many, tanzanite is hard to beat when it comes to blue. It is easy to fall in love with tanzanite when looking at it close up because it has an electric blue like no other gem on Earth. Tanzanite varies between blue and violet. With regard to jewelry use, tanzanite stones have good clarity and a good level of hardness.
Tanzanite is a great investment stone; since there is only one source, prices are likely to continue to rise. If you are shopping for a show stopping blue gemstone that will wow jewelry and gem admirers, tanzanite is ideal.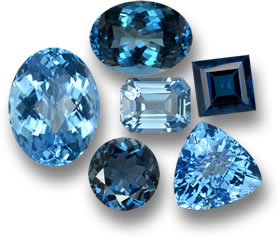 Blue Topaz Gemstones
Topaz is a gem type that has various colors, such as very valuable golden imperial topaz and versatile white topaz. Blue topaz is one of the most popular and affordable blue gems. Nothing beats blue topaz when it comes to blue statement stones for cocktail rings or oversized pendants. Apart from being a December birthstone, blue topaz is also the 4th anniversary gem and the state gem of Texas, where it is found in Mason County. Topaz is also mined in other parts of the US and all over the world, from Australia to the UK. One of the biggest pale blue topaz crystals is the Brazilian Princess Topaz, a 21,327-carat, light-blue behemoth. The Ural Mountains of Russia are another source for enormous topaz crystals; it is thought that the largest deposits of topaz are in Brazil and Russia.
Blue topaz is not just blue, it is sold with several trade names according to the color; in order from light to dark the main trade names are sky blue, Swiss blue and London blue. If you would like a large, affordable, pale blue, medium blue or deep blue stone, then blue topaz is ideal. When it comes to blue statement stones, topaz has it all; excellent colors and varied cutting styles, shapes and sizes.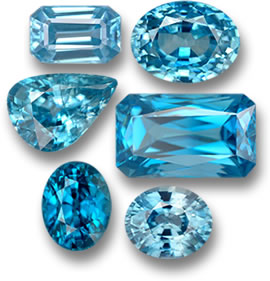 Blue Zircon Gems
Blue zircon is another blue December birthstone. Many people are aware of white zircon being a diamond substitute, but not so many know of the wide range of zircon colors. The sparkle of zircon which makes it a good replacement for diamond is due to its high refractive index and dispersion. Although zircon occurs in yellow, brown, orange, red and other colors, the most popular color of zircon is blue. Blue zircon can be very pale to medium-blue and is available in many cuts and sizes.
One thing to be aware of when buying zircon gems is that zircon is a very dense stone. This means that it will be comparably smaller than other gems with the same carat weight. Therefore, it is best to buy zircon gems by size, rather than carat weight. It is worth noting that zircon can appear a little fuzzy in photos. This is because of its high birefringence; the way that it refracts the light in two rays. If you like a brilliant blue stone with unique teal-like hues, then zircon is the stone for you.
Since this will be the last newsletter of the year, we would like to take the opportunity to look back at the most popular gems of 2015, with the top ten best-sellers:

Top Ten Gems of 2015
1. Sapphire
Hardness: 9. Best features: Color, durability and hardness.
2. Blue topaz
Hardness: 8. Best features: Color, size and affordability.
3. Tourmaline
Hardness: 7 to 7.5. Best features: Variety and range.
4. Amethyst and citrine
Hardness: 7. Best features: Size, color and affordability.
5. Blue zircon
Hardness: 6.5 to 7.5. Best features: Brilliance and color.
6. Rhodolite and spessartite garnet
Hardness: 6.5 to 7.5. Best features: Versatility and range.
7. Tanzanite
Hardness: 6.5 to 7. Best features: Stunning color and beauty.
8. Smoky quartz and rose quartz
Hardness: 7. Best features: Unique color, size and affordability.
9. Spinel
Hardness: 8. Best features: Beauty and durability.
10. Opal (includes boulder opal, chocolate opal, opal doublet and fire opal)
Hardness: 5.5 to 6.5. Best feature: Play of color and variety.
It is not surprising that sapphire was more popular than almost all other top gems combined. This is because it really is hard to beat when it comes to color variation, hardness and durability. At the same time, it is surprising to see that ruby was not in the list this year, since it is normally one of the top gems. This could be because of slowed production of Burmese ruby causing prices to increase. Since high-quality ruby is becoming increasingly hard to find, ruby is a great investment gem. Blue topaz is selling more and more each year, and this year, Swiss blue and London blue were equally popular. Most of the top-selling gems have similar qualities, in that they are affordable, durable and have a good level of hardness. Gems that did not make the list but saw a huge increase in demand include color change diaspore, mystic topaz and apatite. These have been extremely popular in 2015 and we have experienced a much greater demand for these gem types than in previous years.
An astounding find was made in Botswana last month; a 1,111-carat piece of rough diamond. The second-largest gem-quality diamond ever found was discovered at Lucara Diamond Corp's Karowe Mine. Three other large pieces of rough were unearthed from the same mine this year, one of which was a 342-carat stone that sold for $20.5 million.
The former Filipino first lady who is famous for owning an enormous collection of shoes; Imelda Marcos, also had an extensive sparkling jewel collection. Her jewelry was seized several decades ago and kept in the vault of the Bangko Sentral (Central Bank) of the Philippines. It is now being appraised by Christie's and Sotheby's before the government decides what to do with the jewelry. The collection may be displayed to the public and/or auctioned. Among the collection are a 25-carat pink diamond, a pair of 10-carat, barrel-cut yellow diamonds and a bracelet with ten 5-carat pigeon's blood rubies.
Every month we answer questions of general interest from our customers. Please feel free to send your questions or suggestions to our support team at help@gemselect.com!
Question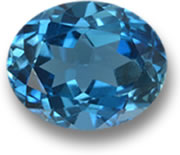 "Electric Blue" Topaz
Dear GemSelect, I have been looking at blue topaz and see that there are many blues, including "electric blue", what is the difference between them?
Answer
Blue topaz is sold according to its hue, with the most widely accepted trade names being "sky blue" for pale blue; "Swiss blue", which is a little darker; and "London blue" which is the darkest
blue topaz
. However, there are some gems that do not easily fit these labels, so other names have arisen, and one of them is "electric blue", which is a bright blue that is medium blue, but not quite as dark as London blue. Another blue is "sierra blue", which is slightly darker than Swiss blue, but not as deep as electric or London blue. Rather than cause confusion, we stick to the main three trade names, although some of our gems are between two shades of blue.
Question
Hi, I was wondering if you know what "super seven stone" is and whether you have any?
Answer
"Super seven stone" is also known as "Melody stone". It is a quartz stone that contains seven materials; goethite, cacoxenite, rutile, lepidocrocite, amethyst, clear quartz and smoky quartz. It is believed by crystal healers to be a beneficial combination. While we do not currently stock this stone, we do have rutile gems, clear quartz, smoky quartz and amethyst. These could be used in combination for similar benefit.
We always welcome your questions, comments and feedback! For those who are interested in attending some gem and jewelry events, please see the details below.
Event Name
Tokyo Mineral Show
Venue
Sunshine City Convention Centre, First Three No. 1-Chome, Toshima-ku, Tokyo, Higashiikebukuro, Japan
Dates
December 3 - 7, 2015
Event Name
Dallas Winter Gem, Jewelry & Bead Show
Venue
Grapevine Convention Center, Grapevine, Texas, USA
Dates
December 4 - 6, 2015
Event Name
Paris International Mineral Show
Venue
L'Espace Charenton 327, Rue de Charenton, Paris, France
Dates
December 4 - 6, 2015
Event Name
Mineralien Hamburg
Venue
Hamburg Messe und Congress, Hamburg, Germany
Dates
December 4 - 6, 2015
Event Name
International Mineral, Gemstone & Fossil Exhibition
Venue
Royal Olympic Hotel, Athanasiou Diakou Street 28-34, Athens, Greece
Dates
December 4 - 6, 2015
Event Name
Basel International Mineral Days
Venue
Exhibition Place Basel, Hall 2.0 MCH Messe Basel, Postcase 4005, Switzerland
Dates
December 5 - 6, 2015
Event Name
Greensboro Gift & Jewelry Show
Venue
Greensboro Coliseum Complex, Greensboro, North Carolina, USA
Dates
December 5 - 7, 2015
Event Name
Dubai International Jewellery Week
Venue
Dubai World Trade Centre, Dubai, UAE
Dates
December 9 - 12, 2015
Event Name
Best Adornments of Russia 2015
Venue
Snow King Grand Room, 400 East Snow King Avenue, Jackson, Wyoming, 83001, USA
Dates
December 9 - 13, 2015
Event Name
China International Gold, Jewellery & Gem Fair
Venue
Shanghai Exhibition Centre, 1000 Yanan Rd Central, Jingan, Shanghai, China
Dates
December 11 - 14, 2015
Event Name
Jaipur Jewellery Show
Venue
Jaipur Exhibition & Convention Centre (JECC), Exhibition Ground (EPIP), Sitapura, Jaipur, India
Dates
December 19 - 22, 2015
Keep up with our new arrivals before they hit the newsletter by joining our thousands of fans and followers on our social networking pages. We love interacting with our customers - you can visit us on Tumblr, LinkedIn, Twitter, Facebook or Pinterest!
To ensure you can receive our emails, please be sure to add help@gemselect.com to your list of safe contacts, or you add us into your email address book! Please feel free to contact us with any questions, comments and queries! We respond to each and every email we receive.
Happy Gem Hunting!
Your friends at GemSelect
First Published: March-07-2016
Last Updated: June-19-2017
© 2005-2021 GemSelect.com all rights reserved. Reproduction (text or graphics) without the express written consent of GemSelect.com (SETT Company Ltd.) is strictly prohibited.