Frequently Asked Questions (FAQ) / Calibrated Gems for Replacing Lost Stones & Custom Jewelry
What is a Calibrated Gemstone?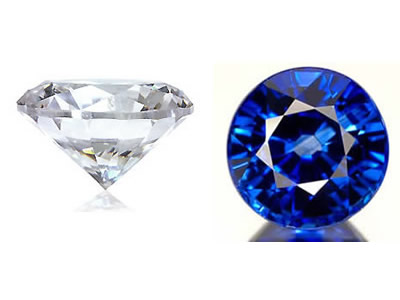 A calibrated gemstone is one that has been cut to fit standard size commercial gemstone jewelry mountings and settings. Examples are 7 mm x 5 mm oval shape gemstones, or a 6 mm round shape gem. Calibrated gemstones are not cut to exact measurements, but they are cut to sizes that most standard size mountings can accommodate.
There will always be some variance; usually for gemstones over 1 carat in weight, a size variance within 0.04% is acceptable, depending on the exact jewelry design of course. Above in the photo are two 6 mm round diameter stones, but the diamond is almost half the weight of the sapphire.This is why gemstones should be bought by size rather than weight.
STAY IN TOUCH
*You're signing up to receive GemSelect promotional email.
Privacy Notice © 2005-2023 GemSelect.com all rights reserved.
Reproduction (text or graphics) without the express written consent of GemSelect.com (SETT Company Ltd.) is strictly prohibited.
792
Popular Gemstones

All Gemstones (146)

Main Categories

| | |
| --- | --- |
| | Drilled Gems, Briolettes and Beads |
English speaking customer support only
Toll Free - USA & Canada only:
1-800-464-1640

International:
+66-39609697
Save Money
No shipping Fees for Additional Items!
$8.90 Worldwide Shipping
Size and Weight
Gems are always measured in Millimeter (mm)
Dimensions are given as;
length x width x depth,
except for round stones which are;
diameter x depth
Select gems by size, not by weight!
Gem varieties vary in density, so carat weight is not a good indication of size
Note: 1ct = 0.2g