Gemstones of Vietnam, Hanoi Rocks
Map of Vietnam
Vietnam is known more for its troubled history than as a gemstone source. However, Vietnam has many gem deposits, including ruby, sapphire, spinel, tourmaline, peridot, aquamarine, topaz, garnet and quartz, as well as various types of cultured pearls and even rare melo pearls. Among the nation's most prized possessions is a 2.58 kg ruby crystal known as "The Star of Vietnam", which was unearthed in 1997.
The most important ruby, sapphire and spinel mining areas are to the northwest of Hanoi in Yen Bai Province. To the Northeast, in Luc Yen District of this province is a gem market, in the small town of Yen The, which operates in the mornings. Gems that are traded here are mostly mined from valley areas to the north of Yen Bai and include ruby, pink sapphire and sky-blue spinel. The mines tend to be small operations that are deep in the jungle, requiring intrepid hikes to venture there. The market has been operating since the early 1990s, shortly after the discovery of gemstone-quality rubies in the region. The busiest day for checking out the gemstone trade is Sunday, and prospective buyers need to arrive early to see the market in action, since it begins at 6:30 am and packs up by around 10 am. The gems on offer include jadeite, ruby, spinel, amethyst and tourmaline, some of which are not mined from the surrounding area. Some materials are rough and some are faceted, and prices vary from extremely affordable to very costly. The sapphires from Northern Vietnam are mainly fancy-colored, but some blue sapphire can be found there.
Like many gemstone deposits in neighboring countries, the gems nearest to the surface of the soil in well-established mining areas have largely been depleted. Apart from the Yen Bai area, rubies are mined to the south of Hanoi, in the Quy Chau area of Nghe An Province. The presence of rubies in this region has helped to pull the province out of poverty. Sapphire is also mined in Southern Vietnam, on the Cambodian border in Dac Lac Province, and also in Binh Thuan, Lam Dong and Dong Nai Provinces, some of which are on the coast. The sapphires from this region tend to be blue to greenish-blue in color and are typically small in size. Like in the north, the mines are mostly artisanal pits. Zircon can also be found in Southern Vietnam.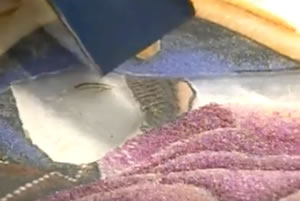 Gemstone Painting in Vietnam
An interesting art form of Vietnam and other countries in the region is gemstone painting, whereby powdered or very small gemstones are used to create beautiful and colorful pictures. The art form is said to have originated in Rajasthan, India, but spread throughout Asia. Gemstone art is colorful, durable and uses crushed gemstone fragments that would otherwise be disregarded or deemed only suitable for industrial use because they are too small for use in jewelry. To make these paintings, the stones are sorted by color, washed, dried, crushed and then cleaned before being sprinkled over a clear glass or mica sheet and affixed with glue. The beauty of such pictures is that they sparkle with color that does not fade or deteriorate, and the artwork helps to support local miners, who would otherwise have to sell tiny or low-quality stones at very low prices. Synthetic colors often do not come close to the colors of nature, so these gemstone paintings are a sight to behold. These paintings can be bought at the Yen The morning gemstone market as well as other places nearby.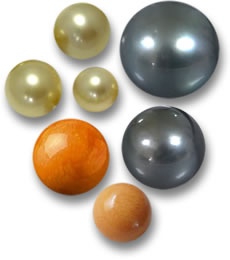 Vietnamese Pearls
As well as gems mined from the earth, Vietnam is a source for organic gemstones, particularly pearls. These are harvested from the South China Sea coastline, which stretches all the way from the Gulf of Tonkin in the north, to the Gulf of Thailand in the south. Pearls have been found in Vietnamese waters for hundreds of years, and some of the names of places in pearl-producing areas reflect this. Various types of pearl are now cultured in Vietnam, such as Akoya, Tahitian and South Sea pearls, and some of the pearl farms allow tours. In fact, most of the pearl farming takes place in tourist areas, such as Halong Bay, Khan Hoa Province and Phu Quoc Island in Kien Giang.
The most valuable and sought-after pearls from Vietnam are golden melo pearls. Melo pearls are produced by a marine snail called Melo melo and are porcellaneous, like conch pearls. Their color ranges from golden to orange and they have a flame structure similar to conch pearls. The best melo pearls are orange with a clear flame structure. Melo pearls are extremely rare since they have not successfully been cultured. As well as pearl gemstones, pearl jewelry is also produced in Vietnam. They are sold to locals and exported to other countries, especially Japan. Thus, the pearl industry of Vietnam is growing. The finest Vietnamese cultured Akoya pearls are prized for the thickness of their nacre, yielding a superior luster and creamy color, indicating that they have not been bleached.
While Vietnam contains a wealth of colored gemstone materials, mining is mostly limited to small-scale operations, which are both official and unofficial. This, along with the terrain and control of non-Vietnamese visitors to mining areas make it difficult to gain a complete picture of gem mining. Thus, it is unclear as to whether the gems of Vietnam have had their day or whether the colored gemstone industry in Vietnam may still be in its infancy, with potential for further development in the future. The growing pearl industry is more accessible, since there are several commercial operations and traveling to the pearl producing areas is easier than hiking in the mountains. The jewelry market in Vietnam is expanding and the fact that the International Jewelry + Watch Vietnam Exhibition has been held for around 13 years indicates this growth. Perhaps the ASEAN (Association of Southeast Asian Nations) AEC (Asian Economic Community) free-trade agreement will help the star of Vietnam to truly shine.