Africa Gems - Mining in Malawi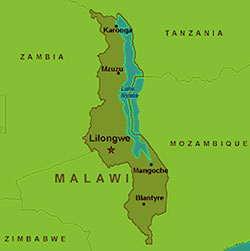 Map of Malawi
When it comes to Africa and gemstones, many people immediately think of blood diamonds from Congo or Sierra Leone. However, there are more materials than this that are mined from Africa, and many of them are recently discovered deposits.
The countries that excite interest with regard to colored gemstone mining include Tanzania, Madagascar, Zambia, Mozambique, Namibia and Nigeria. A country that is not so often referred to is Malawi. Like the neighboring African nation of Mozambique, Malawi is recovering from years of corruption and poverty. Also like Mozambique, Malawi lies on the Neoproterozoic Mozambique Belt, which stretches from Kenya through Tanzania, Mozambique, Malawi and Madagascar. This is a geological formation that is rich in gemstone deposits. Yet, Malawi is one of the poorest African nations.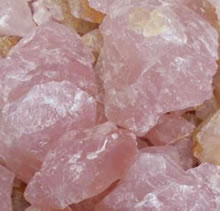 Rough Rose Quartz from Malawi
As far as African countries go, Malawi is relatively small, and approximately one third of its area is taken up by Lake Malawi, which borders Tanzania and Mozambique. It is the ninth-largest lake in the world and one of the deepest. The lake is called Lake Nyasa by Tanzania and Mozambique. The southern end of Lake Malawi is a national park and an important area for tourism. However, the most significant contribution to the economy is agriculture, with the main exports being tobacco, tea, sugar and cotton.
Gemstones that are mined from Malawi include agate, apatite, aquamarine, amethyst, citrine, garnet, jade, tourmaline, sunstone, sodalite, rose quartz, ruby and sapphire. Most mining is carried out by small, private operations rather than large corporations. This may be due to the rather small deposits or because gem material is found in remote areas that are difficult to mine in. Since 1985, the mineral mining license regulations of Malawi were liberalized, which means that many more miners have been able to operate. In addition, locals without licenses also mine for gemstones. However, they often sell the stones to middle men at very low prices due to a lack of know-how. The government is taking measures to improve safety and marketing so that the products of the mines can fetch appropriate profit and the gemstone industry in Malawi will develop in a sustainable manner.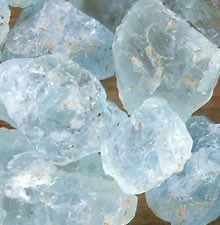 Rough Aquamarine from Malawi
One of the areas in which gemstone mining is carried out is the Mzimba District in the north of Malawi, in particular, aquamarine, amethyst, tourmaline and rose quartz are mined from here. Some of the mines of Mzimba offer tourists the chance to visit and learn about gemstone mining. The capital of the Northern Region, Mzuzu, is another gem mining location. The central district of Ntcheu that borders Mozambique is a region in which rubies and sapphires are found, more specifically, at Chimwadzulu Hill, the location of the largest known corundum deposit in the country. The material here is similar to that of the famous Montepuez Mine in nearby Mozambique. The rubies were discovered in 1958 and have been marketed as "Nyala Ruby", after an African antelope from the same region. Likewise, sapphire from this region has also been sold as "Nyala Sapphire". Ntcheu is arguably the most gemstone-rich area, since in addition to corundum, it is also a source for tourmaline, quartz and sunstone.
While Malawi may not be as abundant in ruby as Mozambique or as emerald-rich as Zambia, it does have its own resources, not least uranium and coal. Indeed, it is said that the country has sizeable deposits of rare earths. Along with gemstones, precious metals and industrial resources, these minerals may bring some hope to a country that has been dependent on agriculture for many years and has a long way to go economically.