Lesedi la Rona, Light of Botswana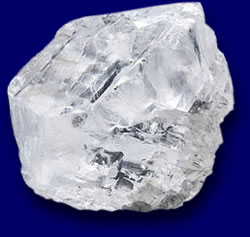 Lesedi la Rona, "Our Light"
The largest gem-quality diamond rough discovered in over one hundred years and the second-largest gem-quality diamond ever found weighs 1,109 carats. It was found in Botswana and after a contest for which over 11,000 entries were received, it was named "Lesedi la Rona", which means "Our Light" in Tswana language. Its less romantic name is "Karowe AK6", meaning that it came from the AK6 kimberlite pipe on the Orapa Kimberlite Field. The Lesedi la Rona is not only almost the size of a tennis ball, but it is also of exceptional quality and transparency. It is the largest gem-quality rough diamond in existence; the largest ever found was the Cullinan, which came from an area near Pretoria in South Africa. The Cullinan was fashioned into several diamond gemstones, several of which remain part of the British Crown Jewel collection.
The largest gemstone from the Cullinan Diamond is the Great Star of Africa, which weighs 530.2 carats and is mounted in Queen Elizabeth II's scepter. Could the Lesedi la Rona yield an even larger gemstone? The Lesedi la Rona weighs a mere third of the rough Cullinan, but its quality and transparency could be so great that it may be possible to produce one enormous gemstone. Furthermore, gemstone cutting has developed a great deal since the Cullinan and every piece of rough is different, so time will tell.
The exciting discovery of Lesedi la Rona was made in November 2015 at the Karowe Mine, a hard rock, open pit mine owned by Lucara Diamond Corporation. The Karowe Mine is located in Letlhakane; a village in the Central District of Botswana, to the north of the capital, Gaborone. Two other exceptionally large rough diamonds were found during the same month at the same mine. An 812.77-carat and a 374-carat stone were found during the same week, before the monstrous Lesedi la Rona turned up. The 812.77-carat "Constellation" diamond sold for a record $63 million in May 2016. The large diamonds are believed to be 2.5 to 3 billion years old and were recovered using innovative X-Ray Transmission Technology (XRT); a worthwhile investment for the mine.
The Cullinan I in the Royal Scepter
In a historic auction, the Lesedi la Rona is to be offered by Sotheby's on 29th June 2016 and it is expected to fetch as much as $100 million or more. It has already attracted a great deal of attention due to its incredible size and quality. Such superlative diamonds seem to capture the imagination more than other gemstones. Indeed, crowds continue to flock to the Tower of London to view the British Crown Jewels including the Cullinan I and the 105-carat Koh-I-Noor Diamond in the Imperial State Crown.
Following its sale, it could be several years before the Lesedi la Rona is cut and polished into gemstone/s. Some of the most famous diamonds were studied for a year or more before being cleaved, and a piece of rough as important as the second largest to have ever been found will no doubt be inspected closely and carefully before anyone even considers cleaving it. Any misjudgment could cause a loss of material and result in smaller or poorer than expected gemstones, meaning a decrease in anticipated value. The Koh-I-Noor, or "Mountain of Light" Diamond was given an unfortunate cut which reduced its weight from 793 carats to a mere 186 carats and resulted in the severe punishment of the jeweler who butchered it. It will take a truly confident master lapidary to dare or be entrusted with the responsibility of the Light of Botswana.
First Published: May-19-2016
Last Updated: August-16-2017
© 2005-2021 GemSelect.com all rights reserved.
Reproduction (text or graphics) without the express written consent of GemSelect.com (SETT Company Ltd.) is strictly prohibited.