GemSelect Newsletter - The Flame Queen
Perhaps the most famous opal in the world, the Flame Queen is the finest example of an "eye-of-opal", a magnificent opal with an eye-like appearance, which is caused when the opal forms by infilling a cavity. The Flame Queen Opal is almost triangular in shape, measuring a whopping 70 mm x 63 mm x 12 mm, and weighing in at a staggering 263.18 carats (52.64g).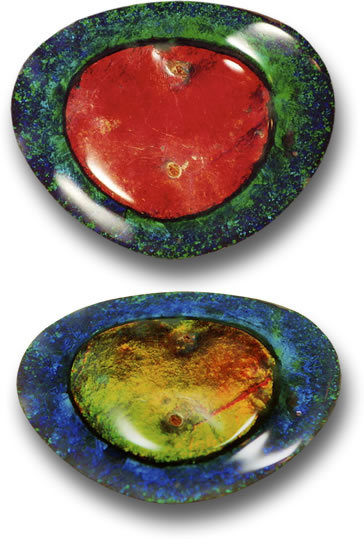 The Flame Queen Opal
Photographed at Different Angles
The polished, flat pear-shaped top of the Flame Queen Opal gives flashes of both fiery red and dynamic bronze, depending on the lighting and angle of view.
These bright, colorful shades are surrounded by a disc of deeper bluish-green, making this unique stone look somewhat like a fried egg in appearance.
The Flame Queen's extraordinary cut and shape enhance its appearance, allowing it to exhibit various other color combinations in different surroundings, making it such a unique and highly admired gem that it continues to attract worldwide attention as one of the rarest and most spectacular specimens of its kind.
The Flame Queen Opal was first discovered in 1914 at the Bald Hill workings at the charmingly named Lightning Ridge, New South Wales, Australia. It was found deep underground by miners Jack Philips, Walter Bradley and "Irish" Joe Hegarty, but it was almost never discovered at all.
At that time, Lightning Ridge had become a dangerous place to mine, with many miners deciding that the potential for opals there was no longer worth the risk involved. Even during earlier, more fruitful times, many desperate miners would often succumb to fatigue or illness in their quest to uncover the opal rich clay.
Philips, Bradley and Hegarty acquired the claim at Lightning Ridge after it was seemingly abandoned by a miner who left to fight in World War I. At first, their new mine seemed without value, as they dug their tunnel without any real success. Finally they reached a depth of 30 feet, which was typically regarded by opal miners in the area as the "make or break" point; this is the point at which typical opal levels are found, and at this point Philips, Bradley and Hegarty had nothing to show for their work, a sign indicating that there was no opal to be found.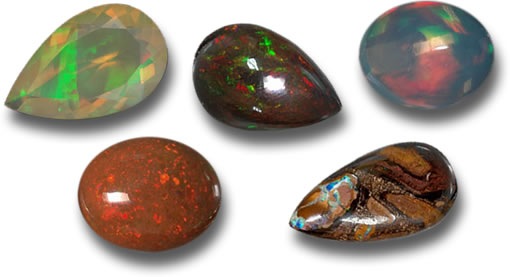 Opals from GemSelect
Despite suspecting this claim was worthless, and perhaps in some desperation, the men continued to dig, with poor ventilation, almost no light, and an ever-growing risk of the tunnel collapsing (a tunnel less than 3 feet wide). Finally, against all odds, at a depth of around 35 feet, Bradley's pick struck a large, black opal nodule, and they excitedly dug farther, soon bringing their discovery to the surface. In the light of the sun, away from the dark, suffocating mine, they looked in amazement at their astonishing find.
It was Bradley who was entrusted to cut and polish this magnificent opal, due to his skill and knowledge of lapidary. He was said to have taken one crisp nick from the large black nodule with his steel snips, and immediately saw the dazzling reds and blue-green of the opal. But, despite his skilled work on the precious stone, its owners were now broke, tired and hungry, and as soon as it was cut and polished, the 263.18 carat Flame Queen Opal was sold for a measly £93.
The Flame Queen has since made many public appearances, most notably in an exhibition at the Geological Museum in London, in 1937, to honor the occasion of the coronation of King George VI.
The Flame Queen continues to be known and talked about around the world, due to its unique form and color, making it arguably the most famous opal in history.
Other world famous opals (many of which were also discovered at Lightning Ridge), include the following:
The Halley's Comet Opal (the world's largest uncut black opal)
The Pride of Australia Opal (often known as the Red Emperor Opal)
The Aurora Australis Opal (considered to be one of the world's most valuable black opals)
The Black Prince Opal (originally known as the Harlequin Prince Opal)
The Andamooka Opal (presented to Queen Elizabeth II, also known as the Queen's Opal)
The Andamooka Desert Flame (known to be the heaviest opal ever found)
The Red Admiral Opal (sometimes known as the Butterfly Stone)
We hope you found this article interesting. If you do have any comments or suggestions just drop us a line. We really do read every single email we receive and each email gets a personal response. To ensure you can receive our emails, please be sure to add help@gemselect.com to your list of safe contacts, or you add us into your email address book! Please feel free to contact us with any questions, comments and queries! We respond to each and every email we receive.
Happy Gem Hunting!
Your friends at GemSelect